JVC Everio GZ-MS100 is a Great Camcorder for the Budget-conscious Consumer
The JVC Everio GZ-MS100 (between $100 and $150 online) is a SD-card based camcorder. And, just like many other camcorders that have hit the market recently, it is also cashing in on the YouTube phenomenon. It boasts the ability to upload your videos to the Internet by a one-touch method. While pricier than many models meant to do the same thing (i.e. Flip Mino), it boasts several other features that should make the budget-conscious consumer very happy.
Body (4 out of 5)
First of all, it's rather small (2.2 inches wide, 2.7 inches high and 4.4 inches deep), making it great for hikes or events. It's also very lightweight at only 9.6 ounces. But, many features still exist in this small frame. It has a nice sized 680,000-pixel CMOS sensor, allowing for higher-resolution filming. It's 35x zoom is great for focusing in on those faraway sports scenes. You can also take still pictures with this camcorder
The machine sits nicely in the hand even though it's mostly plastic. The plastic is what makes it lightweight, but it doesn't give it a cheap feel. The Laser Touch interface allows you to easily steer through your way through the menu settings. The Manual mode on this machine is amazing. Here, you can add scene programs, including Sports, Snow, Spotlight and Night.
Recording (4 out of 5)
It records video in MPEG-2, which is stored on the SD/SDHC card. Your recording hours can vary depending on the setting. For example, at the Eco setting (1.5MBps), you can get up to 20 hours of recording. At the Ultra Fine setting (8.5Mbps), however, you will only get about 15 minutes of recording time. Since the best setting is the Ultra Fine setting, you will probably want to be recording most of your film at this setting. This could lead to some major headaches since you will have to be downloading your film quite often if you plan on doing some extended shooting.
If you have to record on the Ultra Fine setting, buy plenty of extra SD cards, and you may even want to bring a laptop with you. There's nothing worse than thinking you're going to get a full day's worth of excellent shots, only to run out of memory three to four hours in. Be prepared.
YouTube Function (3 out of 5)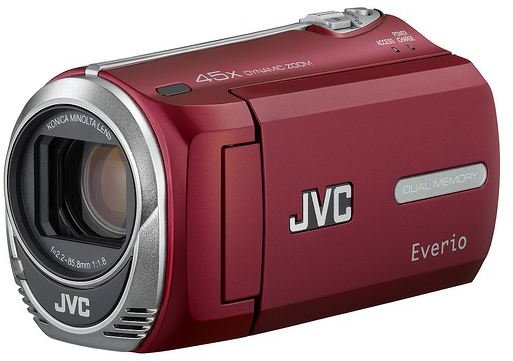 The major selling point of this camcorder is that it allows you to quickly upload videos to YouTube, which is done via the YouTube Upload feature. You can set your camcorder to Upload Record On. This ensures that your videos are 10 minutes or less since YouTube only accepts videos that are this long.
Once you are done recording your video, connect your camcorder to your computer. Now, this is where it gets a little confusing. The Everio has several different upload buttons, and they all seem to do the same thing. It would have made more sense to just have one button for uploading your videos.
Further, once you select the clip that you want to upload, you may have to wait a long time to upload your video. The Upload feature doesn't work perfectly. It seems that your video is more than half uploaded, and then the progress bar will jump back down to 20 percent uploaded. JVC needs to work on this function.
Drawbacks (3 out of 5)
One of the main detractions for this device is that it doesn't come with optical stabilization, only the digital form. This could lead to some problems if you don't have a tripod and want to zoom out past 10x. Also, another problem is that you still have to upload your videos from your computer.
You can't take still pictures while filming. And, while the picture quality is fine for the Web, it won't be great for anything else. Another issue is the white balance. If you're planning on filming indoors, you could get some grainy pictures. This camcorder is better for outdoor filming. And, to even get to the white balance to change its settings, you have to go through a lot of menu items on the Laser Touch interface to find it.
Bang for the Buck (5 out of 5)
Overall, the JVC Everio GZ-MS100 will be perfect for the budget-conscious consumer, and it's great for uploading and sharing your videos to the Web. If you wish to do more serious filmmaking, you would do best going with another model. JVC itself has a number of other models that can provide you with a lot more capability. For example, the JVC GZ-MS120's video quality is amazing, and the sound on the machine is also quite good. You still, however, probably do need an external microphone. The camera is recommended for independent filmmakers, and it costs about the same as the GZ-MS100.
References