Find Out How the Canon XA10 Camcorder Compares to Its Predecessors
Compact Professional Grade Camera
The XA10 is one of the newest compact camcorder from Canon that is graded on the professional level. It is designed for those professionals whose jobs are never stationary and need a quality feature-rich device that is built for mobility. The Canon XA10 camcorder has answered their call with its full High Def 1080p capabilities using an AVCHD codec. If you are familiar with the XF100 or the XF105, have you ever concluded that one of those models would suit you perfectly if they were only a bit more compact? Then your wish has been granted. This camcorder has pretty much all the features of the aforementioned models, which were previously being referred to as Canon's most compact professional grade camcorders. The only difference between the Canon XF105 and the XF100 is that the XF105 has HD-SDI output support and the XF100 doesn't.
Design (5 out of 5)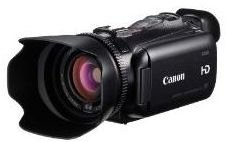 The XA10 camcorder is one of the smallest of its kind, measuring at about 3 inches in both height and width and a depth of 6.3 inches. This measurement, however, does not include the extended sections such as the hood of the lens, the unit that holds the mic, the handle or the grip strap. If you include these items, the measurement may go up about 2 inches in width and depth and about 4 inches in height. This camcorder's biggest asset is its size and weight; it weighs less than 2lbs with everything taken into consideration, including the battery.
Our compact camcorder is equipped with at least 1 of each of the following: Component output, 3.5mm Audio Video Composite output, Mini Type C HDMI output, XLR 3-pin Mic /Line input, 3.5mm Mini Jack input for stereo mic, Mini-B USB 2.0 port, 3.5mm Mini Headphone jack and a LANC remote control terminal.
Its color Touch Panel LCD screen is 3.5 inches with a High Res widescreen and over 900,000 dots. You can also use your view finder with over 200,000 dots.
Features (5 out of 5)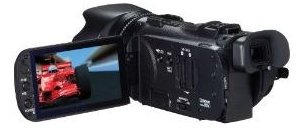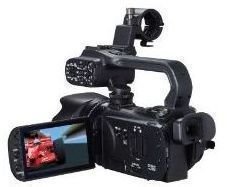 The features of the XA10 are extensive and I must admit that I did not get to check on all of them, but I will expound on some of the most interesting features that makes this camcorder so popular (besides its obvious compact design).
First of all, we will discuss the internal 64 Gig flash memory along with the additional two SDXC memory slots. You can immediately start recording to your internal flash drive and if you happen to use up all the 64Gigs, your camcorder will automatically move over to your installed memory cards and record on them. If you should utilize all the memory that your camcorder can hold, you can actually record for days.
Secondly, with the Canon XA10 being a professional grade camcorder, it is no surprise that it features the Advanced Video Coding High Definition (AVCHD) codec. This codec uses MPEG 4 which is similar to the compression technology that Canon also used in their DSLR HD camcorders. This file format is able to be edited by most of the recent video editing software and can also be made into blu-ray disks. The maximum bit rate for the AVCHD is 24MB per second and the XA10 utilizes this fully because it is able to record at that rate at 1920 x 1080 and a color space of 4:2:0. The incorporated CMOS sensor will provide full HD recording without a lot of noise and blur. All of this put together guarantees you sharp and vivid images that are professional grade quality.
The 10x HD zoom is smooth with a wide angle view which enhances wonderful background images, especially due to its 8 blade iris. Additionally, it has a manual focus ring so that you can make adjustments precisely how you want them. Even at 10x zoom, you do not have to worry about blurry or shaky images – given that you weren't running around, because the SuperRange optical image stabilizer helps to stabilize your images, thus making them clearer and it has 3 on modes.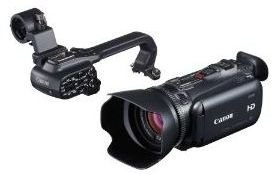 One of the Canon's XA10 camcorder's feature that is non technical but highly regarded is the detachable handle; it also has two XLR audio input terminals built in with phantom power as well as infrared light, manual audio level control, an external microphone holder and more.
As mentioned in the previous paragraph, the camera is equipped with an infrared light for infrared recording under very low light conditions, which wouldn't normally be visible with a regular camcorder. The infrared mode removes the infrared cut-off filter from the path of the optical view, thus allowing the infrared light to pass through the CMOS sensor. You can choose to record in either green or white light mode. The use of the infrared is great for professional videographers who will find themselves in situations where minimal light is present or needed.
Ease Of Use/ Performance (4 out of 5)
The camcorder is pretty easy to use if you are already familiar with camcorders. However if you are new to the whole video recording thing, then it may take a little time to get familiar with the features and how to use them – but only a little time.
The controls and buttons on the detachable handle may shake or rattle a little bit and you may sometimes hear it in your recording if you are using the internal mic. However, the internal mic can be kind of low if you are in a noisy environment, so the use of an external mic would be recommended. With the external mic, the rattle will be very low or nonexistent so it may not be a problem. With that being said, your XA10 still provides excellent picture quality with vibrant colors and clear images. It has been reported by some users that when you make use of the XLR feature your battery runs down a lot faster, but I did not have the device long enough to prove or disprove that. Also, if you use the camcorder long enough in a non AC indoor environment (even one that is well ventilated), you may find that the right side of the camcorder starts to get unusually warm, but it does not interfere with the camera's performance.
Price Value Verdict (4 out of 5)
First of all, you should know that this camera is made for professionals, but I am sure that won't stop the tech savvy everyday Joe from purchasing one to do his home videos. The good thing about this camcorder is that it is feature-filled enough to provide the professionals with a compact quality camcorder, but also easy enough to use so that the average Joe can utilize it as well. The Canon XA10 camcorder is seen on various retail sites for $1999, which seems to have become its current fixed price. Most people would consider this a good price for the device and I am inclined to agree. If you want a professional grade camcorder that can outdo many of the camcorders within the same price range then you may want to consider this one.
References