Canon PowerShot A3300 IS Camera Review
Shooting with the PowerShot
The Canon PowerShot A3300 IS is a small point-and-shoot camera that comes in five different colors including red, pink, black, silver and blue. It is exceptionally small at 3.7 inches wide by 0.9 inches deep by 2.2 inches high, and it weighs 4.6 ounces. It is a budget camera costing about $150 to $180. This Canon camera review helps you decide if this camera is worth spending money on or just another pretty face.
Body and Optical Stabilization (5 out of 5)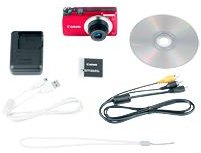 Despite its small size, the camera packs a punch in the pixels department. It is a 16 megapixel camera with a CCD sensor. The camera features a 5x digital zoom, which is more than fair for a small point-and-shoot camera. The LCD screen on this camera is three inches wide, and it takes up most of the rear of the camera.
This camera also comes with features that you often find on more expensive cameras, including optical image stabilization. This is a nice feature that allows you to zoom out to the maximum without need of a tripod. If you don't have this technology, all of your images will look blurry or noisy the farther that you zoom out. This is due to your hand shaking. The optical image stabilization prevents this problem.
Features (5 out of 5)
The ISO range is pretty impressive for such a budget camera. The ISO ranges from 80 to 6400, and the camera features both manual and automatic ISO settings. To take advantage of the 16 megapixels, however, you need to keep the ISO below 100. If you use any other ISO setting, you really notice that the images look noisy.
Images look best at ISO settings under 400 for larger photographs and under 800 for small (social networking-type images). You really start noticing quality issues after this setting. You can correct some of these issues in post-production. If you want completely noise-free images, however, you should invest in a higher-end camera. Point-and-shoot cameras always have a bit of noise in them.
Like most budget point-and-shoot cameras, the image quality also suffers in low-light situation. You lose some of the finer details of the image. Overall, however, this Canon PowerShot shoots really good images. They are really sharp and crisp in regular lighting. The only issue is that it has some problems with high-contrast areas.
The camera can take more than images. It also has a frame movie mode, and it can capture video between 320 x 240 and 1280 x 720 resolution. The video quality looks good, except when you use the digital zoom. You can't use the standard zoom lens when taking video, and the digital zoom doesn't look that great.
It has five white balance presets and custom and automatic shooting modes. The camera comes with 10 different shooting programs and special effects settings like Black and White, Toy Camera, Fish Eye and Miniature.
Drawbacks (3 out of 5)
The buttons on the camera are a little annoying. They're extremely flat, which make them hard to press. The other issue is that the bottom sliding door doesn't lock as well as it should. You are sometimes in fear of the SD card and battery falling out. The battery life isn't bad, but it's not great. You get about 200 shots when taking photos on the standard settings before the battery life runs out. You'll get less when taking video or higher quality images.
Other issues include that there is a lag between depressing the shutter release button and the camera actually taking the picture. This could be due to the fact that it's a 16 megapixel camera, and the resolution takes a little longer. You can wait up to nearly one second before the camera takes the shot, especially in low-light. It's also a little slow when using the continuous shooting mode. It only captures about 0.5 frames per second.
The PowerShot A3300 comes with a lot of nice extras, including a wrist strap, a battery pack and a battery charger. The box also includes the AV cable, USB interface cable and the digital camera solution CD.
Bang for Buck (4 out of 5)
Overall, this Canon PowerShot A3300 review shows you that this point-and-shoot camera is well worth the money. It has advanced features, including a large ISO range, special effects and different shooting modes. It's easy to use, and the image quality is really good, especially in good lighting.
The camera also has some issues, including that the buttons are a little hard to use, and the video quality is slightly subpar when using digital zoom. There are also some problems with high-contrast image sections and the shutter lag. This camera, however, is well worth the money, and it works exceptionally well.
References
Goldman, Joshua. "Canon PowerShot A3300 IS (Red)".