Digital Camera Review: Mamiya 645
Mamiya Cameras
The Mamiya 645 is an older film camera produced by the Mamiya Digital Imaging Co., Ltd, which is a Japanese company. Mamiya specializes in high-end medium format cameras. The 645 was replaced by the Mamiya 645DF, which is the latest incarnation of this camera. The 645DF is more than just an update of the older 645. It looks almost completely different than the original.
Auto Focus (4 out of 5)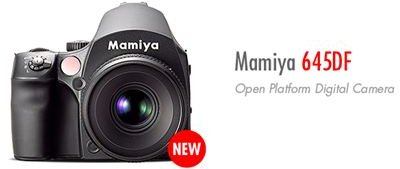 The first thing that you'll notice is that the 645DF doesn't come with the chimney finder, which the original had. The chimney finder helped you focus on small objects, but it also limiting when focusing vertically.
Instead of the standard chimney finder, the newer version comes with different focus points. You can select the right focus point for the subject: right, center, right or left. Or, you can use the automatic I setting, which allows the camera to set the focus points for you.
This camera also comes with three-point and phase difference detection auto focus. The three-point auto focus is the standard number of focus points for most cameras. Phase difference detection auto focus is a type of passive auto focus.
Body (4 out of 5)
This Mamiya camera looks and handles similar to a standard 35 mm camera, except that it can take a photograph of an area that is nearly three times larger than the standard area captured by a 35 mm camera.
The body of the Mamiya 645DF is fairly well done the grip at the front is pretty easy to hold onto even if you don't have any type of strap. It's easy to maneuver with the standard lens. If you use a larger lens, you may want to invest in a tripod. The camera can get heavy after some time since it weighs over 2 pounds. It uses six AA batteries, which also contributes to the weight. While this can be annoying, the camera does accept rechargeable AA batteries. A battery pack, however, is a lot easier to carry with you.
It comes with a touch-screen shutter that is extremely fast. It also has an internal leaf shutter. This ensures that your flash and camera are in sync, and it has a sync speed up to 1/1600 second. It is compatible with nearly any type of digital back, which gives you a lot more options.
Optical Stabilization/LCD Screen (2 out of 5)
One of the downsides of this camera is that it doesn't come with any type of optical stabilization technology. This technology reduces noise in images. For example, if you zoom out, you increase the chance of taking a blurry image due your hands just slightly shaking. Optical stabilization technology combats this problem. If you plan on using this camera for action shots or plan on zooming out a lot, invest in a tripod. If not, you'll be left with a lot of blurry images.
Another major drawback is that it doesn't come with a LCD screen or an internal flash. You will have to stick to the viewfinder to take images. This, however, shouldn't be an issue for most photographers. You should be using the viewfinder to capture your images and not relying strictly on the viewfinder. You can also add an external flash.
Photograph/Video (3 out of 5)
When it comes to image quality, this Mamiya camera is amazing. The images are sharp and clear even when zoomed all the way out. This is basically an all manual camera. It doesn't come with any type of white balance presets, but it does have a tremendous ISO range: 25 to 6400. This more than compensates for the lack of flash. It also has 19 custom settings, which allows you to create your own presets.
For those that enjoy being able to take both video and still images with their camera, this is not the camera for you. You can't take video with this camera. It also doesn't come with any type of storage media or data interface.
Bang for Your Buck (4 out of 5)
The latest version of the Mamiya 645 is not inexpensive. It costs nearly $6,000, and it lacks some of the features most people expect from modern cameras, including optical stabilization, a LCD screen and the ability to take video. It, however, takes amazingly great images, and the shutter speed is extremely fast. It takes extremely large images, and it captures nearly everything that you see through the viewfinder.
The camera is heavier than others in its category. If, however, you are in the market for a medium format camera, the 645 has a lot to offer for a price lower than many other medium format cameras on the market. It's well worth the price, and you'll be pleased with the results.
References