Flash Memory Camcorder Review: Canon FS31
SD vs HD
The Canon FS31 camcorder is a consumer camcorder that comes with a standard definition 16 GB internal memory and a 32 GB memory card slot. This differs from most modern camcorders that have the ability to record in high definition. So, what is the major difference between high definition and standard definition camcorders?
Well, the difference lies in quality. High definition video looks better on modern televisions. You also should use high definition if you plan on making any type of independent film. Standard definition, however, has been around a long time and many people are happy with the way these types of camcorders record. This video also still looks good on older televisions.
Another difference is that standard definition camcorders tend to be cheaper than the more sought after HD camcorders. So, if you are willing to sacrifice a little bit of quality, you can find a really good SD camcorder for a fraction of the price of HD camcorders. Further, the budget consumer HD camcorders usually don't produce a picture any better than SD camcorders.
Body (4 out of 5)
Now that you know the difference between SD and HD camcorders, it's time to see how the FS31 stands up against the competitors. Overall, the camcorder is extremely inexpensive, costing about $350. It's also quite compact at 2.2 inches wide by 2.3 inches high by 4.8 inches deep, and it only weighs 10.1 ounces with the battery. This means that it fits quite nicely into a jacket pocket or backpack.
The camcorder has a large 2.7 widescreen color LCD screen, but it is not a touch screen. Instead, you use a joystick to navigate to through the menu. For those extremely opposed to touch screens, this is a blessing. You don't have to worry about the screen getting smudged, or your hands sweating, which often makes it difficult to use the screen. For people that love their touch screen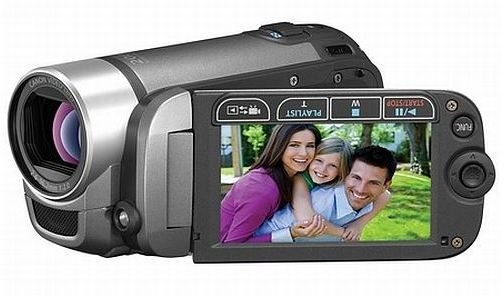 technology, this could be a deal breaker. But, the joystick is really easy to use and it is perfectly placed. The screen does swing out, and you can turn it around to view what you are recording.
The camcorder fits nicely in the hand and you can easily reach all of the controls. Another nice feature is the built-in lens cover. This cover closes as soon as you shut off the camcorder. This way you never forget to replace the lens cover and you don't have to worry about a dirty lens.
The accessories package is pretty standard with USB and video cables as well as a battery pack. This camcorder, however, does lack both a control jack and microphone input. The inability to add an external microphone is a drawback, especially if you want to record good, quality audio. All camcorders suffer on the audio side, and this one is no different. So, it would have been nice to have the option of an external microphone.
Image Quality (4 out of 5)
The FS31 features the SuperRange Optical Image Stabilization technology, which keeps your images from looking noisy when you are not using a tripod. This technology works alongside the Dynamic IS, which helps with shaking when working with wide-angle shots. You can take 3.1 megapixel JPEG still images with this camcorder, using its own dedicated flash. Even so, the still images are not great. So, if you want a camcorder than can record video and take amazing still images, this is not the camcorder for you.
But, the video quality does more than compensate for the lack of quality stills. The camera has both a 37x optical zoom and a 2,000x digital zoom, and it comes with a 680,000 pixel CCD sensor. You get up to 7 hours, 20 minutes of video when recording in XP and up to 11 hours in SP. You get the most recording time in LP, which is up to 20 hours, 50 minutes.
Features (4 out of 5)
Two other features include the Pre-Record and Quick Start features. The Pre-Record feature keeps recording three seconds of video and saves this video in the memory. If you start a recording session, these first three seconds of video will be added to the beginning of the new session. The Quick Start mode is a stand-by mode. This means that your camcorder is ready at a moment's notice to take video. This is perfect for action shots.
Another feature is the DIGIC DV II, which is supposed to help your images look more natural. This feature is really hit or a miss. The Program AE feature allows you to add presets to your video. It also features a Night mode for shooting video at night. This mode performed surprisingly well and the images are very clear.
Bang for Buck (4 out of 5)
Overall, the Canon FS31 is a nice standard definition flash memory camcorder. The features are really good and most of them work surprisingly well. The two major drawbacks of this camcorder are that you can't record in HD and the still images are not great. But, it's a nice budget camcorder, and the video quality more than makes up for the drawbacks.
References