Sony HDR-HC9 Review: A High-Definition Camcorder That Uses MiniDV Tapes
The Sony HDR-HC9 camcorder is a rare find: it's a high-definition camera that uses tapes, a preferable option for people who believe that tapes always deliver superior video product compared to SD and hard disc formats. While that opinion may be disputed, there is no doubt this camera delivers a quality product at a reasonable price.
Design (5 out of 5)
The HDR-HC9 looks almost identical to the camera it replaces, the HDR-HC7. As with most small cameras, the camcorder features a flip panel on the left side for viewing and a clear 2.7-inch LCD screen that accurately portrays the colors and look of what you are shooting. It has a touchscreen and, while some have argued that it is hard to use, I have never had a problem navigating with it.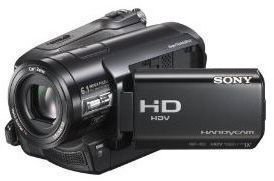 The handling of the camera is comfortable and everything is within reach while shooting, a good quality to have when needing to zoom, pan and move while shooting a scene. The right finger sits beside the zoom control while the thumb rests beside the start/stop button. If you want to stop and take a photo, that button is right next to the Zoom button, making it easy to snap that photo in a flash.
The camera features a power jack and HDMI input on the back of the camera and FireWire, A/V, component out and mini-USB jacks on the side by the LCD screen. That gives the user plenty of options for data transfer opportunities. The camera also possesses a LANC jack, making the HDR-HC9 compatible with jib cranes.
As well as the MiniDV option, there is also a slot to insert an 8 GB memory card to store your photographs on. I also should mention that anyone who wants to archive their footage will love the MiniDV format still being utilized on this product, although a tape library can grow out of control quite quickly.
Performance (4 out of 5)
The quality of images captured when using the Sony HDR-HC9 is good enough to support the argument that tape presents better quality video than SD or hard disc formats. This camera presents better video quality than some cameras costing thousands more. The camera shoots in 1080i and includes a digital zoom of 20x. Needless to say, the camera shoots quality images even if the zoom is in full effect.
The only major downfall, and this is a problem with all cameras in this price range, is low light shooting. In good light, the camera is magnificent and in moderate light, it remains solid. However, when the light gets low, noise sneaks into the shots and both the white balance and the focus starts to slip up a bit.
However, when the light is right, the camera works better than expected at this price range. There is a spot meter included in the camcorder that adjusts the focus to the section of the frame the user indicates. It is a nice addition and gives the camera added value.
As with all cameras of this sort, there is an onboard mic that works fine but is nowhere near as good as using an external microphone.
Price to Value (4 out of 5)
There is little difference between the HDR-HC9 and the HDR-HC7 so, if you have the older version of this model, to upgrade is a waste of money. However, if you want to get a new HD camcorder that still operates on MiniDV tapes, there might not be a better option than this camera. There are cameras you can buy for half this price that operate on hard drives but there is something about having the tape in your hands and there is still a belief that it provides the best video quality. This camera is worth the cost, ranging from $1,400 new down to $600 used on Amazon.com as of May 2011.
References
Author experience
Image also from Amazon.com