Digital Camera Review: Mamiya RZ67 Pro IID Camera
Mamiya RZ67 Overview
The Mamiya RZ67 is a line of single lens reflex cameras produced from 1982 to 2004. These are film (medium format) cameras. The latest version of this camera is the Mamiya RZ67 Pro IID, which was first released in 2004. It combines both the film and digital technologies into one. For photographers that are interested in a film and digital camera combo, the Mamiya RZ67 Pro IID is worth a look. As of 2011, this camera costs around $2,000.
Body/Image Quality (4 out of 5)
The RZ67 Pro IID is a workhorse. It comes with a revolving back, which means that the camera switches from landscape to portrait photographs without you needed to turn the camera over.
The standout feature of this camera is the image quality. It just can't be beat. The blacks are deep and never look blue. The camera is very responsive. The lenses are amazing on Mamiya cameras, and this one is no different.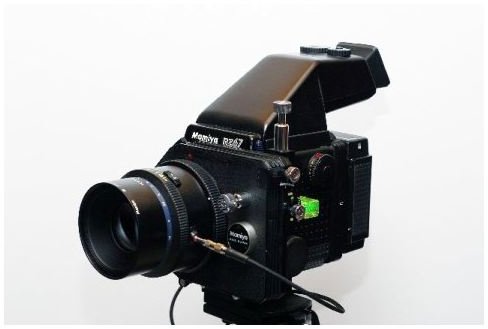 This camera can take quite a beating without breaking. So, if you are accident prone, then this is definitely the camera for you. The camera's dimensions are 4.25 inches wide by 5.26 inches high by 8.36 inches long, and it weighs 5 lbs.
Features (4 out of 5)
You can capture film in different formats with this camera, including on Polaroid, 220 and 120 films. It even supports the popular 6 by 7 centimeter format. The camera also comes with digital backs, which attaches to the rear of your camera. This back takes the place of your film, and it allows you to take digital images.
Another feature is that your camera and digital back can communicate wirelessly with one another. You can change settings like shutter release, shutter speed and ISO directly on your camera, and the camera will wirelessly update the Mamiya digital back with the new settings.
The Mamiya RZ67 Pro IID is also surprisingly easy to use. If you have never used this type of camera, you can quickly learn how to change orientation and use the camera back.
Cons (3 out of 5)
There are some downsides to this camera. First of all, it's extremely heavy and bulky. You almost cannot operate this camera without a tripod. So, this is not the camera that you are going to take with you into the backcountry. But, it works perfectly for studio shots and portraits.
One complaint that you often hear from photographers is that this camera is not attractive. But, more than likely, you are probably not going to care if your camera fails to win Miss America. You probably just want it to work correctly.
Next, it doesn't come with built-in metering. But, that's not a major issue. You can also purchase an external metering device to work with your camera. Another issue is that the tripod provides more support in landscape mode as opposed to portrait mode. In portrait mode, the camera just kind of hangs over the tripod, and this doesn't make it very stable. You may want to invest in a stability strap, which attaches to both you and the camera when taking portrait photographs.
Another downside is that you only get a few shots per roll, which means you'll be lugging a lot of film with you if shoot offsite. And, the digital backs are quite expensive. So, if you want to take digital photographs with this camera, be prepared to shell out quite a few dollars for the privilege
Bang for Buck (4 out of 5)
Despite some minor quibbles, the Mamiya RZ67 Pro IID offers amazing picture quality and lenses. And, being able to take both digital and film photographs is a major plus. This camera is comparable to a mid- to upper-level DSLR camera, but it has a lot more tricks than most standard SLR cameras.
References
Sensencw, https://www.flickr.com/photos/40156421@N02/4407080418/sizes/m/in/photostream/
Photography Review.com, https://www.photographyreview.com/cat/cameras/film-cameras/medium-format/mamiya/PRD_83760_3107crx.aspx
Photography Sig, https://photosig.photographyreview.com/cat/cameras/film-cameras/medium-format/mamiya/PRD_451018_3107crx.aspx