Digital Camcorder Review: Sony HDR-SR11 Pros and Cons
HDR-SR11 Overview
The Sony Handycam HDR SR11 was first released in 2008, and it currently sells for about $2,000 in 2011. This is a prosumer camcorder for people looking for a higher power camera, but who are not ready to move into the professional camcorder market.
Body (4 out of 5)
The Sony Handycam HDR SR11 weighs 1.2 pounds, making it extremely lightweight, and its dimensions are 3.3 inches wide by 5.4 inches deep by 3 inches high. It comes with a built-in 60 Gigabyte hard drive and a 3.2 touch screen.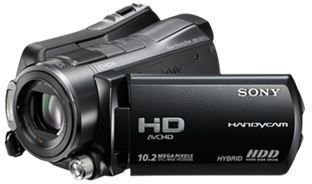 The body is nicely designed, and most of the controls are located on the body, which keeps you from having to constantly going into the touch screen controls for settings. You do, however, have to use the touch screen for a few important functions, which can be a pain for certain people.
There is, however, a problem with this touch screen as well as most other types of touch screens. After a while, you get fingerprint smudges on it, which makes it hard to see your screen under sunlight or other bright lights. But, the backlight for the LCD screen is located on the top-front of the body. This makes this feature easy to access, and the backlighting helps decrease the fingerprint problem.
Performance (4 out of 5)
This Sony camcorder allows you to capture true 1920 by 1080 high definition video by using the 16 Megabit per second AVCHD recording option. For independent filmmakers, this is quite a plus, especially for a prosumer camcorder.
To further help you with capturing HD-quality images, Sony has a 12x optical f/1.8 to 3/1 zoom lens with optical stabilization technology, which allows you to take either 49-588 mm video in 4:3 or between 40-480mm video in 16:9 mode.
Besides the HD quality, the picture of the video is also quite good. Your colors remain clear and crisp in almost any type of lighting. And, this camcorder comes with face detection software, ensuring that your subjects are always in focus. Further, the auto focus setting on the camera is quite accurate, even when you don't have a lot of light to work with. You also have a widescreen video capture option, which is quite useful for certain shots.
Hard Drive and Battery Life (3 out of 5)
The 60 Gigabyte hard drive holds nearly 23 hours of video when recording at 5 megabytes per second. If you are recording at the highest quality level, then the recording time drops to about 7 hours. If you put it on the lowest quality setting, then you can record nearly 42 hours of video.
While the hard drive offers you quite a bit of room, the battery doesn't live up to expectations. You only get about 90 minutes of continuous recording time when using the NP-FH60 lithium ion battery. So, if you are planning on a long recording session, you'll have to invest in several extra batteries.
Additional Features (4 out of 5)
You may not, however, need to carry an extra microphone. The built-in microphone captures audio quite well, and it has a zoom feature just like the lens. You also don't need to bring an extra camera since the camcorder has the power to take up to 10.2 megapixel images, and the images are actually quite good for a mid-range camcorder. It also has a built-in flash for taking images in low-light situations.
Bang for Buck (4 out of 5)
Overall, the Sony Handycam HDR SR11 offers a lot of nice features, and the image quality is beyond reproach. The major problem comes with the battery life. It can be quite a downer if you are filming and have to stop to change your battery after less than an hour and a half of recording. But, it's a minor problem in an otherwise great camcorder. This prosumer camcorder is well worth the $2,000 price tag.
References.
Article Reference
CNET Reviews, https://reviews.cnet.com/digital-camcorders/sony-handycam-hdr-sr11/4505-6500_7-32775808.html#reviewPage1
Image Reference
Sony, https://www.sonystyle.com/webapp/wcs/stores/servlet/ProductDisplay?storeId=10151&catalogId=10551&langId=-1&productId=8198552921665291500