Review of Two Underwater Camcorders: Panasonic SDR-SW20 & Sanyo VPC-E1 Both Have the Ability to Shoot Underwater
A New Ocean Species Has Been Found
No, unfortunately that species is not a new type of fish or a once considered extinct animal. It is a group of small, bright colored electronic devices classified simply as waterproof camcorders. Yes, you heard me correctly.
Sanyo and Panasonic have both recently taken a dive into shallow ocean waters with their brand new waterproof camcorder series. The camcorders both provide compact design and incredible functionality but have one major drawback. They can only withstand five feet of underwater pressure, meaning those deepwater dives and swimming trips still can't be captured on video. They do however, work great in the family or resort pool and can be an excellent solution for filming a snorkeling adventure.
As for what the individual cameras provide themselves, see below.
The Panasonic SDR-SW20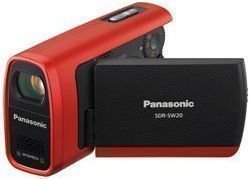 The SDR is not as slick as Sanyo's E1 model; in fact the design looks rather retro. At first glance it looks almost like a much older camera; or portable radio of some sort. The size is convenient however, and allows the camcorder to be stored in a large pocket removing the need to carry around a bulky camcorder handbag. It features a 10x optical zoom with a total combined 700x digital zoom, and stores videos and photos on a 4GB memory card which is included (Sanyo's model has no storage capacity included). The camera body is also shock resistant, if dropped from distances up to 4 feet; and also is dustproof to help keep it from being dirtied by filthy hands. Because it is waterproof it also should be noted that it can be used in the rain and on skiing trips; particularly in instances when you would never be able to use a normal camcorder due to moisture. It's total size is similiar to that of the normal television remote control, and is actually surprisingly thin.
The SDR features a quick point and shoot mode that can start filming in under a second helping dads everywhere capture more spur of the moment videos of the kids. The camcorder also boasts easy copy features to help transfer the videos both to a computer and a DVD. The camera package also comes with computer video-editing software to help you easily design and create cinematic home videos.
The videos and photos are stored onto an SD memory card. The videos are stored as MPEG-2 files with Dolby Digital AC3 MPEG 1- Layer 2 audio. The pictures are stored as 640*480 JPEG images.
The SDR has garnered reviews from all walks of life; I even think there was a turtle that said it doesn't work as well as it should underwater.
Not really.
Nevertheless, the camera would make a good fit for those interested in an all terrain type of camcorder. I would not recommend this camera to the high tech guru type who wants the biggest and baddest; there still isn't an affordable waterproof camera that captures video in high def.
This baby retails at about 399.95 and comes with the camcorder, a rather weak handstrap, and computer software along with the relevant USB connection materials.
The Sanyo VPC-E1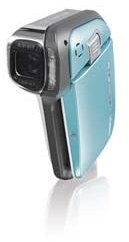 The new Sanyo Xacti E-1 Digital camcorder is a great home video solution even if it isn't specifically used underwater. From the getgo, the exterior design of this camera looks amazing and the overall size is very slim. The videos and photos are stored on a separate memory card as opposed to a DVD; and can fit up to an hour and twenty minutes per 1GB card. The camcorder itself supports up to an 8GB SDHC memory card; which in turn can store nearly ten hours or more of full motion video or over 4000 full resolution photos. The photos are high resolution, 6 megapixel still images and come out beautifully both above, and under, the surface of water. The video is recorder in a full 640*480 resolution at 30 frames per second. The camcorder also provides a chance to take images while in the process of filming simply by pressing the shutter button; in the event the kids do something cute and you're still in the middle of recording a video. It also includes an image stabilizer for when video is recording; and can differentiate between unintentional camera shake and intentional movement. The stabilizer can detect both up and down or side to side movement.The camera lens includes a 5x optical zoom and a 12x digital zoom allowing up to a total maximum of 60x zooming power.
The camera operating system and power up routine was designed to keep the flash of the moment in mind. Camera startup time takes a max of 1.7 seconds and is great for those spur of the moment shots when you need to snap pictures or record a film right away. It helps out a great deal when you're taking pictures of the kids; we all know how random they are. The compact design also allows the camera a perfect fit in the palm of your hand; with quick access to all the buttons and functions close to your thumb. It's also available in blue, white and yellow.
The videos themselves are stored as a highly compressed MPEG-4 AVC/H.264 format which means the actual file size is about 25% smaller than the average MPEG-4 video file. The videos are natively compatible with all iPods which means they can be transferred and burned to DVD and CD's directly through iTunes. The camcorder also features a direct hookup for your TV so you can share files with others that have not yet been transferred off the memory card. The computer USB connection is easy to connect, and simple drag and drop functions are all that is required to transfer and store video files on your computer hard drive.
Better yet, you would think the average waterproof camera would normally cost a fortune however Sanyo has produced this model at a very affordable price. The E1 retails at about 499.99 putting the total cost right around that of a normal camcorder.
Overall the Sanyo VPC-E1 makes a great family camcorder of its own accord; it's well designed, compact, takes great photos and videos, and provides tons of portability that for once hasn't caused functionality to be sacrificed. This product is highly recommended, especially for those family trips…and did I mention it's waterproof and can withstand water pressure up to five feet?