What is the Difference Between SD and SDHC Memory Cards 2GB?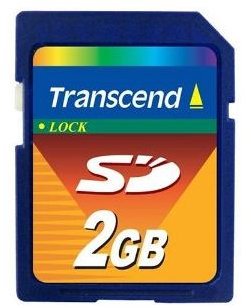 SD Memory Card
SD, or Secure Digital, media cards have built in copyright protection through a digital imprint that is encrypted into each of your files. According to SDcard.org, "SD technology is the de-facto industry standard for mobile phones, digital cameras, MP3 music players, personal computers, printers, car navigation systems, electronic books, and other consumer electronic devices." These cards have a maximum storage capacity of 2GB and can be used in almost every digital item you own. The 2GB storage is formatted in FAT or FAT16 which makes it easy to interface with most operating sytems.
An SD card is 24mm x 32mm x 2.1mm approximately the size of a postage stamp and is easily carried in a wallet or purse when not in use. The data integrity may be compromised by this though so the card should be kept in a protective plastic case. MicroSD and MiniSD cards are found in several of the smaller devices like cell phones and PDAs and can be accessed by an SD reader through the use of a click on adapter.
SDHC Memory Card
The SDHC Secure Digital High Capacity memory card offers the same size as the standard SD card but provides more removable storage power with a capacity range from 4GB to 32GB. These cards use the FAT32 file system to allow for larger data files and a faster transfer rate than is available in the standard SD card. These cards are not backwards compatible with older technology for the most part. There are some devices that can use the SDHC card with an update of firmware. Check manufacturer specifications to see if any of your devices are backward compatible by these means.
SDHC and SDXC (Secure Digital eXtended Capacity) cards are becoming the new standard in removable digital storage. Several high end Digital SLR cameras and digital video recorders are already using these larger formats.
Similarities and Differences
Both SD and SDHC cards have a life expectancy of about 10 years. They have several different speed classes that are rated for different usage. According to SDcard.org the class breakdown is as follows:
Class 2 : Standard Definition video recording, MPEG-4 and MPEG-2 video recording
Class 4: MEPG-2 (HDTV) video recording and DSC consecutive shooting
Class 6: Mega-pixel DSC consecutive shooting and for professional video cameras
Class 10: Full HD video recording and HD still consecutive shooting
The difference between SD and SDHC memory cards is storage capacity and read/write speed. SD cards write at a clip below 2Mb/s while SDHC write between 2Mb/s to 6Mb/s Class 6 and 10 cards are almost exclusively SDHC because the sheer size of the files makes it illogical to use media that can't handle a significant amount of data.
Resources