Review 8-inch Digital Photo Frames: Buying Guide & Christmas Gift Ideas!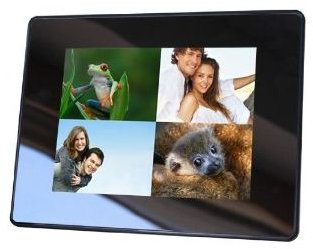 Digital photo frames are perfect gifts for any occasion, but you need to make sure that you are buying one that delivers. Eight inch digital photo frames make wonderful gifts since they're large enough to see the photos, but small enough so that they'll fit nearly anywhere. Here's a review of 8-inch digital photo frames and which ones are worth the money.
What to Look For in a Digital Photo Frame
First of all, let's go over what you should look for in an 8-inch digital photo frame. You should never buy one of these that are over $100. That's way too expensive. Generally, these should be around $60 to $80 at the most.
Now, look for ones that do double duty. They should either be able to play MP3s, or they should at least act as a clock/calendar. This will be occupying space, which means that it should do more than simply show your pictures. The ones that play MP3s are really nice since it will give your photo slideshow some background music.
The final thing to consider is capacity. Your digital photo frame should have a lot of internal memory, or it should have memory card slots or a USB (universal serial bus) drive. The card slots allow you to add photos to your slideshow even if your memory is full. Some only have the external drive or memory card slots and no internal memory.
Coby DP802
Now, it's time for the recommendations. The Coby DP802 digital photo frame sells for around $80, and it allows you to show JPEG and BMP images. It can play digital music, and you can also watch AVI and MP4 videos. You also have the choice of either using a black or white frame. The kit comes with both, and you can change them out at any time.
Other features include the ability to hang the frame on the wall by removing the stand. It also comes with built-in MMC, SD, xD, MS and CF card reading slots. The dimensions of this digital photo frame are 9.3 x 7.59 x 2.24 inches.
Aluratek ADMPF108F
The next on the list is the Aluratek ADMPF 108F photo frame. It comes in black, and it has 512 MB of memory. You can upload photos directly from computer by using the connected USB cord. The dimensions of this frame are 13.1 x 8.8 x 2.9 inches, and it sells for around $50 online.
Other features of this frame include 800 x 600 digital resolution, and it allows you to play both music and videos. This digital photo frame will randomly play your photos.
NIX N' EASY X08A
The final photo frame is the NIX N' EASY X08A digital photo frame. It comes with its own remote control, and it allows you to play videos and music. It has an 800 x 600 digital resolution, and it has built-in SD, USB, xD and Sony MS Memory Card readers.
Other features of this digital photo frame include the ability to split the screen so that you can view more images, and it has LED back lighting.