Large Digital Photo Frames Make Perfect Gifts: Buying Guide & Recommendations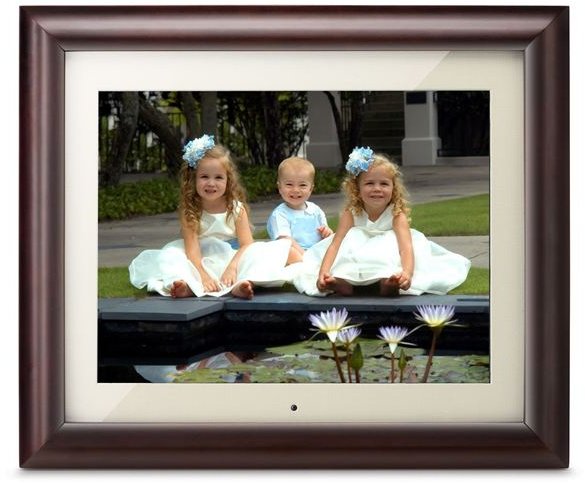 Digital Photo Frame Buying Tips
Large digital photo frames are just as the name implies: they're large …very large. Generally, these photo frames are around 15 inches, which makes them the same size as a lot of laptop screens. But, there's more to a good, large digital photo frame than just being large. They also have to be functional. So, we're going to go over what you should look for in a large digital photo frame and offer you some suggestions on which ones are worth your money.
With the holidays approaching fast, it's time to start looking for that perfect gift, and large digital photo frames are ideal. This is especially true if someone older is on your shopping list. The larger screens allow older adults to fully enjoy the pictures. So, the first prerequisite is to find that is at least 15 inches. This is the standard for these large digital photo frames, and you shouldn't accept anything less.
Next, look for one with an LCD screen. LCD screens allow you to view the images in bright lights or at an angle. This makes them superior to plasma or standard screens. Also, purchase one that either has a lot of built-in memory (at least 256 megabytes) or that has slots for memory cards. Memory cards allow you to add pictures to your slideshow even if the frame's memory is full.
One thing to consider before you just hand over the frame to grandma: these weigh over seven pounds so you may want to set it up for an older adult. And, these picture frames are generally around $150.
Smartparts SP15MW
Now, it's time for the recommendations. First up is the Smartparts SP15MW Digital Picture Frame. It is 15 inches and comes with a
walnut frame. The walnut frame gives it the look of an actual picture frame as opposed to the generic black or gray frame. It comes with its own remote control, which means you can manipulate the frame from a distance.
You can adjust the speed of the photos based on your preferences, and the frame is compatible with all types of memory cards. It has 1024 x 768 pixel resolution on its LCD screen. The frame also comes with a software program to facilitate the transfer of photos between your computer and the screen.
Gigantor Digital Photo Frame
Next up is the Gigantor Digital Photo Frame. This frame is also 15 inches, and it comes with a cherry wood frame. You can display your photos either from a USB thumb drive or a USB hard drive. You do not need to hook up the frame to your computer to operate it.
It plays MP3s, and it is compatible with various memory cards, including Smart Media, MMC, SD and the Memory Stick. It also plays MPEG 1, 2 and 4 video files. Finally, this frame comes with 1024 x 768 resolution on its LCD screen.
ViewSonic VFM1530-11
The final recommended frame is the ViewSonic VFM1530-11 Digital Photo Frame. This frame comes with 256 megabytes of built-in memory and a 15-inch LCD screen. It has an ebony frame, and it also is installed with a calendar and clock.
It plays MP3 files for slideshow background music, and it also supports MPEG 1 and 4 video files. It has 1024x768 resolution, and it supports the following memory cards: MS Pro, MS, MMC, CF, SDHC and SD.