Samsung Digital Photo Frames: Buying Guide to 5 of the Best Samsung Digital Photo Frames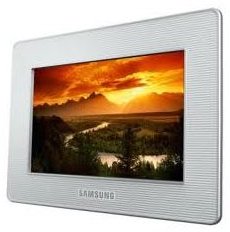 Introduction
Samsung digital photo frames give users a way to view special memories through pictures displayed in an elegant and sleek frame. There are several models in the line of Samsung digital photo frames, each having their own unique features and specialties. Here are five recommended Samsung digital photo frames that will definitely entice you with their sleek design and convenient features.
Samsung SPF-72V (4 out of 5)
Samsung SPF-72V 7-inch digital photo frame can access your photos in your computer wirelessly, eliminating the need for you to transfer photos from your computer to the digital photo frame. It can access your home network via a Windows Vista connection, but it can also connect to older computers with Windows XP with the use of an update file which is included in the Samsung SPF-72V. You can still transfer photos to it if you want with its 64MB internal memory and support for several kinds of flash memory cards.
Price: $63.50
Samsung SPF-105P (4 out of 5)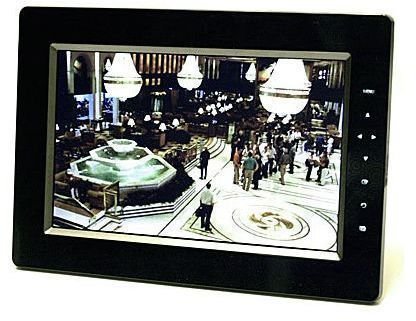 This is the largest widescreen 10-inch LCD in its class and it is beautiful. Its sleek and elegant design is matched by its wide array of features that cater to fans of photography. Its high resolution LCD screen gives a high contrast beautiful look to your photos whether you're a skilled photographer or not. However, the overly sensitive touchscreen controls and its user interface that is not very intuitive does not add to the experience. This is a shame because if it had a refined user interface, it would have been perfect. That said, it' still worth having in your home.
Price: $129
Samsung SPF-87H-2 (5 out of 5)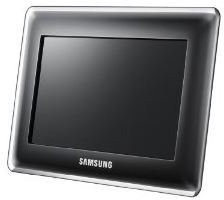 This 8-inch Samsung SPF-87H-2 digital photo frame prides itself with it energy efficient power usage. That, combined with its fantastic screen resolution and several slide show effects make it one of the best and environmentally friendly Samsung digital photo frames available. It's not just a digital photo frame, though. With its USB connection, you can turn it into a second computer mini monitor. With other features such as a movie player, a mini web browser and a music console, the Samsung SPF-87H-2 is the complete digital multimedia photo frame package.
Price: $87.55
Samsung SPF-107H (5 out of 5)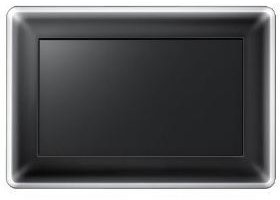 The Samsung SPF-107H has all the features of the SPF-87H-2 like the multimedia playback and the mini web browser, and more. Plus, it has a bigger and wider 10-inch screen. This digital frame has a 1 gigabyte built-in memory with expandable memory card slot.
Price: $120.27
Samsung SPF-71E (3 out of 5)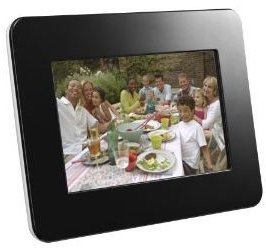 Samsung SPF-71E 7-inch compact digital photo frame has a sleek design that you can mount of your desk or bookshelf whether in a landscape orientation or a portrait one. Either way, the display will follow the orientation of the digital photo frame, giving you a flexible device that conforms to the design you are looking for. It may lack multimedia playback capabilities, but if you're just looking for a basic digital photo frame, this will do.
Price: 66.96
You may also want to read the 5 Best Digital Photo Frames and Buying Guide Tips.