Digital Photo Frames with Remote Control Recommendations & Buying Guide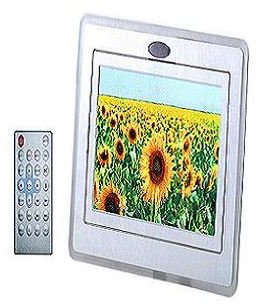 Benefits of Digital Photo Frames with Remote Control Options
Digital photo frames allow you to show off your best digital photographs. But, who wants to constantly have to go over and scroll to their favorite photographs? Well, many digital photo frames now come with remotes to make the process extremely easy. With these digital photo frames with remote control features, all you have to do is point and click.
Photo frames usually have a very large screen, and they scroll through uploaded photographs. While you can set it so that only one photograph is shown at a time, most people like to have a number of pictures displayed. Most of these photo frames can display JPEG photos, and they can also play either MP3s or MP4s.
Photo frames with remote controls, however, allow you to quickly find your favorite pictures and play your music. These types of photo frames are make for great gifts for either the holidays or birthdays.
7-inch Photo Frame
The Digital Seven-inch Photo Frame with Remote Control is highly recommended by users, and the seven inch LCD screen vividly displays any type of photo. It has high resolution with a 16:9 aspect ratio, and it has the ability to play MPEG4 files. It has slots for CS, SD, MMC and Memory Stick cards.
Other features include the ability to zoom into or out of photographs, and the photo frame also comes with a television/computer monitor option, allowing users to plug it in for video or slideshow viewing. It comes with a USB AV output plug-in. The remote control comes with its own stand that can be set up next to the photo frame so that it's never lost. This product runs between $80 and $90 online.
Memorex
Memorex is known for their innovative products, and their 10-inch Digital Photo Frame with Wireless Remote Control is no exception. This photo frame can display JPEG files and play MP3 music files. It has a high resolution at 16:9 aspect ratio.
Other features include a 3-in-1 memory card slot that can fit SD, Memory Stick and MMC cards, and it also has a Compact Flash card slot. This product runs about $200 online.
Sungale
Finally, the Sungale Eight-inch LCD Photo Frame with Remote Control is for the mid-range buyer since you can generally find it for about $100 online. What's really nice about this photo frame is that the frame actually looks like a real frame with its brown exterior. The LCD screen may not be as big as the other frames, but it's just as vivid with 800 x 600 resolution.
It also can play MP3 music files, and it displays JPEG photos. The digital photo frame can also show video files via its USB ports. It has expansion slots for CF, SD, MMC and Memory Stick cards.