What is The Best SD Card for My HD Camcorder?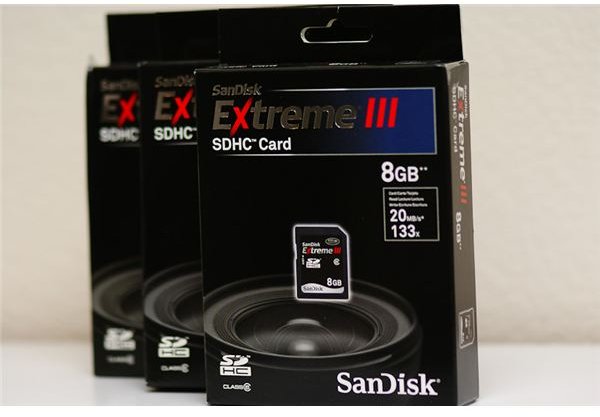 Introduction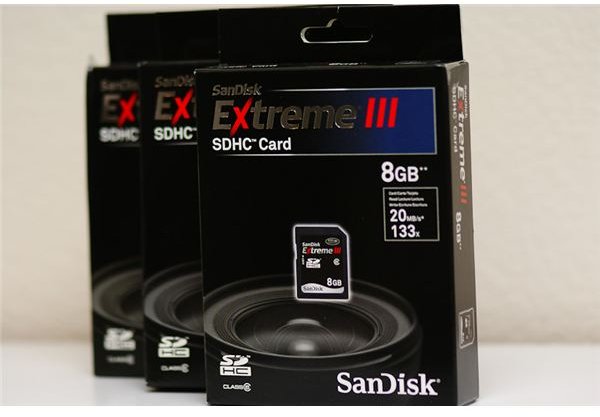 The two most popular HD camcorder storage types are HDDs (hard drives) and flash memory (SD memory cards). With cards reaching 32GB, it is no longer necessary to buy hard drive camcorders. The main benefit of flash SD card HD camcorders is that they are cheaper, faster, smaller, lighter, less prone to physical damage (since they have no moving parts), save battery, and allow you to swap out memory cards for endless shooting on the go. They also make for quick and easy transferring to your laptop or desktop with many computers now building in multi-card readers into their hardware. Flash-based memory cards are the future.
Terminology
SD - The original SD card. SD stands for "Secure Digital" and was developed by the SD Card Association with Panasonic, SanDisk, and Toshiba. These should be avoided since SDHC and SDXC cards (below) are faster and provide larger capacities.
SDHC - SDHC stands for "Secure Digital High Capacity." These cards range from 4GB to 32 GB. Most devices, especially newer ones support the SDHC specifications.
SDXC - SDXC stands for "Secure Digital Extended Capacity." These cards were unveiled at last year's 2009 CES tradeshow and are the latest in SD specifications. Currently, only newer Panasonic cameras and the new Canon EOS Rebel T2i digital SLR support this format. SDXC cards range have capacities in excess of 32 GB and can sustain transfer rates at 104 MB/second (MB/s) with future cards reaching 300 MB/s.
Class Speeds - Classes 2, 4, 6, and 10 cards have 2, 4, 6, and 10 MB/s transfer rates. Some cards specify actual speeds like 20 or 30 MB/second read or write speeds. Obviously, the faster the better. Make sure to compare like specs for accurate comparisons. In general, stick with Class 6 and higher for video recording.
X Ratings - X speed ratings are similar to class speeds. To find the transfer rate in MB/s , simply multiply the number in front of the X by .150 KB/second. So a 133x card will yield a rate of 20 MB/sec.
Winners
These are the best SD cards on the market currently. Despite being labeled for photos or video, they will work on any HD camcorder, pocket digital camera, digital SLR, or any device that accepts SD cards. They come in a variety of capacities (sizes) so choose one that fits your recording needs and budget. Don't forget to get more than one as a backup and overflow storage! The following is not an all-inclusive list, but the best value would have to be the SanDisk Extreme III, Transcend SDHC Class 10, and Kingston SDHC cards for their speed, reliability, and price.
SanDisk Extreme Series SDHC Cards
SanDisk Ultra SDXC Cards (if your camcorder supports SDXC)
SanDisk Extreme III SDHC Cards (20-30 MB/s)
SanDisk Ultra SDHC Cards (15 MB/s)
Lexar Professional 133x SDHC Cards (20 MB/s)
Lexar Platinum II SDHC Cards (9 MB/s)
Transcend SDHC Class 10 Card (up to 20 MB/s)
Kingston Secure Digital Ultimate and High Capacity Cards (Class 10)
Kingston SDHC/SDXC Ultimate Class 10 (up to 22MB/s read, 18 MB/s write for SDHC, 60 MB/s read, 35 MB/s write for SDXC)
Losers
Patriot SD/SDHC Cards - The only card in Patriot's lineup that will work well for video recording is the 2GB Extreme Performance SD card (the only with a lifetime warranty and a 133x (20 MB/s) rating). Unfortunately, 2GB is not enough for today's large HD videos.
Cheap/Fake Cards - If it looks too good to be true, it probably is.
Things to Look For
4GB or more (depending on your needs)
Class 6 - At a minimum, look for Class 6. Faster cards will allow you to keep your buffers empty and transfer your videos and pictures quicker.
Lifetime Warranties - Companies that stand behind their product is always a good indication that it is a quality card. Most companies that make memory and flash products include lifetime warranties for peace of mind.