Microphones for Creating Home Videos, Professional Videos and Web Casts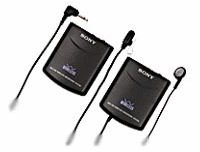 Choosing a Microphone
Choosing a microphone that is right for you can be a little daunting, especially when there are so many from which to pick. Perhaps it would be best to do an overview of three main types of microphones available and then go into what type would work best for you.
Microphones are classified in the three following ways: omnidirectional, unidirectional and shotgun. Omnidirectional microphones can record sound coming from all directions. Most camcorders come with this type of microphone built in. The problem with omnidirectional microphones is that it will not only pick up your speaker, but all the surrounding noise as well.
Unidirectional microphones are much more specific. These microphones only record sound from the sector right in front of them. You can control the volume on people's mics and isolate sound.
Shotgun microphones are meant to be used from a distance. You have the ability to stand away from the speaker and point the microphone at the person whose voice you want to capture.
Best Mic for Your Video Production Project
While these are the standard types of microphones used, for best results when using a camcorder, a lavalier microphone would probably work best. These clip to the person that's speaking, allowing you to clearly and professionally capture their voice.
For professional sounding video, Sony Wireless Microphone System - WCS-999 ($100 to $200 retail) [See Image 1] comes with a built-in windscreen and the ability to switch transmission channels. Sony also has some less expensive models that can be used for home movies.
But, if you need a microphone for video livecasts on the computer, a head phone microphone will probably work best for you. The microphones that come with your computer can only capture sound within four to six inches of the mic. This means that you have to be hunched over the whole time that you're recording.
USB stereo headset microphones, however, allow you to sit naturally and allow your voice to be heard clearly. These microphones have great frequency response and record the true sound of your voice. Plus, they will convert sound into digital as it's being recorded.
Plantronics offers USB stereo headset microphones that have a mic response of 100 hertz to 10 kilohertz. Also, you can get some pretty good microphones from companies like Labtec and Logitech as well.
If you're looking a way to create podcasts or even voice-overs, Plantronics DSP headsets [See Image 2] are perfect for this purpose. They're typically under $100 retail and are very easy to use.
Images