What is The Best Pocket Camera for Professionals? Digital Camera Reviews & Buying Guide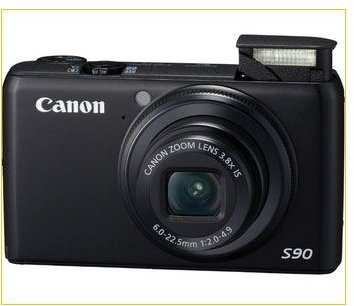 Compact Cameras for Professionals & Photography Enthusiasts
Any creative endeavour requires that you constantly practice and hone your skills at every possible opportunity. Photography is unquestionably such a creative pursuit and one needs to prepared to pursue it at every opportunity that one gets. Cameras have constantly been getting better and more powerful every year. Recently, the introduction of large sensor compact cameras that are geared towards the photography enthusiast or professional are the rage these days. A large sensor on a compact body brings in huge set of advantages starting from size to sensitivity and so on. If you've been asking the question "what is the best pocket camera for professionals?" take a look at the best options for a pocket camera for professionals who are interested in getting the shot whenever and wherever they are without lugging around their massive digital SLRs and lenses.
Canon PowerShot S90 (4 out of 5)
The Canon PowerShot S90 is a recently released pocket sized camera, it's actually the smallest in the list of cameras that we'll look at in this article. The size of this camera is definitely a significant feat considering the features and image quality that it provides. The S90 comes with the same image sensor that the Canon PowerShot G11 carries so if you've heard about or seen the image quality of the Canon G11 you already know what you can expect in terms of image clarity and quality. The Canon S90 also introduces a retro style interface in a digital era by incorporating a control ring that (as the name suggests) can be used to manipulate aperture, focal length, shutter speed and other usual controls that professional shooters look forward to using while shooting. Since the Canon S90 is targeted towards the professional or serious amateur (and the price of course) it comes with auto as well as fully manual control settings for shooting. The large size sensor (for a body of this size) definitely helps out in a very significant manner but there are some limitations that come with relative size of the sensor, like purple fringing. Nevertheless, for the trade-off in size makes these limitations quite acceptable and brings the Canon PowerShot S90 to the top list of pocket size cameras for professionals and serious photography enthusiasts.
10 megapixels
ISO 100-3200
No HD Video capability
Semi manual control
No interchangeable lenses, but a fast 2.0 lens provided
Good picture quality and all-round good performance
Canon PowerShot G11 (3 out of 5)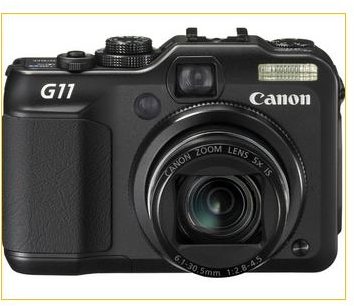 The Canon G series of cameras of which the current model is the PowerShot G11 is again a product marketed to professional shooters or serious photography enthusiasts who want better control and image quality from their point-and-shoot or pocket sized cameras. Regarding the pocket size, I have to clarify that the Canon PowerShot G11 is suited more for coat pockets and not really the pocket-friendly camera that can go into, say casual wear. But with the added size comes advantages like a (reasonably useful) optical viewfinder, 5x zoom capability, hot shoe for external flash units and so on. Now in the title of the Canon G series I also mention the G10 & G9 which are also equally if not better cameras (depending on who you ask) but have been discontinued. The 10 megapixel resolution allows the camera to perform better on image quality rather than compete in the "megapixel marathon". The images from the G11 should satisfy users looking for discerning image quality and color reproduction and the other usual stuff such as manual controls, RAW shooting capability, etc. The only disadvantage of this camera would be the video capabilities which again depending on who you ask is not a disadvantage at all, though most current competing models support HD video capture at least at 720p resolution. The Canon G11 can shoot video only at VGA resolutions which doesn't really seem to be the norm these days, especially when you're spending $500 on a camera. All in all, the Canon G11 or G10 & G9 all serve as worthy tool in the professional's pocket.
10 megapixels
ISO 80-3200
No HD Video capability
Semi manual control
No interchangeable lenses, comes with a f/2.8 - 4.5 lens & optical viewfinder
Good picture quality and all-round good performance
Panasonic Lumix GF1 (3 out of 5)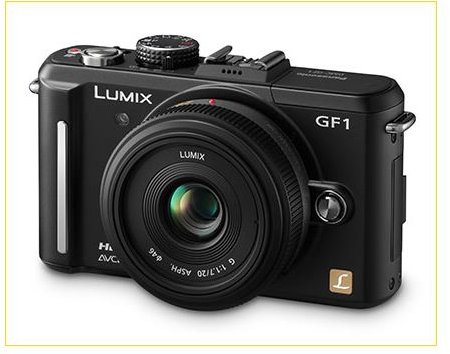 The Micro Four Thirds class of cameras unlike others were designed in mind to reduce the size of the camera yet provide the same quality and control expected from an SLR. The Micro Four Thirds system does away with the mirror box setup to radically reduce the size of the camera body by just allowing the user the LCD screen to compose their shots. As a Micro Four Thirds based camera, the Panasonic Lumix GF1 does a fantastic job of providing first rate performance in compact body. The Lumix GF1 could be easily mistaken for an average point and shoot because of its size, but holds within it a wonderful 12 megapixel capable sensor, a worthy 20mm f/1.7 lens, an Image Stabilized body, good high ISO performance, a 7fps RAW shooting capability and more. It kind of underline the adage "big things come in small packages". Unlike other small sized cameras, the Lumix GF1 will allow you to swap out lenses (the pancake series of lenses from Panasonic) that provide truly amazing control and image quality. The gripe that most people have with this camera is the absence of the optical view finder though Panasonic does have a LVF1 electronic viewfinder sold separately as an accessory. No camera is perfect! Yet if you are a professional looking for a worthy pocket sized camera then the Panasonic Lumix GF1 will not disappoint and in fact will allow you to get certain shots that would have been never possible with your big honking dSLR.
Panasonic Lumix LX3 (5 out of 5)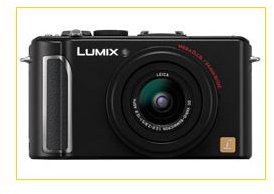 Just holding the Panasonic LX3 in your hands makes you feel that you're holding a serious piece of photographic gear though the size may not be reassuring. The metal chassis of this camera, the wide angle lens, the 10 megapixel sensor, significant high ISO performance and optical image stabilization make this camera a wonderful choice for professional photographers looking for a small pocket camera that they carry on them wherever they go. The onboard Venus engine IV processor has enough power to crank out RAW images with appreciable quality, sometimes closer to SLR quality. A special button on the top makes manual focussing easy, since manual shooting is one of necessary features for professional shooters. The focussing speed is good and full manual control of exposure makes the camera capable of some truly exceptional shots for its small size. The only disadvantage of the camera would probably be the 10 megapixel resolution which is good enough for 11x17" shots but anything bigger would be stretching the image quality. Yet another interesting aspect of the camera is that almost the same camera is marketed as the Leica D-Lux 4 though at an appreciable premium. That last point should help you understand how good the camera is that it can be given the Leica name!
10.1 megapixels
No HD video capability
Manual control
Non-interchangeable lenses
Good image quality & performance
Olympus PEN E-P1 (4 out of 5)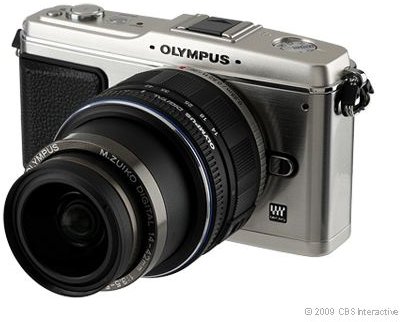 If you like retro styling or actually can get along with it then the Olympus PEN E-P1 is decent choice for professionals looking for a pocket camera. Yes, this camera has very retro styling since it was released to commemorate the Olympus classic PEN series of cameras. The micro four thirds system that the EP-1 uses gives its users beautiful images and the ability to change lenses is just sweet. The camera kit comes with either the 20mm pancake lens or the 14-45 mm lens which does make this camera not so pocket-friendly unless you're wearing a coat or a loose jacket. The image quality and features are rich and as expected from a camera of this price range. The low points of the Olympus PEN E-P1 are the slow focussing speed, a bit sluggish menus, no optical viewfinder and finally the battery life. The 12 megapixel sensor makes gorgeous images, though focussing fast moving objects is difficult but then you can't have everything can you? For the image quality and fine manual control that the E-P1 offers it would definitely do good with a professional photographer who understands the limitations of the camera and uses or bypasses them wisely.
12.3 megapixels
ISO 100-6400
720p HD video Capable
Full manual control
Interchangeable lenses
Good picture quality, but slow focusing