What Digital Camera Takes the Best Wildlife Pictures?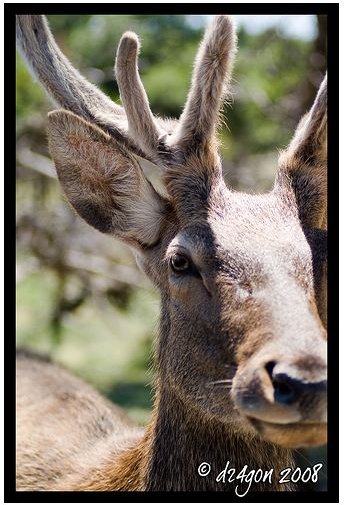 Introduction
"Wildlife" photography encompasses a wide range of photography. When shooting out in the field and especially on a once-in-a-lifetime vacation, it is a good idea to always be prepared by planning your trip (location, weather, time of day, etc.) and having the right gear. This article will help you find a digital camera that will make the most out of your trip and get the best wildlife pictures.
Photo by .dr4gon. Taken with a Sony digital SLR (a300) and a Tamron 70-300mm F/4-5.6 lens.
Point-and-shoot digital cameras that take the best wildlife pictures
The right point-and-shoot digital camera can make for an excellent introduction to shooting wildlife on a budget. They are smaller than digital SLRs and cost less. A general rule of thumb when looking for these point-and-shoots is to make sure they have anywhere from a 10x to 20x zoom lens. That way, if an animal is off in the distance, they don't just look like a tiny dot. Ideally, you want to be able to fill the photo's frame with the entire animal to give you a wide range of composition choices. A long telephoto zoom lens will allow you to do that.
Our picks for ultra-zoom point-and-shoots are the Sony HX5V/B, Panasonic FZ35, the smaller Panasonic ZS7 (or previous generation ZS3), or the Canon SX200.
Digital SLR cameras that take the best wildlife pictures
A digital SLR would be the next level of photography. There is more of a learning curve so if you are buying one specifically for a trip, make sure you familiarize yourself with the controls and all the functions. A digital SLR will allow you to get sharper, more professional looking pictures due to its larger camera sensor and better optics. Depending on your budget, any camera around the $800 mark will suit you well. Note that you will also need a telephoto zoom lens with the camera.
Our picks are the Canon T2i or the Nikon D90. On tight budget, the Canon T1i or Nikon D5000 and D3000 will work nearly as well.
If you already have a digital SLR and have used it for a while, you will know that the kit lens it comes with simply is not going to cut it for wildlife photography. Most kit lenses only reach 55mm or 105mm but a few do reach 200mm which I would say is the bare minimum focal length for photographing animals.
When shopping for a telephoto lens, look for a zoom (or prime) lens that will reach to at least 200mm. Common zoom lenses are 70-200mm, 70-300mm, and 70-400mm. The latter two lens designs have slower apertures (F/5.6 on the tele end) and are only suitable for daylight. A 70-200mm will have an aperture of F/2.8 or F/4 and is suited for low-light, but is not as long. Some zoom-lenses are also equipped with image stabilization (which makes them more expensive), but greatly increases the sharpness of your pictures when you are moving or shooting at slower shutter speeds. Prices for a telephoto zoom lens can range from $150-$2500.Find a focal length that will match your needs, camera mount, and fit your budget.
Conclusion
I hope this has given you a starting point for looking for a digital camera that takes the best wildlife pictures. Choosing the right camera for you is also a personal decision, so it helps to definitely see the camera in person and try it out. They are all a different size, have different grips, and a variety of features. Bring an SD memory card with you to shoot some pictures at the store and compare them side by side when you get home!