What is a Good Camera for a Teenager? Digital Camera Buying Guide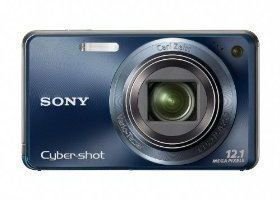 Why Buy a Camera?
Obviously, it would be such a pain not being able to take snapshots of interesting things that you will be seeing on the road! Teenagers are the ones who are most likely to go out with their friends and see interesting stuff outside the house. Without a camera, they will not be able to take photos of their precious moments, or even take photos of the beautiful scenery, or worse, not being able to get that photo with a famous celebrity.
Before rushing out, make sure that you know what to look for in a camera for a teenager so you can make the best choice before spending money.
Size
Just like everything else, technology changes over time. The current trend, especially for the teenagers, seems to be nanotechnology. Gadgets and appliances keep on getting smaller, handier and more portable. Anything that can be slipped into the pocket, pouch or brought anywhere is cool and hip. In the world of teenagers, where impression and status are the only things that seem to matter, this is a must. Size really does matter especially considering that most teens like to hang their cameras around their neck for instant photo shoots. Since teens like to capture funny and exciting events, they need to have instant access to their gadgets, particularly their digital cameras. It would be so ugly and uncomfortable not only for teenagers, but also for regular users to hang a large and bulky camera around their neck while going out with friends or to a party. Of course, not unless if they are professional photographers whose main purpose is not just to capture events for memory keepsake but for the art of digital photography.
Color
Teenagers love to personalize their possessions and color coordinate things. Digital cameras are no exception to this; they seem to associate color with their personality, mood or the latest fashion. A lot of digital cameras on the market come in a variety of colors, from the common silver or back, to more interesting colors like orchid, red, blue, or green. When buying a digital camera for a teenager, consider looking for one in their favorite color or, when in doubt, ask them what their color preference would be.
Fun Features for Teenagers
One feature teenagers are sure to appreciate on a digital camera is a touch screen. Tapping your finger on the desired function is very convenient.
Also, some cameras have a built-in photo editor. You don't have to go to the computer just to put text on your pictures. Now, you can crop, do red-eye correction, retouch, rotate, add frames and design them without taking out the memory card or plugging in to a PC. Teenagers who feel like putting some drama in their photos, can choose from variety of settings: sepia, black and white, negative, and others. All the magic happens in just few presses, or taps, on camera.
Since most teens are fond of hyper activities, they enjoy to take shots of their time with friends in which the photo prevails the happy moments like dancing with friends, swimming, running together, taking shots while they jump, playing sports or jokingly wrestle with each other. In this case, image stabilization must never be missed to prevent the disappointing motion blur.
Photo Sharing vs. Megapixels
Most teenagers will be sharing their photos via social networking sites, like Facebook, Flickr, or MySpace, rather than making large prints of their images. Therefore, you probably won't need to buy a camera with a high megapixel (MP) count. Read What are Megapixels & How Many Do I Need in a Digital Camera? to learn more about what to look for.
Phone Cameras vs. Digital Cameras
Even if your teenager has a camera phone, you still may want to consider buying them a regular digital camera. The cameras which are included in cell phones don't always capture very decent images and often don't have a great storage capacity. That said, if you do want to buy a teenager a camera phone, read Top 10 Tips for Taking the Best Pictures with Your Camera Phone for tips on how to make the most out of it.
Other Considerations
Battery Life - Repeatedly previewing the taken photos and videos from a digital camera can consume the battery life fast. It is important to have charger, rechargeable batteries or have extra batteries for continuous usage.
Also, another important matter is the warranty, usually some stores offer 1-year warranty but others offer up to 3-years. The longer warranty period, the better because teenagers are curious individuals and may press a wrong button or snap something that may need repair service or exchange of parts.
On the next page are cameras chosen because they are affordable and offer enough features to take decent photos but without too many unnecessary options that a teenager probably will not use.
Sony Cyber-shot DSC-W290
The Sony Cyber-shot DSC-W290 is definitely one of those digital cameras that should be on the wish list of every teenager. Most teenagers prefer to have smaller gadgets that could easily fit in their bag, pouch or even in their pocket and this digital camera is small as the size of playing cards weighing six ounces with its battery. It is available in four colors: blue, black, bronze and silver.
Interesting features include Intelligent Scene Recognition which detects the scene and makes it look that way in the process; Face detection technology which helps the faces to standout out amongst all the other things in the background; Smile Shutter Technology, and the most special feature – capturing of HD movie which can be played in a large screen.
Price is $258.95 at Amazon.com. For teenagers who love swimming, underwater captures can be made possible with this camera by purchasing a waterproof case at $61.05.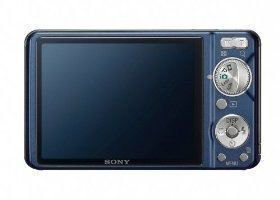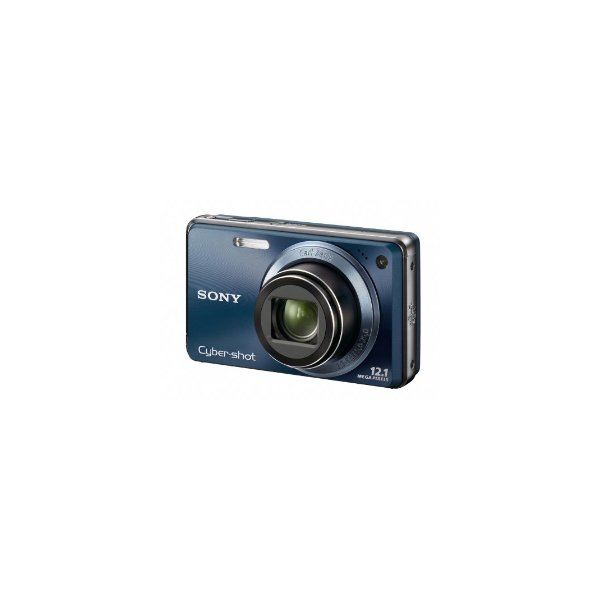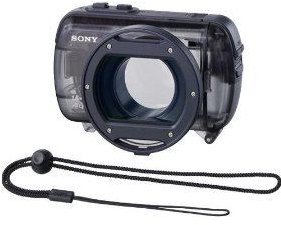 Kodak EasyShare C180
The Kodak EasyShare C180 offers 5 distinct colors: red, pink, blue, silver and teal. It is very light with 2.4 LCD. It is made perfectly for teenagers who are fashionable and those who find black gadgets boring.
Additional features that made this camera stand out for teenagers' taste include the face detection which automatically detects faces and instantly adjust the settings for an excellent capture**; shake stabilization** which is best for taking pictures of moving objects and people on the move especially during disco parties. On-camera photo editing tool which include cropping, photo flip and rotation, red eye reducer, colored/sepia/black & white filter and name tagging will surely fit for teenagers' preferences. Right on its screen, photos can be viewed as slideshow with multiple photo transitions. Video and audio recording is also available for a more memorable keepsake.
Common negative comment for the Kodak EasyShare C180 is its low battery life but of course, you can always buy extra rechargeable batteries as a solution.
Price: $127.99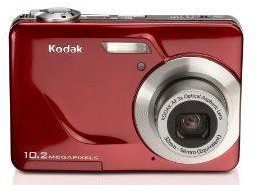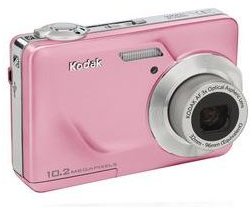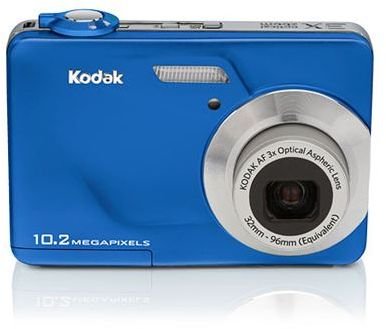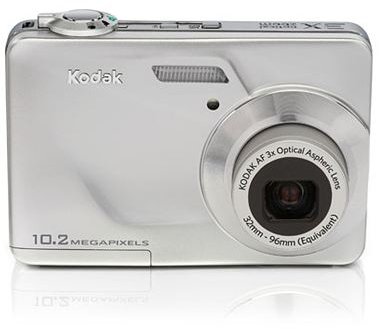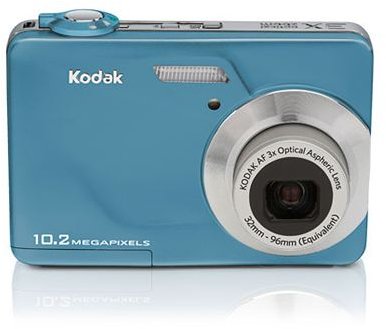 Samsung SL30
Another ideal compact digital camera for a teenager would be the Samsung SL30. It is a stylish slim camera that can capture excellent output. It is available in black, silver and pink.
Teenagers are creative and like to manipulate their photos, therefore Samsung SL30 built-in photo retouch is perfect for them. This editing feature can brighten and smooth skin in just a button press. Photos taken during night outs or during a sunny beach party does not affect its color and sharpness because it has its scene mode selection, auto white balance and auto red eye detection. It is also comparable to other digital cameras sold in the market for an expensive price. Samsung SL30 is sure a great buy.
Price: $88.04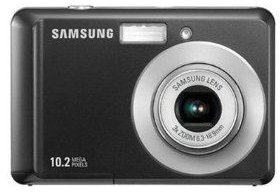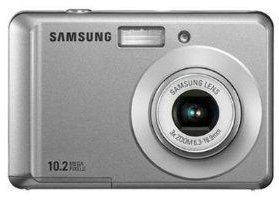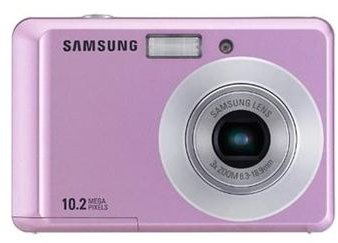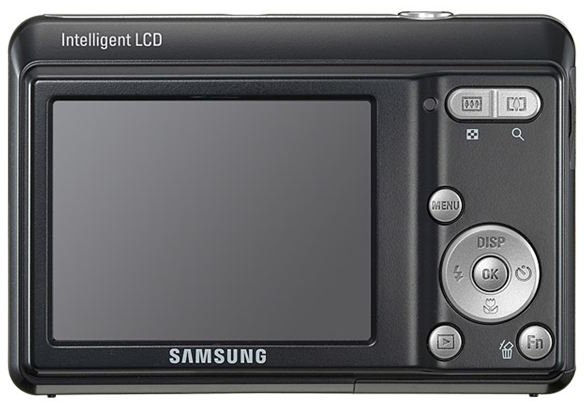 Which One to Buy?
Well, it will still depend on the teenager's needs and wants.
For the stylish teenagers and budget-conscious, they can go for the Samsung SL30 or Kodak Easy Share C180.
For maximum features even with the price, Sony Cyber-shot DSC-W290 will be a good choice.
Every shot counts, every flash has something to look back too. That is how valuable camera for us. Before the influx of new capturing technology devices such as video cam, camera is man's first choice in documenting special occasions, momentous and funny moments in their lives. As much as possible, teens would like to capture every tick and tock of the clock because every second counts.