The Best Pentax Camera Lenses for Zooming in Close to the Action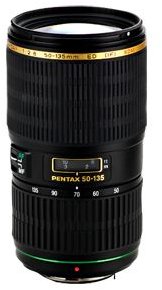 The Best Pentax Lenses
Pentax DSLR users have one clear advantage over their Canon and Nikon counterparts - in body image stabilization. This means that any lens you attach to a Pentax DSLR has the advantage of image stabilization. It also means that the costs of their lenses are often lower than the best zoom lenses on offer from Nikon, or the equivalent Canon zoom lenses.
The list below has five of the best Pentax zoom lenses available to photographers today. They work on both Pentax and Samsung DSLR cameras.
Pentax SMC DA* Series 50-135mm f/2.8 ED IF SDM (5 out of 5)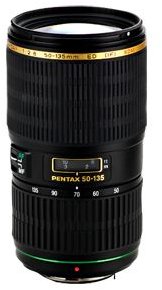 The DA Star lenses are the very best Pentax camera lenses you can buy, and the 50-135mm f2.8 is a great example of the extra quality you get when you buy a lens from this series. The focal distance makes it a great mid-range zoom, while the constant f2.8 aperture means that you can use it inside, outside, in good light, or bad. Crisp, sharp images are the hallmark of this lens, so it is ideal for portraits, weddings, or family occasions. The autofocus is quiet, and the body has a weather resistant sealing to keep rain and dust at bay. The 50-135mm retails at around $1000.
PENTAX DA 18-55mm f/3.5-5.6 AL Weather Resistant Lens (4 out of 5)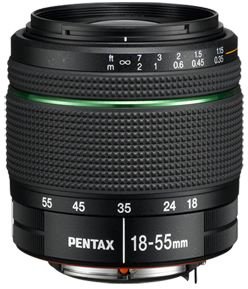 The 18-55mm Pentax kit lens is often hailed as one of the best kit lenses from any manufacturer. This one takes all the features from the latest 18-55mm, and adds a water resistant seal. With a handy 3x zoom, this lens has been made to handle damp shooting conditions with no loss of image quality. If paired with the weather resistant K200D, you instantly have a great all weather setup. It is lightweight, well made, and can be yours for only $149. This makes it one of the best value Pentax zoom lenses available.
Pentax DA 12-24mm f/4 ED AL (IF) Lens (5 out of 5)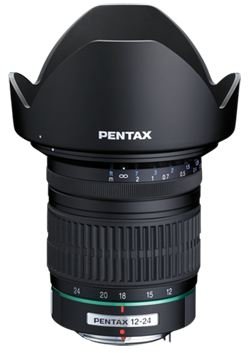 If you are looking for a great wide angle zoom, then this could be the ideal lens for you. Landscape and architectural photographers will love the build quality almost as much as the image quality. The constant f4 aperture adds to the flexibility of this lens, and it comes with a petal shaped hood to help minimize lens flare. Lens distortion is generally very well controlled, particularly at 12mm, and it produces corner to corner sharpness with ease. Priced at $700 this lens is not cheap, but it is one of the best wide angle options for Pentax shooters.
Pentax DA 55-300mm f/4-5.8 ED Lens (4 out of 5)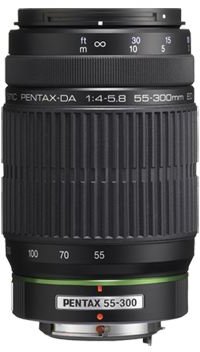 Nikon have a 55-200mm lens, while Canon have their impressive 55-250mm zoom, but Pentax trump both of them with this extremely useful 55-300mm lens. This flexible zoom range allows you to shoot in any number of situations, and it still manages a respectable f5.8 aperture at its longest focal length. Pentax users love the quick focus ring that lets you to manually fine tune your focus while the shutter is pressed half way and already autofocussing. It is relatively compact, capable of producing sharp, colorful pictures, and costs less than $350. For features and value alone, it is rightfully one of the best Pentax zoom lenses.
Pentax SMC DA* Series 16-50mm f/2.8 ED AL IF SDM (5 out of 5)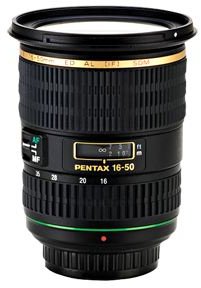 This is another great lens from the excellent DA* range of lenses. If you like your kit lens but wish that it was just a bit faster to cope with low light levels, then this could be the ideal lens for you. It is heavy for a lens of this range, but it is short, solidly built, and it again comes with the weather resistant seals you find on the other DA* lenses. Images from this lens are punchy and sharp, and if you pair it with the 50-135mm, (or even the 55-300mm), you may have all the lenses you need for a great vacation shoot. The $900 price tag is a high one, but it is justified by the quality results you get from this lens.
Purists may argue that the best Pentax camera lenses are prime lenses. However, there is an increasing number of Pentax zoom lenses that are ready and able to challenge that assertion. Sharpness, distortion control and build quality are just some of the advantages you can expect if you buy one of these zooms, but in the all important category of image quality, the difference between zoom lenses and prime lenses is narrowing. The lenses above are a great example of why this is true, and of what really makes a great lens.