The 5 Best Canon Zoom Lenses: Wide Angle and Telephoto Canon Zoom Lenses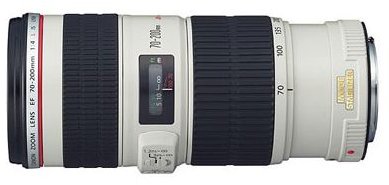 The 5 Best Canon Zoom Lenses
If you are thinking about adding a new Canon zoom lens to your camera bag, then you need look no further than this top 5 rundown of the best Canon zoom lenses for your EOS digital SLR. Whether you are looking for a wide angle landscape specialist, or a super telephoto close up king, there is a Canon lens for your needs.
1. Canon EF 70-200mm f/4 L USM Lens (5 out of 5)
The Canon EF 70-200mm f/4 is an L series zoom lens, and that alone is a mark of quality. Canon's L series (the L stands for luxury), is a range of lenses that are aimed at professional photographers. This one comes with Canon's quick and quiet ultrasonic lens motor. The 70-200mm range is great for portraits and far off subjects, while the constant f/4 aperture means that you will have good low light and background blurring capabilities. It is versatile, extremely sharp, and lightweight compared to the 70-200mm f/2.8. Best of all, the $630 price tag means that it is an affordable L series lens that doesn't need a professional's photographer's camera or budget!
2. Canon EF-S 55-250mm f/4.0-5.6 IS Telephoto Zoom Lens (4 out of 5)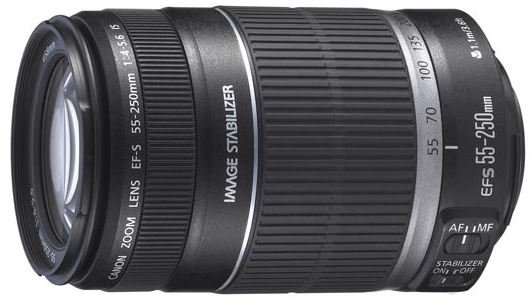 The Canon EF-S 55-250mm f/4.0-5.6 is a great value consumer lens. This image stabilized lens is a great all rounder that gives you an impressive zoom range. When combined with the 18-55mm kit lens you may have got when you purchased your entry level Canon EOS digital SLR, you have an 18-250mm coverage in just two lenses, and that is more than enough for most photographic opportunities. The Canon EF-S 55-250mm outreaches its Nikon equivalent by 50mm, and has a good reputation for producing clear and sharp photos. A street price of around $250 only adds to the desirability of this flexible Canon zoom lens.
3. Canon EF-S 17-55mm f/2.8 IS USM Lens (5 out of 5)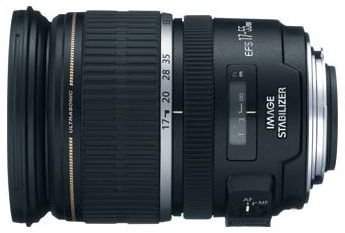 If you like the range of your 18-55mm kit lens, but are looking for more low light capabilities and increased sharpness, then the Canon EF-S 17-55mm f/2.8 is the right lens for you. It sells for about $1000, but this exceedingly well made lens is still one of the most popular in the current Canon lineup. It is the kind of lens you can keep on your camera all day, because whether you are shooting at dusk, dawn, or somewhere in between, the Canon 17-55mm, and its f/2.8 aperture, will easily cope with the available light you have. It is heavier than the 18-55mm kit lens, but this Canon zoom lens is well-balanced and quick to focus.
4. Canon EF 70-300mm f/4-5.6 IS USM Lens (4 out of 5)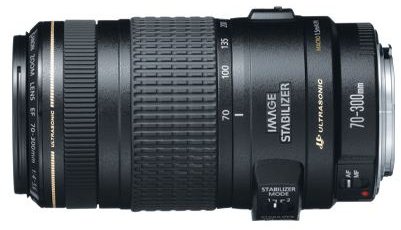 Canon users looking for the most range for their money quickly turn to the Canon EF 70-300mm f/4-5.6 IS USM Lens. This lens is great for wildlife and portrait photography because of the 300mm reach that will let you zoom in unnoticed on your subject. The f/4-5.6 aperture is not as fast as some lenses, but it still gives you great options in most lighting conditions, and a smooth professional looking blurred background. The street price of $530 puts it in a similar price range to the excellent 70-200mm f/4 L, but the extra 100mm reach is often what swings many consumers towards the Canon EF 70-300mm. It has image stabilization, and good optics, so this is an ideal Canon zoom lens for the advanced amateur who wants to get up close to their subject.
5. Canon EF-S 10-22mm f/3.5-4.5 USM SLR Lens (5 out of 5)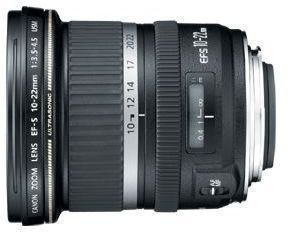 This is the widest zoom lens in the current Canon lineup. As with the 70-200mm f4, the Canon EF-S 10-22mm f/3.5-4.5 does not include image stabilization, but when you are dealing with lenses this wide, it is not always needed. Stunning landscape photos and epic architectural shots are made much more likely with this great wide angle lens. In fact, Canon users often compare its optical quality to that of an L series lens, and that in itself is probably the highest compliment that you can give this zoom lens. So, if wide angle photography is your specialty, the 10-22mm is the best Canon zoom lens for you.
Conclusion
Prime lenses are frequently said to be the pinnacle of optical excellence. However, the practicality, price, and flexibility of the new Canon zoom lenses are hard to ignore. Their quality is often underestimated, but if you purchase a Canon zoom lens from the list above, you can be sure that you have a great lens that won't let you down.