Top Ten Digital SLR Accessories for Your DSLR Camera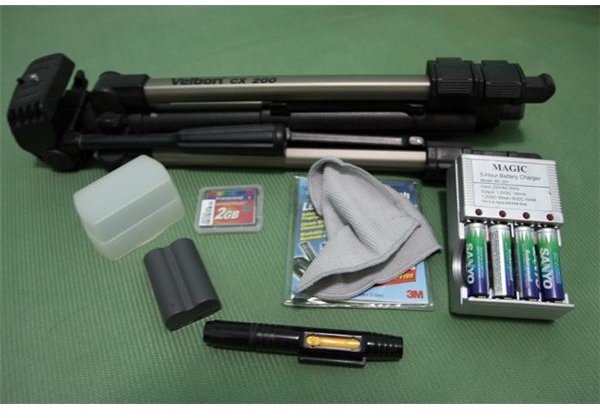 1. Camera Bag
While most of the DSLR camera distributors might give their customers a decent camera bag as a freebie, most often than not these camera bags are of low quality and are not durable enough to last through your lifetime. And most often than not, these bags won't really offer the protection you'll need when transporting your DSLR. Simply put, you need to invest on a sturdy, durable and roomy DSLR camera bag. Fortunately, you have many options to choose from. Two of the most popular DSLR camera bags are those manufactured by Lowe Pro and Case Logic. Lowe Pro's camera bags are top of the class and are well padded to give your camera the protection it needs. Some of these DLSR bags are a bit pricey compared to ordinary bags, so be careful when choosing what DSLR camera bag you are going to buy. If you aren't sure how to choose a camera bag that's perfect for you and your unique photography needs, here's some tips on what to look for in a camera bag.If you're crafty, here's how to make your own camera bag.
2. LCD Protector
Your DSLR's LCD screen is one of the most important parts of your camera. So, you must also invest in accessories that would adequately protect it. No matter what brand of DSLR camera you have, you'll definitely find one or two LCD protectors which suits the size of your DSLR's LCD. LCD protectors, like those in mobile phones, are pre-cut plastics that fit over your camera's LCD screen. The good thing about this type of LCD protector is that it is not permanent and you can remove them anytime you want. Also, they are very affordable, or cheap is probably more appropriate to say. Here are some additional tips on how to protect your camera's LCD screen.
3. Padded Neck Strap
Having your DSLR camera hanging on your neck the whole day with an inadequate strap will place a lot of strain on your neck, especially if you're using the camera strap your new DSLR camera came with as, oftentimes, these straps are not "neck-friendly". That's where padded neck strap comes in handy. These camera straps provide a soft cushion to the neck, which reduces the strain the camera places on your neck, unlike the hard material of the DSLR neck straps that often come packaged with your camera.
4. DSLR Lens Cleaner
Your DSLR camera's lens is a magnet for all sorts of dust, grime and finger marks. It's unavoidable, especially if you're shooting under rigid environments. To prevent this dirt from accumulating, regular cleaning of your DSLR camera's lens must be done on a regular basis. You can either use a lens pen cleaner which comes with a soft brush for cleaning the dust off your lens and and lint remover for removing finger marks on your lens. You can also buy a lens cleaner kit which comes with a liquid cleaning solution.
5. Tripod
No matter how much you want to master the art of avoiding camera shake, chances are, you'll never be perfect. More often than not, especially if you're a photo hobbyists, you'll greatly benefit from the stability offered by using a tripod. Just a small word of advice; when you're looking to buy a tripod - though there are many cheap and affordable tripods available in the market today - if your budget permits, it's always a good idea to invest in a high quality tripod. Experience taught me this when my first tripod broke down, I had purchased one of those generic-branded third party tripods. Fortunately, my DSLR camera was not attached to it when it broke. Here's what to look for when buying a tripod.
6. Built-in Flash Diffuser
If you're not interested in purchasing an external flash for your DSLR camera and are already contented with its built-in flash, you might want to consider getting a third-party built-in flash diffuser. Using a flash diffuser will help lessen the shadowy effect in your photos, caused by using a flash in dimly lit environments, and help photos look more natural. A flash diffuser can be attached at the base of your camera's flash and even come in various colors for artistic lighting.
7. Extra Battery/Battery Grip
For extra usage time of your DSLR camera, you have two options - either you buy an extra battery or a battery grip that comes with an additional battery pack. Buying an extra battery pack is cheaper than buying a battery grip. But the problem is, it would take you some time to replace a used up battery with the extra one which is to your disadvantage if you're photographing events and other special occasions with unpredictable moments. Whereas, if you have a battery grip with a ready battery pack, the extra battery will power up your DSLR camera once the other battery runs out.
8. Dust Cloth
Most of us tend to forget the importance of this piece of cloth. But if you care about your DSLR camera, you should never leave the house without one. Dust cloths will help wipe off dust on your lens and your viewfinder. Using a dust cloth is a good way to maintain the pristine conditions of your camera. Use a dust cloth made specifically for sensitive gadgets, such as your DSLR camera. Ordinary cloths should only be used if a proper camera dust cloth is not available and, if you do find yourself needing to improvise, make sure the cloth is lint free and won't scratch your camera's lens.
9. Travel Charger
Whether your ambition is to become a travel photographer or you simply like to take snapshots while on vacation, having a travel charger for your camera will ensure that you always have a fully recharged battery.
10. UV Filter
If you're into landscape and scenery photography, do your camera and your lens a favor by purchasing a UV filter. A UV filter is designed to reduce the UV radiation coming from sunlight which is not visible to the human eye. Shooting without a UV filter can produce a bluish haze to your photos. UV filters come in various sizes and it shouldn't be a problem to find one that fits your camera's lens. An additional advantage to owning a UV filter is that it can act as a lens protector, many photographers choose to leave their UV filter on at all times just for this purpose. Should you drop your lens, replacing the filter is, by far, a cheaper option than replacing a lens.