Digital Camcorder Buying Guides for Digital Camcorder Between $500 to $1000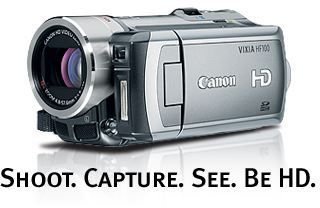 Overview
Okay, so you've seen the articles for the camcorders under $200 and those in the $200 to $500 range, but you're still not satisfied with the selection. Now, we're going to give you a few more, relatively more upscale choices. The camcorders in this article will fall in the $500 to $1,000 range. Here, you're going to be getting a lot more features and much better high definition camcorders than the Aiptek GO-HD High Definition.
Canon's Powerhouse of Camcorders
So, since we're on the subject of high definition, let's start with the Canon Vixia HF100 ($600 to $900 retail) and Canon Vixia HF10 ($800 to $1,000). These two camcorders are very similar, except that the HF100 is smaller and doesn't come with built-in memory. Also, the colors are different; HF100 is silver while the HF100 is black. For the sake of being brief, I'll put lump these two together because of the similarities.
If you look at the size of these camcorders, you'll think that there's no possibility of these being great machines. But, looks can be deceiving. These bad boys pack super fast focusing capabilities, amazing video quality and a design that fits comfortably into you hand.
You can record AVCHD video from about two to six hours, depending on what quality setting you have it on. Both come with the new SuperRange optical image stabilization, which is a nice way to get crisp images even if you don't have a tripod. While the manual focus can be a bit disappointing, these two cameras are well worth the price.
Canon has also come out with another HD model for 2008, the Canon HV30 High Definition 1080i MiniDV ($800 to $1,000 retail). This consumer camcorder has had some of the highest ratings for any of the just released video cameras. This model also comes with the optical image stabilization and a CMOS imager, which will help diminish any noise from low light.
This all black design was made to impress onlookers, but not as much as the multi-angle Vivid LCD screen. What also sets this machine apart is the 30p mode.
Super Sony
While Canon has obviously come out with their big guns, Sony, too, has raised the bar with their new camcorders. The Handycam HDR-SR10 40GB Camcorder ($650 to $1,000 retail) is quite impressive. The Face Detection technology on this model actually works and keeps those who you want most in frame sharp. The HDR-SR10 also comes with its own optical image stabilization technology, Super SteadyShot.
But, what's really nice about this model is the internal 40G hard drive and full HD 1920x1080 resolution. For the price, the Handycam HDR-SR10 40GB Camcorder is hard to beat.
If you're in the market for a little bit more memory, then Sony offers the Handycam DCR-SR220 60GB Hard Drive Camcorder ($500 to $600). While it doesn't have as many bells and whistles as the HDR-SR10 40GB, you could definitely record every hour of your niece's graduation and your best friends wedding.
With this model, you have the option to save additional footage to an optional Memory Stick Duo card. So, there's really no excuse for missing little Susie's first pony ride. Plus, you could also take some really wonderful still pictures of the same event. But, buy an extra battery; the battery that comes with the camcorder doesn't last too long.
As the second to last article in this series, there is still one more group for the next indie director to fawn over, the $1,000 plus range. But, for now, these are the best picks for this price range.For more information on image stabilization technical, click here.
Images