New Camera Bags for Your Digital Camera - Including Kata, Naneu and Tamrac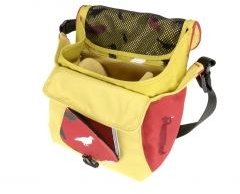 If ever you needed to obtain a new camera bag, this is the time for it. In celebration of the travel season, camera bag companies are displaying their wares with products to fit any occasion.
Let's start off with every day use. The Rufous Whistler ($90 retail) by Crumpler [See Image 1] is every bit a conversation piece with its bright colors as well as a daily camera bag. It's water-resistant and is padded on the inside so you don't have to worry about scratching your lens. With an adjustable strap and numerous pockets, the urban jungle just got a little easier to navigate with your camera.
Speaking of the urban jungle, Delsey has introduced a line of bags for female photographers to navigate city settings. Coming in four sizes with prices up to $400, these stylish nylon or leather bags could be perfect for the daily commute.
But what about real wild settings? Well, then the right choice for you may be the Naneu Pro Adventure K5. This bag was built to protect your precious cargo from nasty weather. It's water-resistant and has splash-guard zippers. And, if that wasn't enough, it also sports a rain cover. Pricing is not available on this item since it hasn't hit the retail stores yet.
Another hard-core travel model is the Adventure 10 from Tamrac (retail approximately $175 to $200) [See Image 2]. This model also has a weather flap like the Pro Adventure K5, but this one is more like a traditional backpack. It straps at both the sternum and waist to distribute weight more evenly when you're hiking the trails. And, the easily accessible mesh pockets are perfect for water bottles on a hot summer day.
But, what if you're in between the city skylights and the safari nights? Like the beach on a nice summer's evening? Then, there are some simple travel bags available to you. Kata Digital Photo Series (retail $69 to $84) [See Image 3] of camera bags will hold your camera, personal items and even your laptop. HPRC 3500 backpack (retail $349 to $400) [See Image 4] has a hard-shell to protect your gear, but also has an ergonomically-structured back pad for more comfortable travel.
Finally, on the plane back from those tiring hikes, walks and bike rides, you want your gear protected, but to also fit in the compartment with you. Seahorse's HURRICANE product line (retail $200 to $250) [See Image 5] are hard-shell cases that were designed to be carry-on. They are made to withstand unwanted turbulence on the plane. Another model that might interest you is the Think Tank Airport International 2.0 (retail approximately $330) [See Image6]. This bag features combination locks that comply with TSA standards, a security cable and a Security Tag that provides you with a serial number that is only registered to you.
So, whatever you're doing this summer, be it outdoor fun, airplane travel or even just taking in the city air, you have numerous camera bag options with which to play and try.
Images