Best Camcorders for Under $200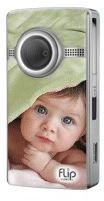 Video on a Budget
Weddings, travel, birthdays and more are happening all the time. You want to capture those precious moments, but don't want to spend a fortune for a camcorder. Luckily, many great companies have come out with compact models that are perfect for the bargain shopper. These camcorders offer you not only great video quality, but they are also great for families who don't have a lot to spend. Here are a few of the best camcorders under $200.
Flip Video
Pure Digital has been coming out with inexpensive camcorders for the past few years. Their latest models, the Flip Video and the Flip Video Ultra,
were designed for the amateur videographer. While the Flip Video UltraHD model is the top of the line Flip Video model, it only costs about $60 to $70. It can record up to one hour of HD video at 1280 x 720 pixel resolution at 30 frames per second.
This machine comes with up to 4 GB of flash memory. You can record up to two hours of video using the Flip Video Rechargeable Battery Pack. While this isn't a lot, this camcorder is mainly for capturing on-the-go video as opposed to recording a movie. If you plan on taking a lot of video, buy an extra battery pack. This camcorder can also be placed on a tripod. The Flip Video Ultra has 640x480 pixel resolution, which isn't bad for an introductory camcorder. The drawback of this model is poor audio quality. The subject will have to be close for his voice to be picked up by the camcorder.
Oregon Scientific
Oregon Scientific is also introducing some camcorders for under $200. The Action Cam ATC9K is a neat looking little camcorder, and its designed for outdoor users. It captures 1080p HD video, and it can take still images up to 5 MP in resolution. The best feature of this camcorder is that it allows you to determine the gravity or G-forces when you are performing tricks, accelerating or decelerating. The camcorder is waterproof, and you can drop it without fear of damaging it.
For slightly less money, you can get the ATC2k Waterproof Action Cam, which has a nice internal memory (32 MB). This camcorder only has three buttons so it's perfect for beginning users. It has a really cool 48 degree field of view, and it has a mounting accessory, meaning you can strap this to your helmet and get amazing point-of-view shots. Best of all, if you want to catch some air, your camera can withstand both the snow and ice.
Other Models
If you're in the market for a high definition camera on a shoe-string budget, the DXG Sportser models may be worth a gander. These camcorders are designed for underwater and all-weather use, allowing you to safely take the camcorder on a boat or tubing without danger of ruining it. For example, the SXG-5B1VO HD digital video camera boasts 1920 x 1080 resolution at 30 frames per second, a flip-out LCD screen, a self-timer and 3 inch TFT screen. Even better, it only costs $169.99. You can use a tripod with this video camera for better recording quality, and it also doubles as a still camera. The SD card slot supports SDHC cards up to 16 MB in size. The camera is a little clunky, but really nice for the price.
While Sanyo Xacti VPC-GH4 is a small, compact camera that packs a lot of power. It costs less than $150. It has an amazing 10x dual range zoom, which you don't normally find on smaller camcorders. The camcorder feels good in the hands. It records full HD 60i (19020 x 1080) video, and it captures 10 MP digital photos. It also has face detection and a digital image stabilizer, which you can use for both videos and photos. The LCD screen is a nice size at 2.7 inches wide, and it has an amazing wide angle lens range:
Photo: 30 mm to 190 mm
Video: 40 mm to 200 mm and 80 mm to 400 mm
When looking for the best camcorder under $200, take your time finding a model. Test out a few different camcorders until you find one that you really like. You can usually try the model out in the store. If you have to order it, immediately use the camcorder, and return it if it doesn't offer you what you need.
References