Top 5 Sony HDR SR11 Batteries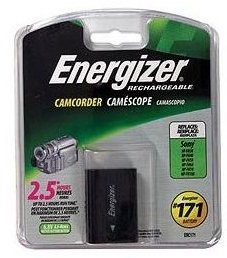 You love taking videos and photos until your batteries run out. Make sure that the replacement battery you will get is compatible with your SR11 camcorder and it was made with safety and quality in mind. Here are some recommended batteries for replacing your current one or simply to serve as an extra just in case.
Energizer Camcorder Battery
From one of the most trusted names in battery technology, this camcorder battery for the HDR-SR11 offers a high quality replacement lithium ion battery for your default one. If you are going to trust one name in terms of third-party batteries for your camcorder, it might as well be Energizer. You can purchase it online for $31.98.
TechFuel Premium Battery
This extended capacity lithium ion rechargeable battery from TechFuel provides a storage capacity of 1300 mAh/9.6 Wh and a voltage capacity of 7.4 volts. It is manufactured in a facility that complies with RoHS and the ISO 9001 which ensures you that it was made with safety and quality in mind. It features a voltage regulator and a thermal circuit protection design that comes with an advanced battery circuitry technology. Meeting and sometimes exceeding expectations in battery safety and quality, this battery is an excellent choice for replacing your lost or damaged SR11 camcorder battery. You can purchase this battery for $24.95.
Kinamax Replacement Battery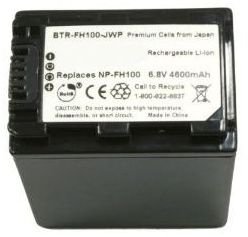 This battery is designed to be a replacement battery for a range of different model camcorders like the NP-FH100, HDR-CX12, HDR-SR11 and HDR-UX5 among others. It offers an energy capacity of 4600 mAh, which is considered ultra-high. A higher energy capacity of a battery also means it can store more power and it can last longer, giving you a reason to stick with a single battery for a longer period of time. It is made with premium grade A battery cells from Japan so you can expect high quality performance and a safe design. You can buy it for $31.49.
Sony Handycam High Capacity Intelligent Batteries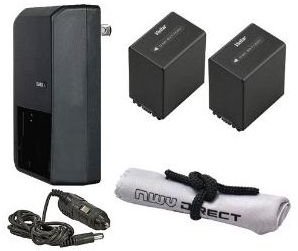 Buying packaged accessories for your camcorder will not only save you money but can also give you a convenient way of getting the range of benefits of accessories that will require more effort when you get them individually. This particular accessory package for your HDR-SR11 camcorder features two high capacity AC/DC batteries with an IC chip and that offers 7.4 volts and 4200 mAh of power, a rapid travel charger that can be used in your car or via a wall socket and a microfiber cleaning cloth. You can buy this package of camcorder accessories for $149.
Polaroid High Capacity Rechargeable Lithium Replacement Battery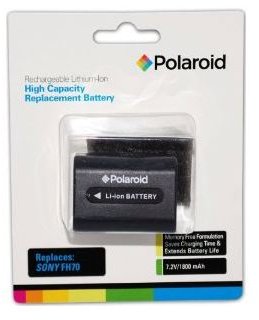 At $19.99, this lithium ion battery offers 7.2 volts and 1800 mAh of energy capacity. It is designed to be environmentally friendly so if you are concerned with the environment and how you will get rid of this battery once it has run its course, you can just let it go without requiring specialized garbage disposal techniques to protect the environment. It features a formulation that is memory free, which extends the life of the battery and saves up on charging time. It is compatible with a host of camcorders like the HDR-HC5, the DCR-DVD103, the UX10 and the SR11 among others.
HQRP Two Batteries with LCD Screen Protector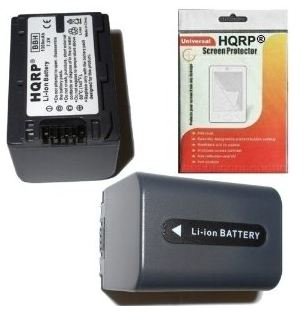 If you need two replacement batteries, it is better to get this package for the price of $28.91 than buying them separately. That way, you get to save some money. Each battery has a voltage of 7.2 volts, an energy capacity of 1300 mAh and an integrated microchip technology that prevents overcharging. Without memory effect, you can recharge these batteries without losing capacity. The two batteries come with an LCD screen protector that prevents scratching and dirt to damage your camcorder's LCD screen.
These Sony HDR SR11 batteries are designed for high capacity and great performance when used with your camcorder. They are all compatible with the SR11, and some of them are even designed specifically for this particular camcorder. They put an emphasis on safety and giving you the longest battery life possible so you can continuously take photos and videos without stopping and replacing or recharging your batteries. When it comes down to it, it all comes down to the brand that you are already familiar with and trust. If you cannot find these products on local stores near you, you can always go online and buy it from Amazon.com using the direct links listed below this section.
References and Image Credits
Sony Handycam Replacement Battery, Amazon
Polaroid Capacity Rechargeable Replacement Battery, Amazon