What Are Solar Powered Digital Picture Frames and Where Can I Find Them?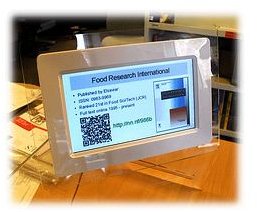 Solar powered digital picture frames, once fully developed and produced on a mass scale, will prove to be one of the best innovations in digital media today. These picture frames can take the place of wooden picture frames and even digital photo frames that need an external source of power to operate.
What Is a Digital Photo Frame?
Simply put, a digital photo frame is a picture frame that displays digital photos on its screen without the need to print these photos out or use a computer. You just need to upload the photos you want displayed onto the digital photo frame. Digital photo frames usually display the photos as a slideshow where the time interval between photos can be adjusted along with the transition effects.
What Is a Solar Powered Digital Picture Frame and How Does It Work?
Solar powered digital picture frames are digital photo frames that do not rely on an external power source, but instead operate on solar power, harnessing energy given off by sunlight.
They have solar cells that gather energy from the sun and store this energy in a battery used to operate the digital photo frames. A solar powered digital frame can operate indefinitely when exposed to sunlight, but the energy stored in its battery can be used for a limited amount of time to power its operation when there is no available sunlight.
Where Can I Buy One?
Currently, solar powered digital picture frames are not yet mass-produced. However, a couple of these gadgets can be found through intense research in the Internet. Here are two examples of solar powered digital picture frames:
Framemory P70A-04 Solar Powered Photo Frame
Manufactured by Acuce Co., Ltd, the P70A-04 has a 7-inch TFT LCD display with 480 x 234 resolution and can display not only photos but videos, as well. It can even play music through integrated stereo speakers. It supports JPEG files for photos, MPEG-1, MPEG-2 and MPEG-4 (XviD) for video and MP3 and WMA for music and media support include SD, MMC, MS, and can read files from a USB flash drive. These cost from $10 to $100, depending on the quantity ordered.
DFP-0302S Solar Power Digital Photo Frame
Produced by Shenzen Gold Blue Sky Technology, the DFP-0302S digital picture frame has a 7-inch digital LCD panel with 480 x 234 resolution and can also play music and videos aside from displaying images. Memory card support include SD and MMC and can display JPEG and BMP images, play motion JPEG, MPG1, MPG2, MPG4 and DIVX videos along with MP3, WAV and WMA music files. It also has TV-Out functionality and has a built-in calendar, clock and alarm.
Unfortunately, these digital photo frames can only be bought in bulk orders since they are not produced on a mass scale yet. However, once solar powered digital picture frames are mass-produced, you can say goodbye to conventional digital picture frames and wooden frames.
References