8 Steps on How to Copy Pictures from Sony Camcorder on to Computer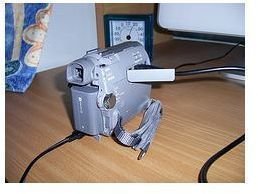 With today's technology that allows camcorders to take still pictures, it would be very beneficial for a person to know how to copy pictures from their Sony camcorder onto their computer. This will ensure that your camcorder's storage space won't get eaten up by a lot of image files. If your camcorder's hard drive or memory card is almost full of image files, you need to know how to transfer them to your computer to remove some of these image files from the camcorder.
Common or low-end camcorders do not have the capability to take still pictures, but any digital camcorder buying guide will tell you that the best Sony HD camcorders have this feature. Read the manual that came with the camcorder to learn more.
Things Required
There are just a couple of things are needed to do this:
Sony Camcorder
USB or FireWire Data Cable
Desktop Computer or Laptop
Once everything you need is prepared, please read through and follow the detailed, step-by-step instructions below on how to copy pictures from your camcorder to your computer.
Step 1: Setting the Mode of Camcorder
Connect the camcorder using the appropriate data cable to the computer. Once done, turn the camcorder on and select "PC" mode from the options.
Step 2: Selecting the Option
A pop-up window will appear on your computer's screen. Select "Auto Play" from the options to import and view photos from the camcorder to the computer.
Please note, if you like to transfer all the saved photos in the camcorder onto the computer, select the "import pictures using Windows" and all image files will be copied to the computer.
If you choose to copy all the image files, rename the photos once saved and take note of the folder where they were saved so you won't have a hard time finding the folder at a later time.
If you just want to copy a couple of photos, from the "Auto Play" pop-up window, select the option "Open folder to view files." This will open a new window containing all the images stored in your camcorder.
Step 3: Opening the Location
Depending on the camcorder in use, several file locations may be found and you need to open each file location until you find the images you want.
Step 4: Selecting the Sending Option
Once the photo you need has been located, right-click the photo you want to copy and select the "Send to" option, then choose either Desktop or My Documents (this folder may just be referred to as "Documents" in later versions of Windows like Windows Vista and Windows 7) to be able to easily find them.
Step 5: Transferring the Files
Once the photo has been saved to your preferred location, you can now rename it and transfer or move it to any folder of your choosing anywhere in your hard drive.
See how easy it is? So, when buying a new camcorder, read the digital camcorder buying guide first to find out what the best Sony HD camcorders are and which one is within your budget. After the purchase, you just need to learn how to copy pictures from Sony camcorder on to computer to make sure that you will always have the needed storage space in your camcorder for future use.
References