Canon XF100 Camcorder Review: Design, Features and Performance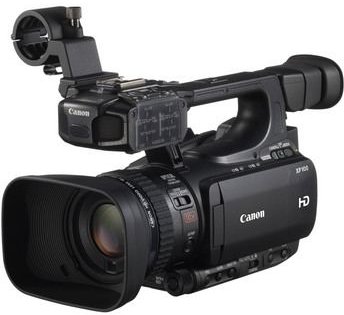 The Canon XF100 is a compact professional camcorder that offers filmmakers an easy to handle video recording device. With a load of features, the camcorder is a great tool for all kinds of video recording purposes, but only in the right lighting conditions.
Design (4 out of 5)
This is a compact camcorder that is lightweight, making it easy to use for both professionals and amateurs who want to get a feel of a more powerful video recording device for their personal projects. It is built to last and it is comfortable to handle, making it very portable and easy to store. If you are used to handling professional video cameras, you will find that the sleek and professional design of this camcorder is very easy to use and comfortable to carry. Its ergonomic design also makes it easy to control, giving users a firm grip on the camcorder's movements and settings. This camcorder's design gets a good score.
Features (4 out of 5)
The XF100 camcorder features a 1/3" CMOS sensor, 50 Mbps MPEG-2 recording, 4:2:2 color sampling, a 10x HD zoom lens, multiple bit rates, multiple resolutions, dual XLR inputs and support for CD cards, the MXF file format and HDMI, component and composite outputs. With these features, this camcorder is capable of versatility and power when recording video in high definition. Its range of input and output options gives it the ability to be highly useful for all kinds of recording purposes.
Aside from the basic essentials for a video recorder, this camcorder also features infrared recording, a neutral density filter and a set of built-in 3D assist features. That last feature lets the camcorder pair up with another camcorder to achieve true stereoscopic 3D recording. It can pair up with another XF100 camcorder or an XF105 one for this task. Slow motion and fast motion tasks are also made easy and available to users with this camcorder's frame rate adjustment features that allow the user to play video clips in both slow motion and fast motion. Interval recording is another feature of this camcorder that makes it more than just an average video recording device. For its set of features, it gets an impressive rating of four out of five.
Performance (3 out of 5)
With the right lighting, this digital video camera offers you quality images and bright colors. Color information and image clarity are maintained when given the right lighting, but noise and other problems creep in once you use the camcorder in poorly lit conditions. The video you are shooting becomes grainy in poor lighting conditions. Saturation, resolution and color balance are affected in these non-ideal situations, so be mindful of your lighting source if you want the best quality video images from this camcorder. It gets an average rating of three out of five for performance.
Conclusion (4 out of 5)
The Canon XF100 presents a compact and easy to handle design with a range of powerful features. This combination of benefits makes you believe that you will have an excellent time using this camcorder, and you will. However, in terms of actual results, your satisfaction may vary. If you want to see only the benefits, make sure to always shoot in good lighting conditions. It gets an overall rating of four over five which is a good score.
References
Vimeo, https://vimeo.com/20653525
B&H Photo Video, https://www.bhphotovideo.com/c/product/733533-REG/Canon_4888B001_XF100_HD_Professional_Camcorder.html
Photo Courtesy of B&H Photo Video