Sony HD Camcorder Reviews & Buying Guide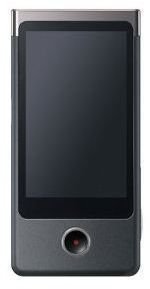 Sony Bloggie Touch (MHS-TS20/B)
The $163.00 Sony Bloggie Touch is the perfect tag along video recorder. Its small form factor and ultra quick startup time make it great for catching those special moments as they happen. Obviously designed for the new social networking generation the Bloggie offers a 1080p recording capability that records in web friendly MP4 format. The simple sharing tools, which work with both Windows and Apple operating systems, allow you to load your pictures and videos straight to YouTube, Facebook, Picasa and FlickR.
Other than the single power on/record button all interaction with the innovative Sony Bloggie is done through the 3 inch touch screen. There is a built in USB arm that folds away when you don't need it so there is no need for a USB cable to connect the Bloggie to your computer. There is also no need for SD cards as it has an internal 8GB flash memory.
All of this fun stuff but what about the quality? The pictures are crisp and can be taken with 12.8 megapixel resolution. A 4x digital zoom and the ability to Macro from four inches away allow ultra detailed close-ups. The ability to take a snapshot while filming video is a nice innovation as the camera is already focused during that time. With the use of a few video camera tips this could be your link to the world.
Now for the negatives. The autofocus takes forever to lock onto a subject. It tends to try to refocus without warning and there is no way to single out any one particular item to focus on. Reviewing pictures isn't as easy as it could be. Instead of just clicking back to the previous picture you have to navigate through the entire thumb nailed album to see the last picture taken. There is no flash so taking pictures in a dark setting just isn't going to happen. At best they will be extremely grainy.
Overall a nice toy for daytime outings and indoor shooting but the quality falters in low light or during high action activities because the autofocus spends so much time readjusting.
Sony DCR-SX45 Handycam Camcorder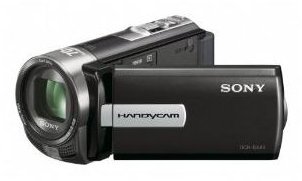 Sony's DCR-SX45 Handycam was designed with more than just the soccer mom in mind. This compact camcorder fits easily into a coat pocket or purse so it is always within reach. The 3.0 inch flip out touch screen display allows quick spot focusing and access to function menus as well as offering a crisp 230K pixel display and a 270 degree rotational angle for self documenting. The 60x optical zoom and 70x extended zoom make it easy to get in tight even at a distance and the focused mic keys in on the camera focus to record only the audio in the frame. This is a user friendly, affordable digital camera.
The DCR-SX45 also comes with Active SteadyShot stabilization so even long distance shots stay focused without the "shaky-cam" effect. The intelligent auto focus goes a step beyond the norm by choosing the correct lighting and distance options for your shot (36 possible combinations).
This camcorder also comes with a built in USB cable that is housed in the carry strap so there's no fumbling with extra cords and it stays out of the way until needed. There is also an LED light for low light shooting, although its range is rather limited. And if that wasn't enough there is also facial recognition and an automatic lens cover that activates when the unit is shut off.
The Sony DCR-SX45 can use Memory Stick Duo / Memory Stick PRO Duo / Memory Stick PRO-HG Duo media and SD/SDHC media up to 32GB allowing up to 16 hours of HD video storage without changing cards.
A great choice for a family or someone looking to document personal memories and at $228.00 its a great deal.
For more Sony HD camcorders see page 2.
Sony HDR-CX110 High Definition Handycam Camcorder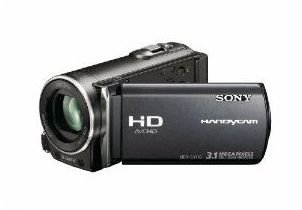 Although there are newer models (the CX130 and CX150) currently on the market for the price the Sony HDR-CX110 is still the better value. At $398.00 this beauty has a 25x optical zoom, 3.0megapixel still photograph capability, 1080 24bit HD picture, the I-Auto feature to help with the proper contrast and exposure, and a magnificent touchscreen interface.
What sets this apart from its predecessor (the CX10) is the low light function. The video (and still pictures) come out great even in this low light setting. There is little gradation of the picture and although the colors due suffer the slight cool color feel that is standard in Sony products the tones stay closer to real than the artificially warmed video from other cameras.
The SonyHDR-CX110 has a Duo media slot that handles Memory Stick Duo / Memory Stick PRO Duo / Memory Stick PRO-HG Duo media and SD/SDHC media up to 32GB allowing up to 16 hours of HD video storage without changing cards just like the DCR-SX45.
This is a nice camcorder for those interested in ease of use in a digital camcorder but who still want to get stunning video quality. The intuitive menu and suggestive interface help to choose the best settings for the optimal picture quality.
Sony HDR-XR160 High Definition Handycam Camcorder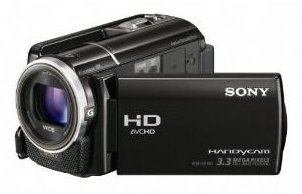 Although this camcorder hasn't been released as of yet it is available for preorder at Amazon.com for $598.00. The HDR-XR160 will have the following features; a 1920x1080 full HD 60p recording mode with a 3 megapixel still image, a 16GB on board flash memory for 6 hours of video recording, a wide angle G lens, 30x optical zoom, the back-illuminated "Exmor R" CMOS sensor for markedly better low-light video quality, Sony's patented optical steady shot image stabilization active mode, a 3.0" touch-screen display, the innovative tracking focus that follows selected subjects in and out of the frame like a face recognition mode on steroids, wind noise reduction that allows for clear voice recording and the intelligent auto feature that helps select the correct shooting mode for optimal performance. Similar to other 16GB AVCHD Sony camcorders, the HDR-XR-160 is sure to be a hit.
Although this model hasn't been released it will be a must buy if all of the features work as advertised, especially the enhanced low-light shooting mode and subject tracking feature. I would suggest checking this one out as it looks like the best mid priced Sony HD camcorder (almost) available.
For more Sony HD camcorders see page 3.
SonyHDR-CX300 16GB High Definition Handycam Camcorder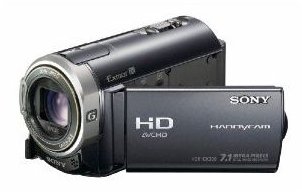 The Sony HDR-CX300 is a step up from the CX110/130/150 models as it records larger, more detailed still pictures and has a 16GB internal flash drive. This camera, unlike the previous models, comes with a Wide Angle G-Lens that makes shooting indoors much easier. Still the low light performance is merely adequate and without an additional lighting shoe the pictures still have a grainy quality.
The HD recording is offered at typical full 1920 x 1080 with a seven megapixel still shot. Again this model only comes with a 10x optical zoom although Sony did integrate their Optical SteadyShot image stabilization Active Mode to eliminate any shaky shots. For $699.99 this isn't a huge leap from the CX-100. The onboard 16GB flash memory is nice but the only clear upgrade that is useful is the wide angle lens.
Sony HDR-CX560V High Definition Handycam Camcorder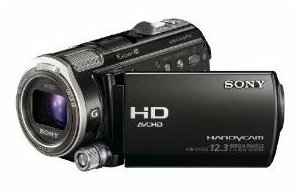 Sony's HDR-CX560V is in a league of its own. This is a true HD camcorder for $1098.00. It offers 1920x1080 full HD 60p recording with a 12.3 megapixel still image option, a 64GB onboard flash memory allowing 26 hours of recording. This is perfect for vacations and other long trips where you won't have access to your home computer to transfer videos. What really sets this one head and shoulders above the rest is the assignable dial for iris, shutter speed, exposure, WB and focus. This gives a professional feel and the ability to control shots yourself instead of having to rely on an autofocus or suggested focus feature. Not only that but this camcorder has two distinct shooting modes, the 60p mode for crisp clean home video quality perfect for transfer via HDMI to your HD Television but also the 24p cinema mode that shoots at the same rate as film. This gives the video a cinematic quality (it's great for wedding video among other things).The standard Wide Angle G lens captures everything you want without missing a beat leaving the video feeling more natural than that of a standard lens.
With all of this crammed into one small frame the HDR-CX560V does feel a bit heavy, weighing in at two and a half pounds. If you aren't used to using it the weight may make it uncomfortable during periods of extended shooting. Older Sony camcorders with professional features often weighed in at four or more pounds so this is still a significant improvement. The only other complaint I have with this model is the paltry 10x optical zoom. There are much smaller, lower quality models available with far better zoom capability. Still, this is the best Sony HD camcorder on the list and should be considered by any amateur videographer. There is simply too much good in this camera to let it pass you by.
References
Images Courtesy of Amazon.com