Top 5 Panasonic Professional Video Cameras for Video Production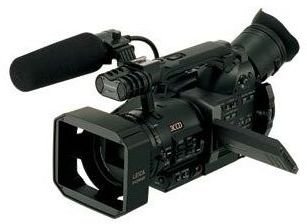 Panasonic professional video cameras offer great video quality and a compact design. They are designed for professional video productions so you will find that the technologies used by these cameras are far superior to those of commercial video cameras.
Panasonic Pro AG-DVX100BP(S)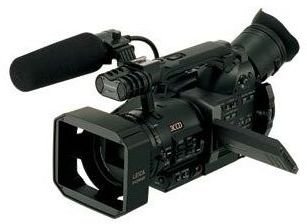 The AV-DVX100BP(S) is the first ever video camera with camera-to-camera time code synchronization support that allows for file transfers set by the user between cameras. What this means is that it is capable of simultaneous multi-camera recording techniques, making it perfect for video productions that require such an ability. In addition to this groundbreaking feature, this video camera is also lightweight and features a balanced grip. It has a 3 CCD image system, a wide angle zoom lens, a high sensitivity slow shutter and a 24p/30p cinema mode. You can buy this from Amazon.com for $2,179.89.
Panasonic AGHMC70PJU AVCHD 3CCD Flash memory Professional Camcorder
The strength of this video camera comes in it easy to use and high performance high definition recording capability. Its recording system is solid state, which means it is quiet, starts quickly and offers protection from impacts, vibration and changes in temperature. It also has a wide angle zoom lens that offers up to 12x optical zoom, image stabilization and 3 CCD progressive image system. This progressive system reproduces colors faithfully and it reduces noise. You can buy this for $1,699.95.
Panasonic Professional AG-HMC40 AVCHD Camcorder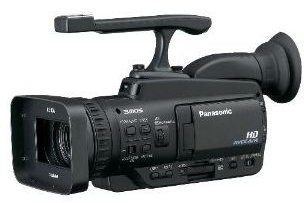 This video camera not only offers full HD AVCHD recording, it also handles taking 10.6 megapixel still images. This combination of features make this video camera a cut above the rest. Also adding to its appeal is its lightweight design, SD card storage, 12x optical zoom, wide angle setting and optical image stabilization. This versatile video camera can be used by both amateurs and professionals, but it only promises professional grade results. You can get it for $1,565.49.
Panasonic Pro AG-HPX170 3CCD P2 High Definition Camcorder
This video camera of full production quality is equipped to be used in all kinds of professional video productions. Among its professional quality features are 13x optical zoom, 1/3-inch progressive CCD imager system, a filter diameter of 72mm, P2 card storage, a waveform monitor, great LCD performance and a vectorscope function. It has focus assist functions, high resolution capability, 19-bit processing and meta data input and management. These advanced features and more guarantee full production quality in a very manageable and compact design. You can purchase it for $3,699.
Panasonic Pro AG-HVX200A Camcorder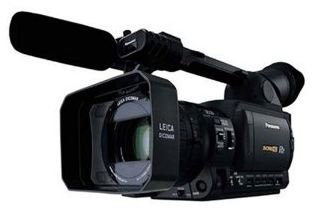 One of the most high end Panasonic professional video cameras around, this video camera features a Leica Dicomar HD wide angle lens with 13x optical zoom, an optical image stabilizer, a progressive CCD, a DSP with 14-bit A/D conversion and a high resolution native progressive 1080/60p scan. These features let the AG-HVX200A capture high quality high definition videos that are of professional quality. With a P2 card as storage, it offers a quiet operation that minimizes noise. It can be purchased for $4,959.99.
Summary
Features of these five Panasonic video cameras are more advanced than other Panasonic camcorders and other brands of video cameras because these are used for video or film production. These video cameras share common professional quality features such as being lightweight, high definition capability, user-friendly and quality performance.
For starters, you may want to check the top ten video cameras for beginners.
References and Image Credits
https://www.amazon.com/Panasonic-AG-DVX100BP-Proline-Camcorder-Optical/dp/B000BYJFYW/
https://www.amazon.com/Panasonic-AGHMC70PJU-Professional-Camcorder-Stabilized/dp/B0017NYOWY/
https://www.amazon.com/Panasonic-Professional-AG-HMC40-Camcorder-Optical/dp/B002I9S9PE/
https://www.amazon.com/gp/product/B001E96LGI/
https://www.amazon.com/Panasonic-AG-HVX200A-Definition-Camcorder-Included/dp/B0018C72E6/