Finding Kodak Memory Cards Suitable for your Digital Camera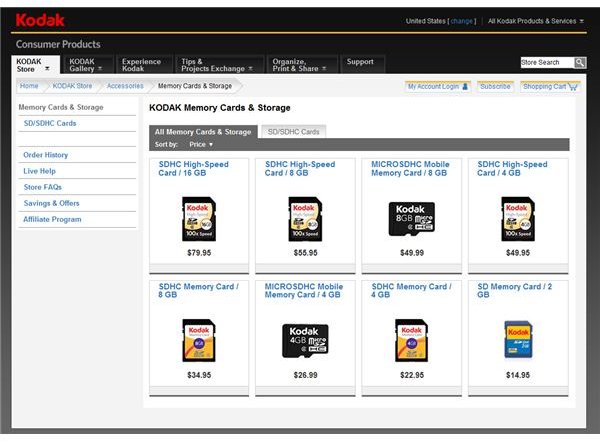 Capacity
There are numerous SD memory card manufacturers on the market, but many consumers choose Kodak memory cards for their Kodak camera or media devices. SD memory cards are appropriate for a diverse number of removable media storage devices, including digital cameras, digital SLR cameras, camcorders, video game consoles, cell phones and other mobile devices.
If you aren't familiar with the different types of SD cards available, compare Kodak's memory card selection with other SD cards on the market. San Disk is another manufacturer of SD (or Secure Digital) memory cards. If you want to learn more about the specifications available in SanDisk's product line of memory cards, check out what type of SanDisk memory card is right for your needs. Once you know about the basic differences between various SD cards on the market, you will be better equipped make the best choice as an informed consumer.
Of course, for many consumers, the bottom line comes down to price. If you are looking for the least inexpensive Kodak memory card on the market, Kodak offers a standard SD card with 2GB of space for storing all of your digital media for under $20. There are several reasons why you might want to have a card like this on hand. You may want a less expensive memory card to keep in your camera bag for use when your high-capacity memory card unexpectedly fills up, or perhaps you are simply looking for a cheap extra card for an older camera.
Apart from the Kodak 2GB memory card, all of Kodak's other memory cards are high-capacity SD cards (SDHC). Kodak currently offers SD memory cards with storage space as high as 16GB.
Pricing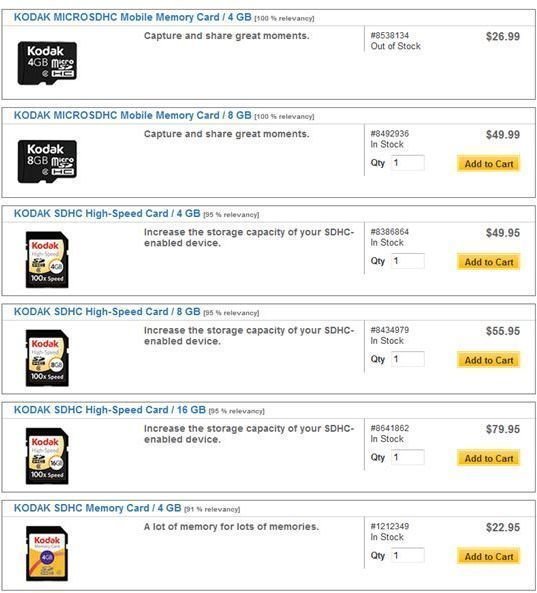 Kodak's least expensive memory card (under $20) does not offer high-capacity storage with only 2GB of space. SD cards with 4GB cost $20-50, depending on the type of card. Cards with the highest speeds and capacity are generally more expensive. The Kodak MicroSDHC, a smaller SD card compatible with specific mobile devices and camcorders, is slightly more expensive than the regular size.
Kodak also manufactures CF memory cards for larger cameras like digital SLRs and some older point-and-shoot cameras, the 1GB Kodak memory card can usually be purchased for $30. Less expensive memory cards are available with capacities of 128MB or 256MB.
To compare Kodak's memory card pricing and selection with another camera manufacturer, look at the different types of memory cards available from Canon. Other well-known memory card manufacturers include SanDisk, Panasonic and Toshiba.
Speed
Many people don't realize that the speed of a memory card directly affects how fast you can take photos. If you have a newer Kodak camera that allows you to take rapid consecutive photos, this is an important factor to consider when purchasing a Kodak memory card. Learn more about why speed is important in a memory card to familiarize yourself with speed ratings and variations in the reading and writing speeds of memory cards.
Of the seven SDHC (high-capacity) memory cards offered by Kodak, three are high-speed memory cards. All high-speed Kodak memory cards provide a writing speed of 100x along with high-storage capacity for SDHC-enabled devices.
Compatibility
If you are looking for a memory card that's compatible with your specific device, take a look at the memory cards and media storage features of these popular Kodak cameras: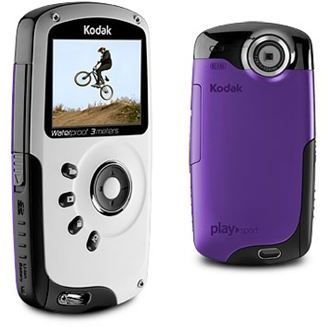 HDSC Memory Cards for Kodak Play Sport
The Kodak Play Sport (or PlaySport) video camera includes a memory card slot compatible with SD/SDHC cards up to 32 GB for storage of HD video. For the Kodak PlaySport, the company recommends 16GB SDHC high-speed Kodak memory cards.
Memory Cards for Kodak Easyshare z915
The Kodak Easyshare z915 is a compact camera offering a number of high-quality features, including very fast click-to-capture speeds of less than .3 per second. Even though the camera includes 32MB of internal memory, a high-capacity card with a high speed card is essential for the Easyshare z915. The camera includes a memory slot compatible with all SD/SDHC cards. Kodak recommends 8GB SDHC high-speed Kodak memory cards for the z915.
Kodak z981 Memory Cards
The Kodak Easyshare z981 offers simple sharing and user-friendly features with picture-capture speeds of less than .2 per second. The camera includes 64MB of internal memory, but a high-capacity card with a high speed card will be a great asset when recording HD video with the Easyshare z981. The camera includes a memory slot compatible with SD/SDHC cards. Kodak recommends the 16GB SDHC high-speed card for the z981.
Kodak c330 Memory Cards
The Kodak Easyshare c330 allows consumers to take simple stills and record videos, storing media with 16MB of internal memory or on an SD card. The Easyshare c330 memory card slot can accept SD or MMC memory cards.
References
Kodak Memory Cards & Storage, https://store.kodak.com/store/ekconsus/en_US/list/Accessories/Memory_Cards__Storage/categoryID.28894900
Screenshots and images from Kodak.com
This post is part of the series: Kodak Cameras and Memory Cards
This series reviews and compares a variety of Kodak cameras, memory cards, related products and accessories, including the new Kodak Playsport video camera.