The Best Compact Digital Camera: Buying Guide & Recommendations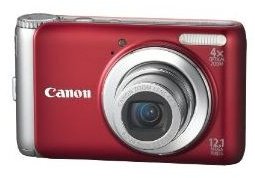 Canon PowerShot A3100IS
Measuring a diminutive 3.8 inches long by 2.3 inches wide, the Canon PowerShot A3100IS is barely bigger than a business card and only a hair over an inch thick.
Good things come in small packages though, and this is probably the best compact digital camera on the market today. Canon's PowerShot line of cameras is legendary, and the A3100IS doesn't disappoint. Its 12.1 megapixel CCD image sensor is coupled with the DIGIC III image processor, delivering high-quality images under many different conditions, especially in low light.
The A3100IS is oriented to "fun" photography, coming with creative automatic modes like Poster Effect, Super Vivid, and more. The 18 regular shooting modes and smart automatic settings help capture the best picture possible. It comes with a 2.7-inch LCD viewscreen, 4x optical zoom, and a rechargeable lithium-ion battery, and runs about $125.
Sony Cyber-shot DSC-H20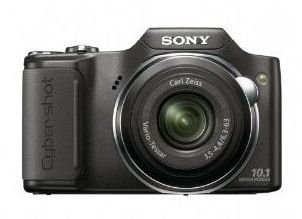 While not as compact as the Canon PowerShot above, the Sony Cyber-shot DSC-H20 still qualifies as a compact digital camera, fitting easily into a purse or a jacket pocket. Why is it large for a compact? The 10x optical zoom Carl Zeiss lens is the reason. Reviewers love the picture quality, ease of use, and fast-shooting burst mode for capturing sports at the height of the action.
The Cyber-shot DSC-H20 comes with a 10.1 megapixel CCD image sensor, Sony's SteadyShot image stabilization algorithm, 3.0-inch LCD viewscreen, Face Detection, and ability to shoot 720p HD video.
The Sony Cyber-shot DSC-H20 is around $449 at Amazon.
Nikon Coolpix S8100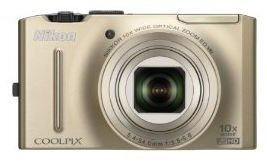 The Nikon Coolpix S8100 is a great all-around compact digital camera. Its got a 12 megapixel CMOS image sensor with 10x optical zoom, and will shoot 1080p HD video in stereo.
Reviewers love the Coolpix S8100's burst shooting at up to 5 shots per second (fps) and the image quality improvement with the CMOS sensor over the previous model's CCD sensor. The 3-inch LCD viewscreen is an unusually high resolution — 921,000-dot — which makes previewing pictures and video especially easy on the eyes.
The Nikon Coolpix S8100 comes with loads of automatic modes and the usual red-eye correction, face recognition, and 17 different scene modes, and costs about $249.
Pentax Optio W90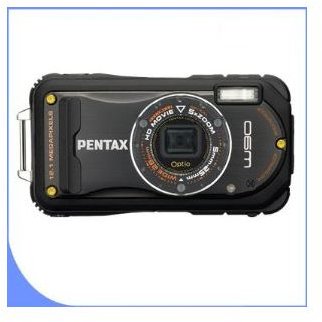 For rugged durability and outdoors shooting, there isn't a better compact digital camera than the Pentax Optio W90. This 12 megapixel camera with 5x optical zoom is built from the ground up for backpacking and adventure, with a waterproof case — up to 20 feet — and rubberized grips to make it easy to hold onto in sticky and not-so-sticky situations.
You don't have to worry about cold, dust, or dropping the Optio W90 up to 4 feet either, as it's built to withstand those pressures as well. Starting up in only 1.3 seconds, the Optio W90 can be ready in a flash to capture sudden changes of scenery or wildlife.
The Pentax Optio W90 is $234.95 and comes with several accessories, including an 8GB memory card, padded carrying case, floating waterproof wrist strap, and more.
Canon PowerShot S95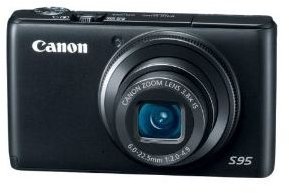 Another top contender for the best compact digital camera on the market, the Canon PowerShot S95 is the latest in a long line of well-regarded cameras. It's jam-packed not only with a stunning array of automatic features, but also sports a plethora of manual options for the serious hobbyist.
The S95 has a 10 megapixel sensor and uses Canon's DIGIC 4 Image Processor — what Canon calls the HS System — to create great shots. It corrects camera shake with the Hybrid IS function, normally found in more-expensive, non-compact cameras. The S95 also has a 3.8x optical zoom, an f/2.0 28mm wide-angle lens, and will shoot 720p HD video.