What to Look for in SDHC Memory Cards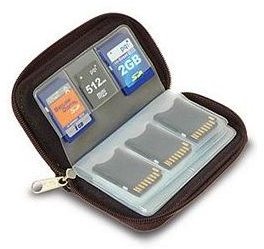 SDHC Memory Card Formats
SDHC cards come in three formats SDHC, MiniSDHC and MicroSDHC, each of which is geared to function in a specific size device. SDHC cards are the largest, the same size as a standard SD card and work in most SD card readers as long as they have upgraded firmware. The miniSDHC was developed to fit in the smaller sized mobile phones that were coming out in the past six years. MicroSDHC cards followed for devices like handheld MP3 players and the smallest form cellular phones.
Who Uses SDHC Memory Cards
SDHC cards are used by almost anyone who has a cell phone or MP3 player with removable storage. They are a mainstay for people with digital cameras and video recorders, allowing far more storage and faster transfer speeds than the original SD cards. These cards store anywhere from 4GB to 32GB of files and are great for digital pictures, digital audio or any number of other files.
SDHC Memory Card Speeds
SDHC cards come in one of four speed classes – class 2, 4, 6 or 10. Speed class 2 is the slowest speed and was used for standard definition point and shoot photography and simple storage of audio or data files. This speed is no longer used by anyone with technology produced in the last ten years. Speed classes 4 and 6 are faster and allow for full HD video recording and point and shoot HD still shots. Class 10 is the highest speed currently available and allows for consecutive HD shots in bursts as well as HD video.
Class 4 and 6 SDHC cards are the most common in use today. Most digital cameras sold in big box retail stores have these cards on board and if not they are the ones that are available next to the cameras on the shelf. Speed class 10 has, until recently, been the arena of the professional photographer. With the advent of SDXC cards the SDHC Class 10 cards have fallen in price and become more common with amateur videographers.
What SDHC Card Should You Buy
When choosing an SDHC memory card it is important to make sure that the device you are going to use it in is compatible. On the device, or in its manual, there will be a mark that states the largest and fastest card that the device can handle. Any card that is a lower speed or capacity will be able to be used in the device (and may be preferable depending on how much you are willing to spend on a media card). For example – a digital camera with an SDHC 6 marking would be able to use an SDHC card of any size with a speed rating of 6 or lower (so a 6 or 4). These ratings are always important for cameras and video cameras although not so much for cellular phones or audio players.
SDHC memory cards, although used primarily in digital cameras, can be used to store any data file from a simple text message to a 32 GB video capture. These cards are widely available and can be quite affordable depending on the size, speed and manufacturer you choose to go with.
Resources
SDCard.org