Canon Camera Reviews & Buying Guide: Top 6 High-End Amateur, Prosumer, and DSLR Models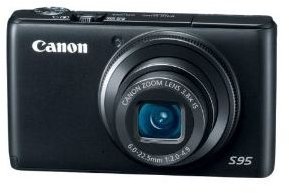 Canon: Beyond Point-and-Shoot
In part one of this guide, we looked at Canon's outstanding under-$300 point-and-shoot offerings. Even in that budget price range, Canon has several quality models good for low light photography, the outdoors, or simply outstanding photos. As we get into higher-priced offerings, optics quality and features really start to shine. Check out these Canon camera reviews — I hope this article makes a great buying guide for anyone in the market for a Canon high-end compact or DSLR camera.
Canon PowerShot S95
Let's get things rolling with the basics: the best well-rounded point-and-shoot on the market, the Canon PowerShot S95. Packed with automatic and manual features and controls, the 10.0 megapixel S95 is an easy-to-use camera for the serious hobbyist. It comes with a 3.8x optical zoom, 28mm wide angle lens that opens to f/2.0, and includes anti-shake compensation software for steady shots.
The PowerShot S95 shoots 720p HD video as well, standing in for your video camera in a pinch. And with a maximum ISO of 12,800, you can capture highly-detailed images even in low light.
The Canon PowerShot S95 runs about $469.
Canon G12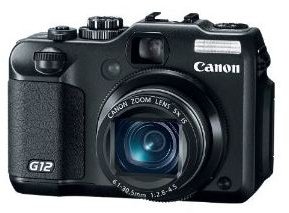 When you're just about ready to make the leap to DSLR technology — just about, but not quite, ready — take a long, hard look at the Canon G12. Canon's promotional copy crows that the G12 is for "advanced amateurs," and that's precisely what this camera is.
The G12 is a top-of-the-line point-and-shoot with extensive manual controls, advanced image processing algorithms that produce quality high-ISO photos with low noise, shake reduction technology, and neat perks like HDR and 720p HD video.
The Canon G12 is available for around $444 at Amazon.
Canon PowerShot SX1 IS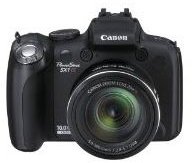 Let's just paste the long version of this camera's name and take a gander, shall we? "Canon PowerShot SX1 IS 10 MP CMOS Digital Camera with 20x Wide Angle Optical Image Stabilized Zoom and 2.8-inch LCD." You read that right — 20x wide angle optical zoom. That's what they call a "superzoom" and it'll knock your socks off when you first try it and it's great for shooting wildlife photos.
The PowerShot SX1 IS, besides that jaw-dropping 28mm wide angle 20x zoom, has the usual Canon hardware and software: DIGIC 4 image processor and 10.0 megapixel CMOS image sensor. It also shoots 1080p HD video should you feel the need.
The Canon PowerShot SX1 IS runs about $600.
Canon EOS Rebel T2i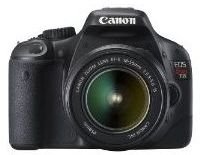 Now we get into the real powerhouses, the digital SLRs, or DSLRs. Canon's EOS Rebel T2i is the legendary entry-level DSLR, and for good reason — it's just a good all-around camera, with an 18 megapixel CMOS image sensor, wide-range ISO support, and the ability to shoot 3.7 frames/second. Being a DSLR, you can add and swap out lenses to your heart's content in order to get the perfect shot. Read A Canon Rebel DSLR Buyer's Guide to learn more.
The Canon EOS Rebel T2i can be found for around $799 on Amazon.
Canon EOS 7D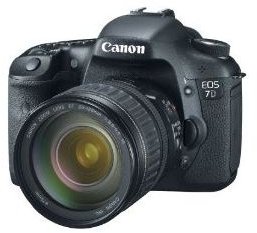 A "midrange" semipro/pro DSLR, the Canon EOS 7D has an 18 megapixel CMOS image sensor and can be optionally purchased with a nice basic zoom, Canon's 28–135mm f/3.5–5.6 IS USM lens. The 7D offers an ISO range from 100–6400, expandable to 12,800 — and since the EOS 7D was developed to have less noise at high ISO settings, you'll see less graininess that you might expect. You can shoot continuously at 8 frames per second (fps) for over 100 images, more than enough to capture every bit of track star Usain Bolt running the 100-meter dash, flip-book style. Speaking of flip books, yes, the EOS 7D can shoot 1920 x 1080 HD video.
When you're getting into this price range, Canon's getting into tough camera body construction for long-lasting value. The EOS 7D has a magnesium body, built to resist the elements, and is designed to last more than 150,000 shutter cycles.
The Canon EOS 7D with 28–135mm zoom lens is about $1,799.
Canon EOS 5D Mark II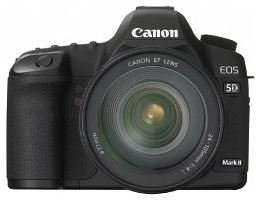 The Canon EOS 5D Mark II is a full-frame DSLR, meaning it has an image sensor (21.1 MP) just as big as a 35mm film frame — incredibly useful in allowing lenses to work to their full potential. The EOS 5D Mark II is equipped with a high speed DIGIC 4 image processor whose algorithms help with the 5D Mark II's great noise reduction at high ISO settings. It also shoots in 1920 x 1080 HD video, has a large, bright 3.0 inch LCD that reviewers love, and a comfortable grip. While the 5D Mark II is demanding of lenses — it takes an excellent lens to really let the camera strut its stuff — that demand is well worth it, paying off in gorgeous pictures users rave about.
The Canon EOS 5D Mark II is $2,499 for body only or $3,299 with a 24–105mm lens.
This post is part of the series: Canon Camera Reviews & Buying Guide
Part 1 reviews Canon ELPH cameras under $300. Part 2 looks at models over $300, from Canon's top of the line point-and-shoots and getting into Canon's lauded DSLR offerings like the Rebel, 7D, and Mark II.