Quick Sources for Digital Photo Frames That Are Imprinted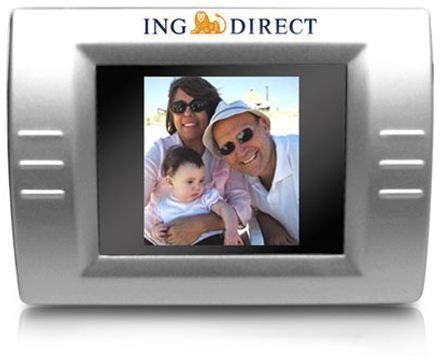 The price of a digital photo frame may be a little steep, but one could see the benefits in the long run. In these days of the digital camera, digital photo frames that are imprinted seem to be essential gadgets to be had in every living room, and they do a great job as an alternative to the family photo album.
Digital photo frames are also among those included when one considers gift ideas. They are, more often than not, given away preloaded with images that mean a lot to the person receiving. Digital photo frames that are imprinted make an ideal gift to those who don't have the facility to view images over the computer or the know-how to do so, especially elderly folks.
Corporate Branding
Digital photo frames, apart from being useful on a personal level, could also be put to use as a means of corporate branding. If you would like to make an impression on your important clients, digital photo frames imprinted with your company logo or brand name would be an option worth considering. With the festive season around the corner, you can even have digital photos frames imprinted with "Merry Christmas" and "Happy New Year" together with your company logo or your product brand. Your client would appreciate that for a long time to come.
Personalized Gifts
Alternatively, you can give away digital photo frames that are imprinted on a personal level for occasions like the birth of a new baby, a wedding or graduation ceremony.
Let's take a look at where you can find imprinted digital photo frames.
Motivators.com
At Motivators, you have a choice of digital photo frames that vary in shapes and sizes to suit your budget.
Prices at Motivators range from $16.28 for a 1.5-inch photo frame to $153 for a deluxe mahogany wood digital picture frame. You would have to pay separately for printing, though.
For example, if you're ordering a 7-inch digital photo frame, you would have to pay a setup/plate charge of $65 if you choose laser engraving. For screen print, you would have to fork out $45.
For further details on pricing check out the company website.
PersonalizationMall.com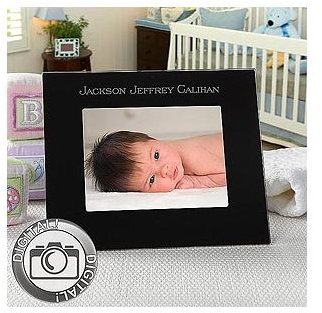 Personalization Mall offers personalized digital picture frames ranging from $84.95 for an engraved digital photo pen holder, to a new baby personalized digital frame for $129.65.
You can order your personalized digital photo frames online. According to the company, items ship in 1 to 2 days. The digital photo frames come with a resolution of 800 x 600 with an internal memory of 128Mb which could store up to 60 images.
For further details on the options available and pricing, check out their website.
Gimmees.com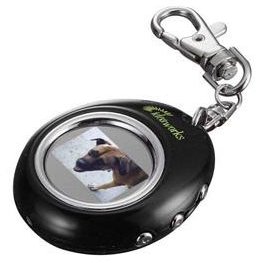 If you're looking for something beyond the usual desktop digital photo frame, Gimmees.com provides you with options worth considering. Take, for instance, their pocket digital photo frame which could hold up to 56 photos and doubles as a key chain. Prices start as low as $34.83.
You can also check out the column digital photo frame alarm clock if you would like to give away a desktop gift which also doubles as a clock with alarm and snooze functions. Prices start at $44.83.
A setup fee of $55 is required and the minimum quantity per order is 12.
Digital photo frames that are imprinted do cost you more in terms of setup fees and require a minimum quantity with your order. Still, they are unbeatable when it comes to giving away a lasting gift with your corporate logo or brand name to your clients, or with a personal message to your loved ones.
Resources
https://www.motivators.com/Promotional-DigitalPictureFrames-Custom-41-557.html
https://www.personalizationmall.com/search.aspx?sf=1&searchString=digital+picture+frames&x=21&y=11
https://www.gimmees.com/category~pcategory~12~psubcategory~6.asp