Microsoft Office SharePoint Review - Why not use Office Live Workspace Instead
Microsoft Office SharePoint Review - An Introduction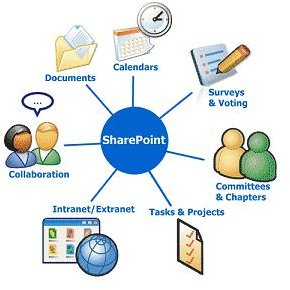 This Microsoft Office SharePoint review is based on inputs from MSDN, user comments across the many SharePoint forums, and my own observations about the Microsoft package. Speaking in plain English, Microsoft Office SharePoint is a kind of remote server that helps you upload files, share them with your team, and collaborate/brainstorm in real time on the documents. You can also implement the Microsoft Office SharePoint server in-place (at your own premises), but the costs would be higher.
This review of Microsoft Office SharePoint finds the implementation of the server remotely (read "cloud server") to be more beneficial over in-place implementation. In-place implementation would require dedicated server(s) with space specially reserved for SharePoint and the different users. You also need to keep on configuring it on your LAN/WAN as you add/remove users. On the other hand, if you choose to use SharePoint as a remote server, you need not worry about reserving space, increasing or decreasing space required for files, etc. You need not even worry about configuration when implementing remote SharePoint server. The Microsoft cloud server takes care of configuration and increasing/decreasing space (for files) when required.
This is the reason why most businesses and even very small home networks opt to use the remote server version of SharePoint. It saves money and time compared to in-place implementation of the server. As most people use the cloud server, when people talk about SharePoint, they are talking about the cloud-based SharePoint servers that relieve them of implementation and maintenance costs. We, too, will be referring to the cloud based SharePoint servers henceforth.
Image Credit: VIRE Technologies
Review of Microsoft Office SharePoint Features and Requirements
System requirements for implementing and using Microsoft Office SharePoint are as follows:
1. Windows XP: 500 MHz processor (I would recommend 1GHz for proper functioning) and 256 MB RAM (512 MB recommended);
2. Windows Vista: 1GHz processor and 1GB of RAM (I recommended 2GB RAM for proper functioning);
3. Windows 7: 1GHz processor and 1GB RAM (32 Bit) and 2GB RAM (64 Bit). I recommend 2GB for 32 bit as well - to access proper functionality
Proper functionality means faster access to the files stored on the cloud and for real time collaboration.
Price: Before you can use Microsoft Office SharePoint, you need to know that the service comes at a cost. You can use the SharePoint 2010 (latest edition) services free for 30 days and later, if you wish to continue, you will have to pay $5.25 per team member. The fee is valid for a month. Microsoft is also offering a bundle package wherein you can integrate SharePoint with Business Productivity Online Standard Suite (BPOS). If you use the bundled package, the cost goes up to $10 per user per month.
Among the standard features are the ability to upload documents, share them with one or more people in your team, real time collaboration on the documents, and backup facilities. Other benefits include easy inclusion of more members, file encryption (SSL based), antivirus and antispyware guard, etc. This makes your files safer as if they were stored locally while letting your employees or team members access the files you wish to share with them.
SharePoint 2010 also offers several templates and wizards that claim to enhance your experience by offering ease of streamlining different business processes, backing up documents; adding and removing users; WYSISYG features for real time collaboration, and more. For more details on the features available in Microsoft Office SharePoint, please read the article - How to Use SharePoint by George Garza.
Conclusion
Microsoft Office SharePoint offers you several features for online sharing and collaboration of files. It also makes it easy for new members to get started without having to configure much (Group Policies, Accounts etc). However, considering the cost factor, if you need such a service only to share and collaborate on documents/files, I would recommend Office Live Workspace instead of SharePoint. Office Live Workspace offers free services for online storage and collaboration.
I would like to conclude this Microsoft Office SharePoint review on a note that you should try SharePoint only when you think you need more than just the basic functionality of Office Live Workspace. In most cases, you will be satisfied with Office Live Workspace for your document sharing needs.