A Review Of Windows Live OneCare
Intro
To read a second opinion about Windows Live OneCare, check out Neil Henry's article in the Windows Channel.
Please take note that at the time that this article was written, Windows Live OneCare was still available. But with the launch of Microsoft Security Essentials, OneCare has been discontinued for new purchases.
We're living in a time when there are significant threats out there on the World Wide Web. To top it off, there are several different types of antivirus software out there, one of the most popular among them being Norton. In the past, Windows has released Windows Firewall, which came included in SP2 of Windows XP. They even have released _Windows Defende_r which protects against pop-ups and other types of malware. Now there's Windows Live OneCare. One thing that I really like about it is the amount of time it gives the user to fully explore the software. Usually a lot of people will determine its usefulness depending on whether or not it works right away, and don't tend to wait on the little things that could affect its overall performance. Many things will be explored in this review: interface, performance, value and a final score.
OneCare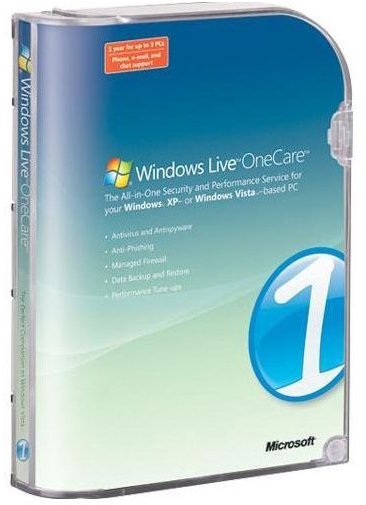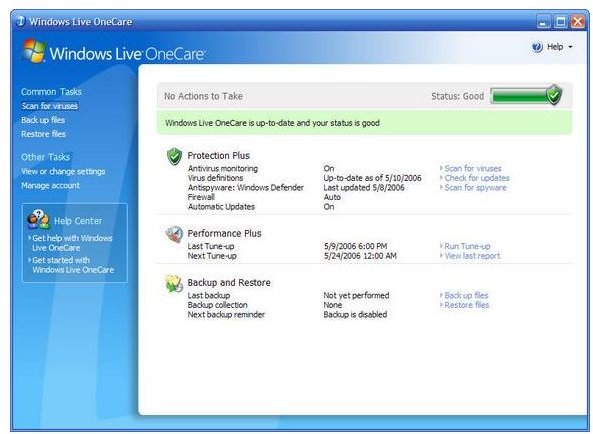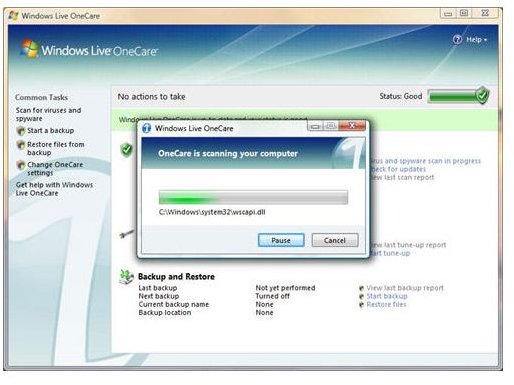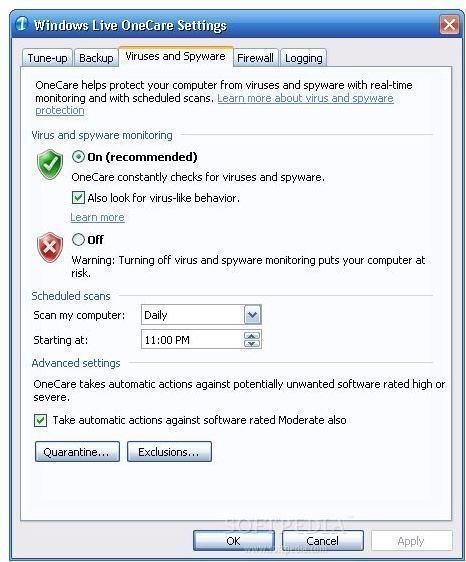 Interface (4 out of 5)
One thing that OneCare looks for upon installation is if there's any other antivirus software running. Depending on what you already have running, it may or may not install until you disable the conflicting program. Afterwards, installation is easy enough to follow. It requires a reboot in order to be fully functional, but there were no hassles.
Setup is pretty easy, too. It asks for your Windows Live information (which is essentially your Hotmail account or other Microsoft network username). Then it asks if you want to monitor more than one computer by the one you are installing it on, enabling your computer to monitor other computers. It's a good option if there is more than one computer in a household, or for an office with a small network. Its instructions are clear and user friendly. It lists when the virus database was last updated, when future scans will be done, and when future clean-ups will take place. Menus are easy to navigate, and there's always access to help whenever needed.
Performance (3 out of 5)
Probably the best asset of OneCare is its rapid scanning speed. It is able to read through files at an incredible pace, taking considerably less time to scan in comparison to Norton and PC Tools. What's even better is that it takes a reasonably small amount of resources when it's running – either when scanning, or quietly in the background while other programs are running. The only slowdown I've experienced is when Windows starts, as it does tend to take up a good portion of the CPU when booting. Other than that, I've never had any problems with OneCare taking up more resources than it needs.
In comparison with the virus scanners of Norton or McAfee, OneCare doesn't offer as much in regards to protection or malware retrieval as they might. For example, it comes with a phishing filter for Internet Explorer, but no other web browser. It also doesn't catch as much Spyware as PC Tools. It does offer protection against a lot of typical attacks, but doesn't pay attention to a lot of potentially dangerous files that could be on the computer. Mind you, some forms of spyware are completely harmless, but in PC Tools it actually indicates which ones are safe and which ones are harmful. OneCare doesn't pick up harmless ones at all.
Where OneCare really shines is through its PC tune-up. It shows detailed reports of what was fixed on the user's computer. In the month of June, it fixed a problem that caused Microsoft Office to start slowly, and also fixed a problem that caused my DVD-ROM drive to perform under standards. It even shows which programs in detail, load from start-up and gives the user the option to disable programs that he or she doesn't want to load.
Essentially, OneCare runs efficiently, takes up reasonable resources, and keeps track of your computer to not only protect it from internet threats, but to keep it running well with back-ups and defragmentation. I've spent quite some time with this product (just about 2 months), and have yet to run into any problems either with my computer, or with the program.
Value (4 out of 5)
For users who like what they see, they can purchase a subscription after 90 days. This subscription lasts 12 months and goes for the cost of $50. Some retailers carry this product for cheaper, so it's recommended to check out the best possible deals. It's not a bad price for a product that offers solid protection for your computer, and being able to use the product risk-free for 90 days is more than enough time to give users a general idea whether or not he or she should get a subscription with this product. While its virus and spyware scanners don't find as much as Norton or McAfee would, it does do a good job of finding and fixing problems that you may never have known existed on your computer.
That said, I recommend the trial version of the product before buying, because it won't be for everyone.
Overall (3 out of 5)
OneCare is a solid product that offers a lot. It produces a solid clean-up of the computer, along with standard virus and spyware protection. In regards to malware retrieval, it has a way to go before it can be compared to the likes of Norton, McAfee or PC Tools. However, the tuning-up features that it comes equipped with are nothing to complain about. For users who currently don't have any protection on their computer or who are dissatisfied with the software they currently are running, I highly recommend using the trial version.
Related readings
Who needs antivirus software?
Your Guide to Free Antivirus Software
Other content from this author
An Introduction to Wireless Networking