Top 5 AntiVirus Software In 2009
New anti-virus releases come with the same problems as every other software genre but one critical difference is understanding the importance updates which dictates their success or failure at keeping your system clean. Anti-virus software is a must today and there is enough information floating about to justify that. However, an average pc user is always in a dilemma as to which one to buy out of the mind-numbing choices available. Given below is a brief take on some of the popular software for Internet and computer security:
Kaspersky Internet Security 2009
Kaspersky Internet Security 2009: A brand new release this year and it is already making a name for itself as one most comprehensive and hyper-vigilant anti-virus and Internet security software, all rolled into one. Developed by the famed kaspersky labs and brought out to be an ally for the average, non-techie pc user, this Internet Security suite is truly a god-send because it literally keeps your computer away from the very latest of the malicious programs. Available at a reasonable price for both the single user license and multiple computer licenses, this is a major improvement from its predecessors.
What's good: The neat, user friendly console which makes operating the Suite child's play; the price and the features such as parental control add constant vigilance to the computer(s).
What's Bad: It sometimes gets a little troublesome while installating; some computers have the blue screen of death once installed. Known to slow down Internet Usage speeds.
Kaspersky Internet Security 2009 Screenshots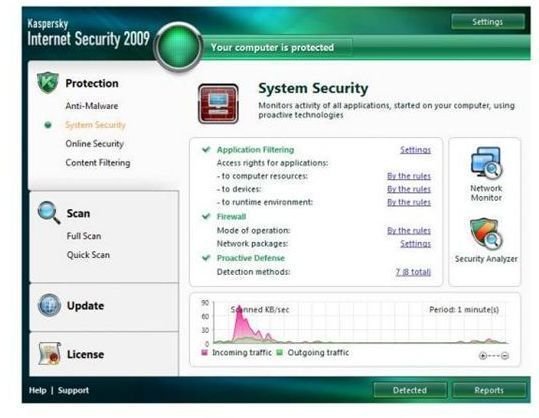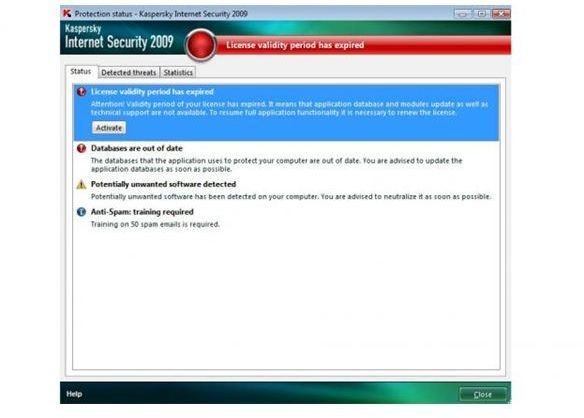 BitDefender Anti-Virus
BitDefender Anti-Virus 2009: Read a review of BitDefender Anti-Virus 2009
BitDefender Anti-Virus 2008: BitDefender is slowly emerging as a veritable competitor in the security suites and anti-virus markets and is almost threatening to beat the others to a pulp! Having launched this year's latest version of BitDefender anti-virus 2008, it delivers a "Gamer Mode" feature that minimizes impact on gaming performance by removing any pop-ups or warnings during game play while still protecting your computer. The software has received rave reviews from publications such as PC Magazine and it also comes with nifty features such as "Root kit detection and removal" and "Privacy Protection".
What's Good**:** Virus Bulletin rated BitDefender a VB100% (an honor of the highest possible standard in the industry); very inexpensive compared to the rest of the packages in this range.
What's Bad : BitDefender is known to be a resource hog, although not as much as Norton or McAfee; when used on my system, it literally kept my system in abeyance for an indefinite period of time; the user panel is rustic and could have done with being much more user friendly.
BitDefender Anti-Virus Screenshots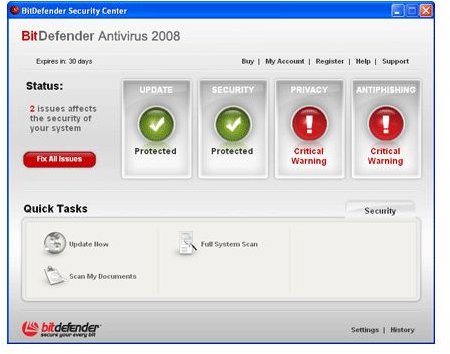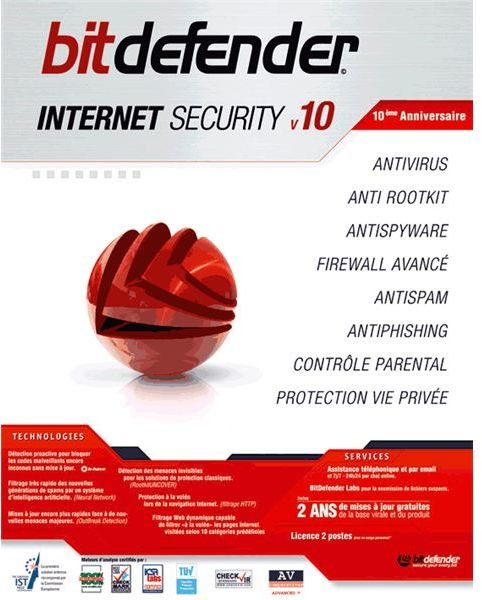 ESET Nod 32
ESET Nod 32: A hands-down winner when it comes to proactive protection, ESET Nod32 is a sensational "Virus Stopper" as PCWorld Magazine calls it in it's anti-virus round-up. ESET Nod 32 comes armed with a pleasing and aesthetic user interface and has always been known for its excellent malicious program detection ability. Easy to install with effective default settings which are a dream for an average user to tweak and integrate. Virus, spyware, malware and ad ware protection scanning is slick and thorough.
What's good: Reliability, detection rate and a pleasing user interface.
What's bad: Not on par with the best yet; overall detection rate wasn't exceptional; NOD32 doesn't enable the full-system scan by default; so be aware that the configuration may need changing. Some users could be turned off by the technical interface.
ESET Nod 32 Screenshots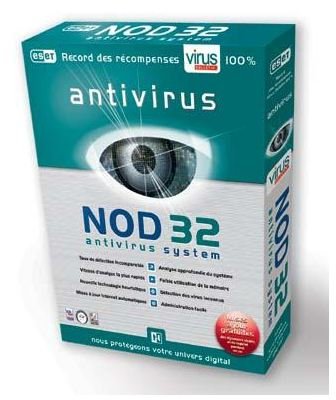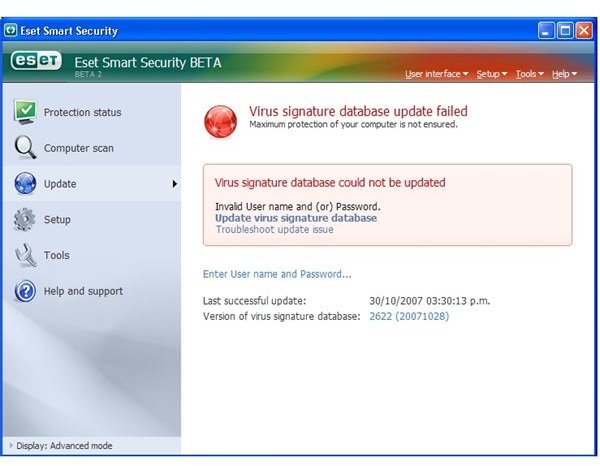 AVG Anti-virus
AVG Anti-virus: You have probably downloaded the AVG anti-virus free version at some point or the other and it won't fill you with shock-and-awe that this is one of the most downloaded files on the Internet. AVG has, since then, come up with its own slew of flagship products like AVG anti-rootkit and AVG anti-spyware. Easily one of the better anti-virus engines available on the market today with its default options that cover more than enough to suffice the average computer user's needs. AVG, earlier known as Grisoft, has worked hard to provide value this time with a new version that incorporates a rootkit scanner, spyware scanner, on-access scanner called Resident Shield, email scanner and a link scanning browser plug-in. It also has a nifty utility called Web Shield which is like a mini-firewall that scans standard web ports for any threats encountered while browsing the web.
What's Good : One of the few antivirus engines that scan the boot-up process too; affordable and good value for money; includes a link scanner and comes with the AVG Anti-spyware and AVG Anti-rootkit – more bang for the buck.
What's bad: The AVG access scanner tends to slow down computers and renders them unusable at times; a tad heavy on resources.
AVG Anti-virus Screenshots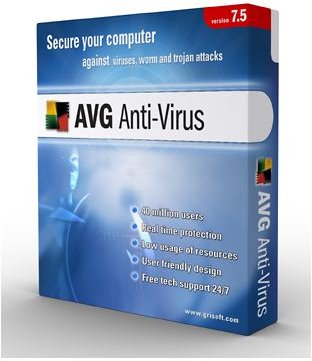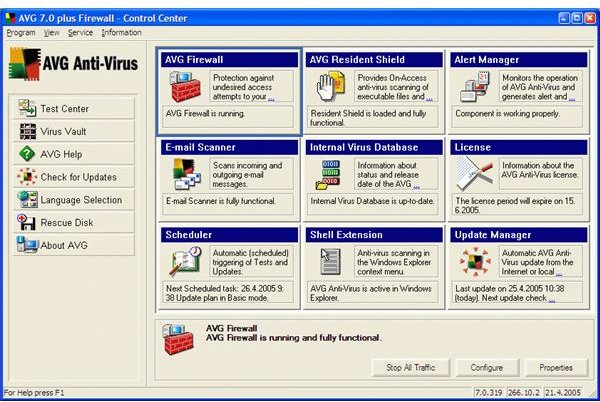 F-Secure Anti Virus
F-Secure Anti Virus: Talk about "Heuristic Scanners" and F-Secure is the name that comes out on top, being known for its effective scanning abilities. F-secure is also one of the most easy-to-use and reliable anti-virus software available. Although it is one of the best ever, it can't match up with the tenacity and the expertise of the other anti-virus programs in its order. In this regard Bit Defender and Kaspersky win hands down when it comes to sheer agility and scanning depth while F-secure is more bent on general anti-virus engines and educating masses about security measures.
What's good: Integrated news on the home menu – security information and such like which proves to be very useful; fast and easy installation; phone and email support available; the support and education portion of the F-Secure website is unique.
What's bad: After updating for new database entries it is advisable to reboot the system - which is rather odd.
F-Secure Anti Virus Screenshots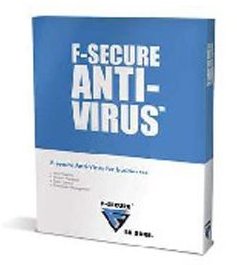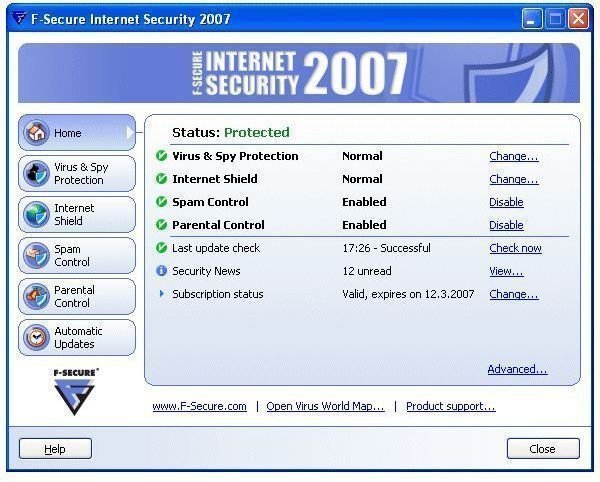 Related Reading:
>» Antivirus software: Who needs it?
>» Your Guide to Free Antivirus Software
>» 5 Steps for a Robust Computer Virus Clean-up
>» 10 Terrific ways to boost productivity of your Windows PC