Review of iFinger Search Engine
What is iFinger?
iFinger 3.3 is a locally installed search engine software for monolingual, bilingual and professional dictionaries, encyclopedias and thesauruses from renowned publishers around the globe, including Brockhaus, Merriam-Webster, and Oxford University Press. iFinger is required to run several high quality dictionaries which come along in a variety of languages and are available for purchase and download from the iFinger website. Thus, the iFinger search engine is like a bookshelf filled with a number of dictionaries and other reference books chosen according to users' needs.
System Requirements (5 out of 5)
iFinger search engine version 3.3 runs on all 32 and 64-bit editions of Vista and Microsoft Windows XP. On my Vista-based computer it only uses a total of 33.6 MB hard disc capacity, and less than 10 MB RAM for the engine as well as two user dictionaries sized roughly 6 MB (New Oxford Thesaurus of English) and 18 MB (The Oxford Dictionary of English).
Ease of Installation, Setup (3 out of 5)
After the EULA, the installation of iFinger provides the option to change the default installation path, followed by its configuration of application shortcuts on the desktop, Quick Launch toolbar, Start Menu and startup folders.
I recommend rebooting the computer to check whether iFinger will launch automatically, should you have opted for the default, including the startup folders explained above. I have tried the installation several times on different Vista-based computers but the software wouldn't start automatically until I configured it manually. In case you don't know how to configure Startup Folders very well you may want to check out my article Autostart locations in Window.
After the first start of the software, in the context menu item languages, iFinger can be changed to Danish, German, Italian, Norwegian, Dutch and Spanish; the default is English.
Features , Interface and Performance (5 out of 5)
iFinger provides dictionary look-ups and includes copy/paste functionality through its small search bar on the top right of XP and Vista desktops. To look up a single term out of any piece of running software or browser, one simply highlights and double-clicks the word of interest. Instead of the double-click a hot key, by default CTRL+F11, can be used for the same purpose and with phrases and multi-word expressions. iFinger's right-click or context menu easily facilitates text replacement and printing.
The iFinger search engine is straightforward and almost as fast as the speed of light. It is a prerequisite for ninety top brand reference books and dictionaries, which come in roughly a dozen languages. An Internet connection is not required, but an asset as iFinger will links search results unknown to its dictionaries or databases to the Wikipedia online encyclopedia.
The graphical user interface (GUI) of Finger has a special look and feel, with search results being displayed in a scrolling pane. It's the GUI's superb layout displaying results of high quality dictionaries which make me such a fan of iFinger.
Depicted below please find the iFinger interface during a look-up originating in Mozilla.
iFinger Interface in use – Click to Enlarge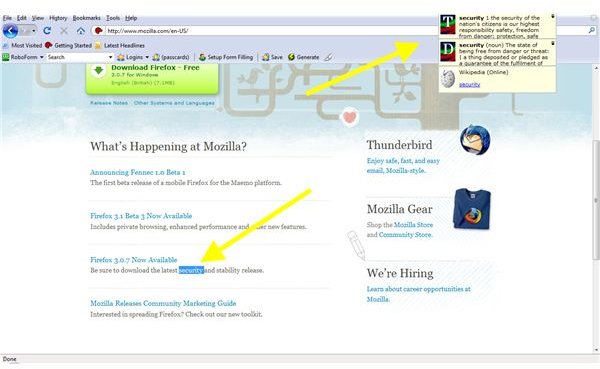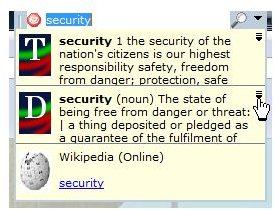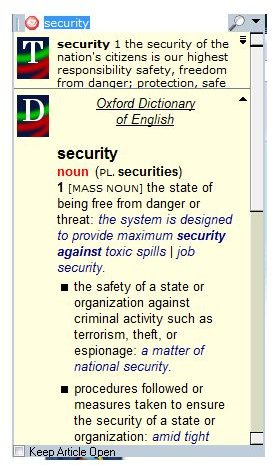 Help and Support (5 out of 5)
iFinger's concise, but sufficient, manual can be accessed through the software interface or the installation folder. A new user should give it a quick read, because iFinger doesn't provide introductions, menus or the like, as features are explained only in Help. Additionally, on the vendor's website there is a support section including FAQs, a product demonstration and contact information.
Price to Value (3 out of 5)
I have been using iFinger dictionaries for some years and it is only recently the vendor has began charging for the search engine, which now costs 20 €, or around 30 $. From a marketing point of view this is a disaster - all the more because some not-so-old dictionaries, those sold before iFinger 2.2, do not work with the latest version of iFinger. This essentially means that loyal customers have to repurchase their dictionaries for use on Windows Vista supporting iFinger version 3.x, or perhaps turn somewhere else.
However, I've done the math: iFinger is competitively priced in terms of total costs including dictionaries, which gives it an average price to value ratio.
Conclusion
iFinger is definitely worth buying, should you not need to hear a word's pronunciation, as a learner of a foreign language might. The lack of 'say it' puts it in an arms race with competing products, with iFinger's competitive advantage being its look and feel.
References