How to Balance a Checkbook in Excel: Add-in Review
About Checkbook for Excel
Checkbook for Excel is an add-in application for Excel that was originally released in 1995. The current version, Checkbook for Excel Version 5.2c, is packed full of useful features.
Checkbook for Excel can make it easier for business or personal users to maintain bank accounts. You can track the single checking account you use to deposit paychecks and pay your bills, or manage up to fifty separate bank accounts. If you want to keep track of how you are spending that hard-earned dough, you can create an unlimited amount of expense categories to do so. Of course, you can make income categories, too, which is imperative for business users.
Features
One of the features that makes this add-in so user friendly is its toolbar.

Checkbook for Excel includes a toolbar that integrates into the existing toolbar of Excel versions 2003 and earlier. In Excel 2007, the toolbar can be found by clicking the Office Button and selecting Add-ins.
The ledger transaction buttons on the Checkbook for Excel toolbar make this application a breeze to utilize. Clicking any of these buttons, such as Deposit, Check or Debit, brings up a ledger transaction dialog box. The fields in the ledger dialog are clearly labeled, making data entry such as the date, amount, recipient info and more a no-brainer.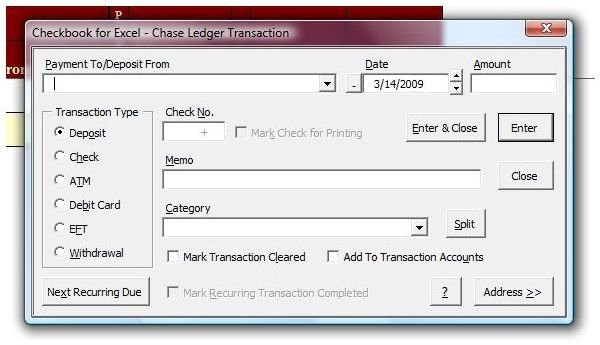 Depending on your current location in Excel, the View Ledger button will switch you back to the ledger from another open worksheet or open the Select Ledger dialog if you have several ledgers created. A similar tool, called View Ledger splits, makes it easy to split an entry between categories. You can create or delete a ledger with the click of a button as well.
Reports and Printing
The copious other tools included in this add-in make Checkbook for Excel practical and beneficial for small businesses. Click the Create Report button allows you to select specific dates, particular payees, transaction types and more for reports that are individualized to meet your needs. Summary charts also require little more than a button click and some category selections. There is an instant Tax Summary report available, as well.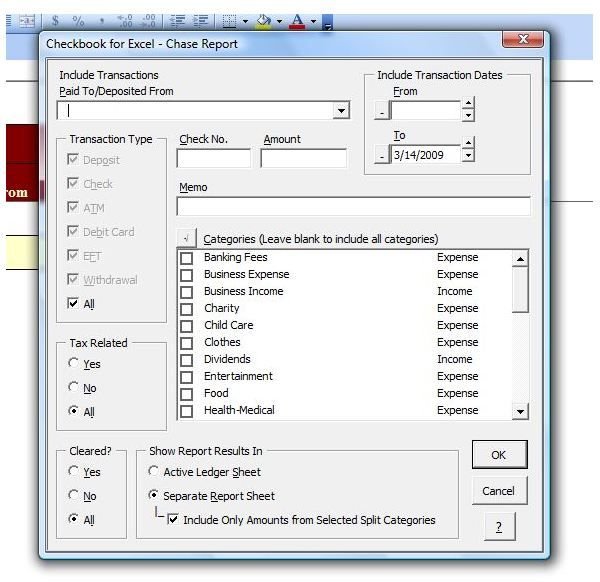 The printing section of the Checkbook for Excel toolbar offers hard copies of ledgers and reports with a single button click, as well as the ability to set up and print checks.
Rating
With the ability to install the add-in on Excel versions 97 and higher, Checkbook for Excel can be run on virtually any Office-enabled machine. While it is a viable option for personal banking, most banks now offer online features such as bill paying and account management, which may make this powerful add-in more than the average checking account owner requires. However, the low cost ($19.00 as of this writing), functionality, product support and history of Checkbook for Excel make this application an effective, cost-efficient solution for small businesses owners, independent contractors or others who need to manage multiple accounts, incomes and expenses.
Learn more about using Excel add-ins by reading Michele McDonough's tutorial Managing Excel 2007 Add-Ins.