WordPerfect X4: All the Main Features of Microsoft Word and More?
Overview
The release of WordPerfect X4 reinforces the fact that one of the oldest and most respected word processing applications on the market is not just an alternative to Microsoft Word, but it's also a force to be reckoned with in its own right.
WordPerfect X4 is capable of performing all of the major functions of Word 2007 and then some. Seasoned users of the software still attest that the unrivaled document formatting controls are one of WordPerfect's best features, but new users may be more impressed with the application's unparalleled PDF editing capabilities and almost universal document format support which recognizes over 60 formats including the new OOXML used by Word 2007.
Ease of Use (4 out of 5)
If you've used any modern word processor, you shouldn't have any trouble finding your way around WordPerfect X4. However, if you've used Microsoft Word at any time in the past, the transition should be even easier. One of the features that makes WordPerfect so easy to work with is that users actually have a choice over the appearance of the user interface.
With the WordPerfect Workspace Manager, not only can you choose between various styles of WordPerfect interface layouts, but you can also pick the Microsoft Word option that mimics the traditional toolbar menu of Word 2003 and earlier. (Click any image for a larger view.)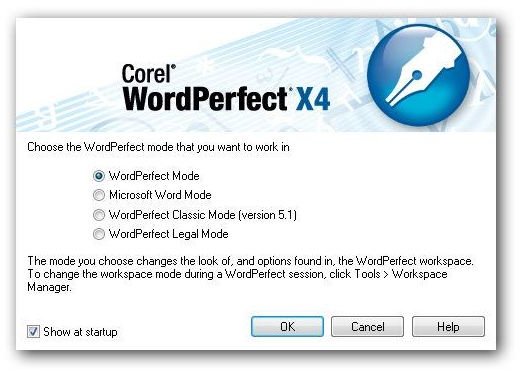 How close to MS Word does this mode look? It's basically identical – the only differences you'll really see are due to the additional features present in WordPerfect that aren't found in Word.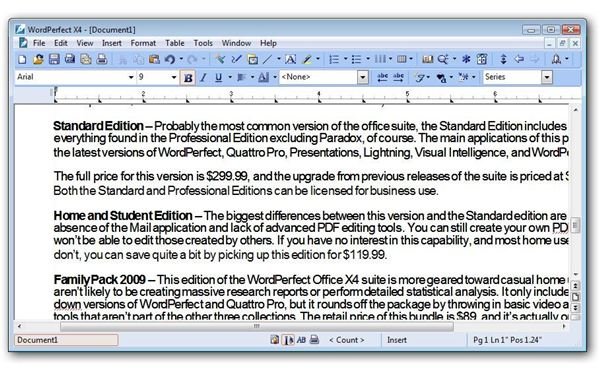 The only thing that makes me lower my rating here is that the sheer volume of tools available in WordPerfect will have new users spending some time learning where everything is and how to access some of the lesser known features. This learning curve is mitigated by the number of tutorials and videos supplied by Corel. In addition to the basic video training that comes on an extra CD included with the purchase of the office suite, more advanced topics are addressed on Corel's web site.
Features (5 out of 5)
WordPerfect X4 is definitely not short on features. In fact, the sheer volume of functionality included in the application would almost be overwhelming if the user interface were not so easy to navigate. Since the strong PDF capabilities and increased file format support are new highlights to the X4 release, I'm going to wait and address each of those separately below. Still, in addition to these items, there are a few others worth mentioning.
The Reveal Codes functionality may not be new to the X4 release of WordPerfect, but it's something that's probably very new to users who have just recently tried out the product. When enabling this tool, your document will be split into two screens – the main editor and a separate editor where you view and edit format controls.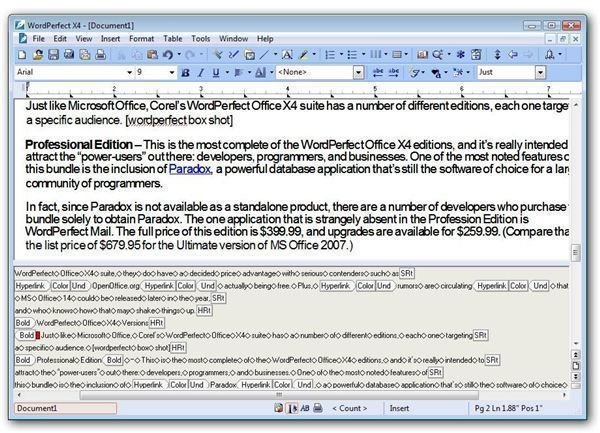 Unlike other word processing applications where you have to guess a little about what's going on behind the scenes, WordPerfect lays the whole thing out in front of you. Being able to make changes directly to the formatting controls in this manner can save hours of headaches and frustration.
Redaction is another nice feature that's build right into WordPerfect X4. This tool allows you to mark and hide confidential information in a document, effectively allowing you to have two versions of the document – one for public eyes and one for private – without creating an entirely new document from scratch. Microsoft Word does have redaction capabilities, but currently they're only available through add-ons and are not part of the base application.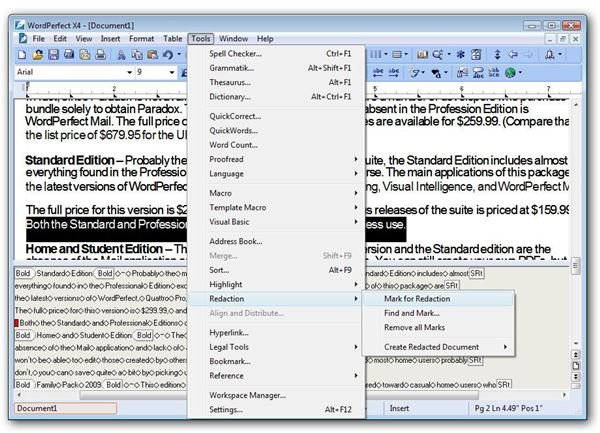 Although templates are common to any word processing application, WordPerfect categorizes these layouts based on project type.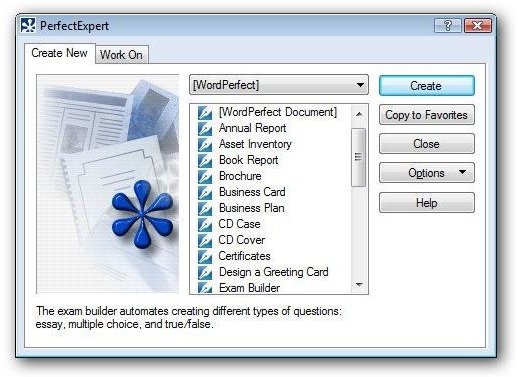 The variety in this list of project templates is just another demonstration of WordPerfect's versatility. You can choose from business layouts such as annual report and fax templates, creative projects like making a greetings card, or more specific designs that include templates for exams and checklists.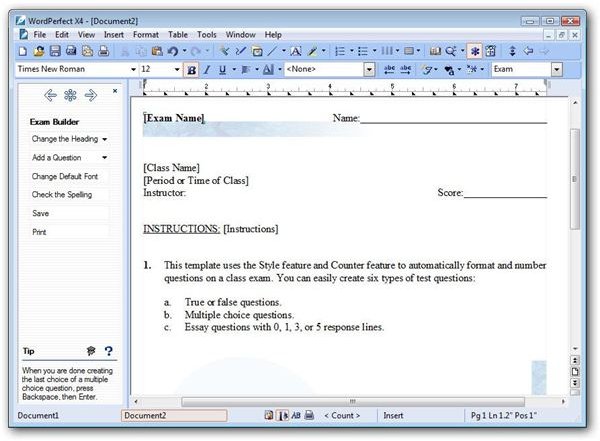 Next Up: Continue on to page 2 where we conclude this review of WordPerfect X4 with a look at the word processor's PDF capabilities, compatibility with other applications, and price to value.
PDF Capabilities (5 out of 5)
It's not unusual nowadays for word processing applications to offer some form of PDF export functionality. However, Corel has taken this one step further and added full PDF editing capabilities to WordPerfect X4. That is, in addition to saving your personally created documents as PDFs, you can open and edit PDFs created by other parties in WordPerfect X4.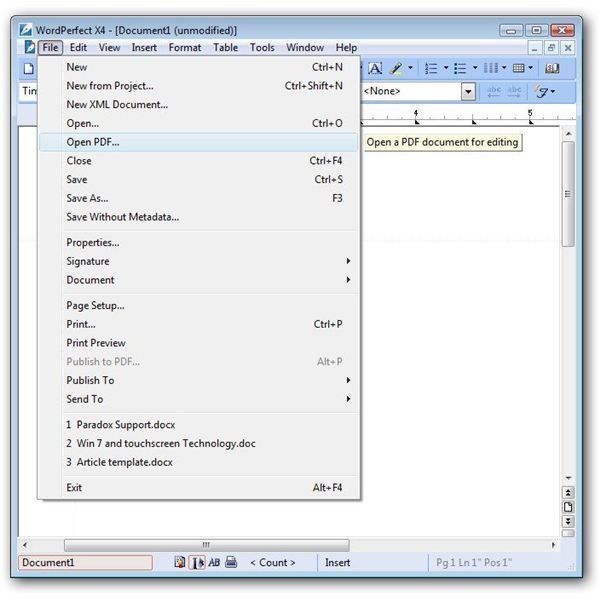 I tested this feature on a number of documents and was quite impressed. It may not have all the bells and whistles of Adobe Acrobat (which is priced at $299 and up as a standalone product), but it certainly is capable of handling all the major PDF editing requirements. WordPerfect X4 even offers PDF/A support, the standard type of PDF creation used for archived reports.
Password support when creating PDFs is also supported by WordPerfect X4, giving you more control over who can and can't edit and view your documents. If you work with a lot of files of this type, the PDF functionality alone makes the price of the WordPerfect Office X4 suite well worth the value.
Compatibility (5 out of 5)
I don't know of any other office suite on the planet that supports as many file types as WordPerfect X4. In fact, not only is WordPerfect capable of opening OOXML documents produced by Word 2007 (which is quite a rarity in current word processing applications), it can also access older Word formats that even Microsoft no longer supports!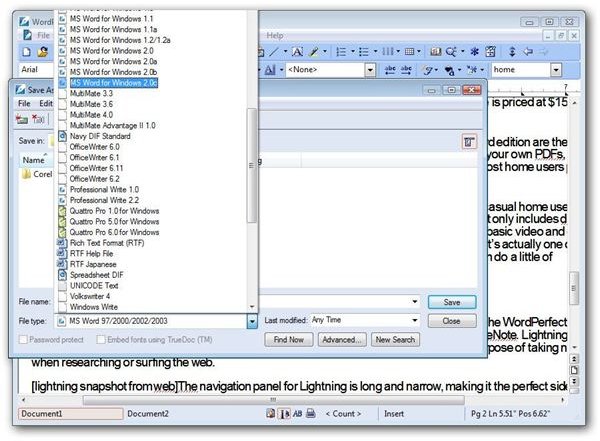 Corel makes the claim that "format-neutrality" is one major goal of the WordPerfect Office X4 suite, and it certainly seems to have satisfied that. There may be some document format out there in the world that WordPerfect has no hope of opening, but if so, it hasn't crossed my desk.
Price to Value (4 out of 5)
The version of WordPerfect X4 reviewed here is part of two separate office suites distributed by Corel – the Standard ($299.99) and Professional ($399.99) Editions of WordPerfect Office X4. (More details about the differences in these and other office bundles from Corel can be found in Part 1 of this review series.) As such, the companion applications play a big part in overall price determination so we'll be taking a look at them next. With that being said, WordPerfect certainly pulls its weight, and then some, when acting as the word processing component of this package.
At first glance, the prices may look a little steep to be truly competitive with some of the smaller Microsoft Office packages, but part of that reason must be related to the extremely powerful PDF capabilities of WordPerfect X4. If this is a tool that you won't take advantage of, you're much better off going with the Home and Student Edition that comes in at the substantially lower price of $119.99. On the flip side, you'll be extremely hard-pressed to find another office suite that can handle PDFs as well as WordPerfect Office X4, anywhere close to this price range – that is, if you can even find one at all.
This post is part of the series: Review of Corel WordPerfect Office X4
This series takes a look at the features available in each of the major applications that make up Corel's latest release of WordPerfect Office X4. Can this suite give Microsoft Office some good, solid competition?