What is Microsoft Onenote? Top Note Taking Application
Using OneNote 2007 (5 out of 5)
In the first part of the Microsoft Office OneNote 2007 review, we talked about the OneNote interface and how well it worked to both mimic a physical notebook and go beyond that to allow for dynamic creation, organization and editing. Now, we take a look at actually using OneNote to handle its primary task, handling a jumble of notes.
Taking Notes
Recently, unforeseen events sent the family on two major trips in as many weeks. With a two year old baby in tow, planning is both essential, and something one never has time for. That means cramming in research and reading in between work, playing, eating, and feeding, a perfect test for a note taking product.
Microsoft Office OneNote shines as a note taker. Click anywhere you like on a page and start typing, OneNote listens and doesn't move or try to format your text. All it does is put a box around what you type. The box is both movable (drag and drop) and re-sizable. The text within the box behaves perfectly through moves and both upsizing and downsizing, moving word wrap when necessary, and never messing up page breaks or bullets.
Even more useful is OneNote's abilities to receive a paste. With most programs when you copy and paste, you have to consider what will happen to the pasted data once you put it in a new program. Not with OneNote. OneNote just takes whatever you paste and puts it on the page in the same malleable box as text or graphics.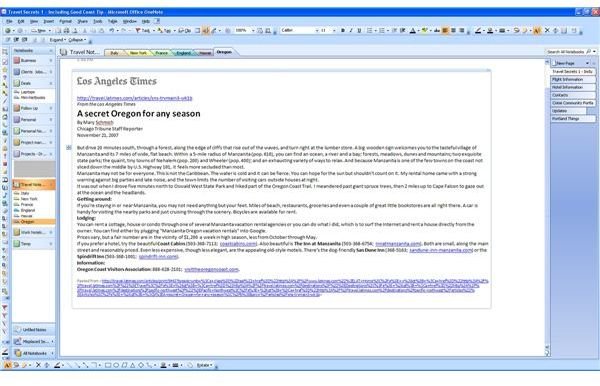 After stumbling upon a Los Angeles Times article that had exactly some of the information I was looking for, and a lot of that I wasn't looking for, I highlighted the article and copied it. When I pasted it into OneNote everything was there, perfectly formatted and without dropping or mangling a single link. I was able to easily delete text without ruining the formatting or doing any other tricks. As an added bonus, OneNote added a "Pasted from" line at the bottom of the article complete with the very unwieldy link back to the page should I want to go back to the original.
Most applications would have ruined a webpage paste like that at least a little, but when it is mostly text like that, it can be salvaged. What about something harder? How about graphs from Trulia, a table (with graphs) from Yahoo, and a table from the US Census website all pasted together?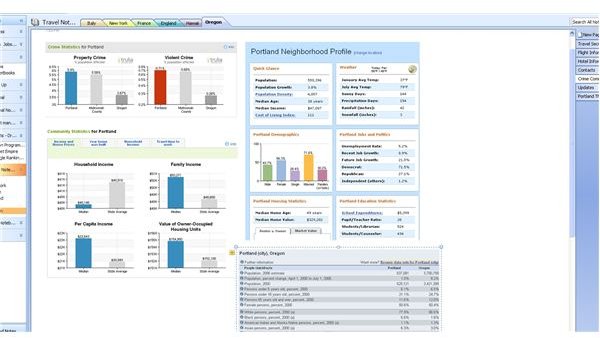 No problem at all. Right click and there is even an option to make the text on the graphics searchable!
As we covered earlier, organization is a snap. Moving pages from Section to Section or even to new Notebooks can be done via drag and drop. Ditto for elements within a page.
The hardest thing about using Microsoft Office OneNote is seeing all those other buttons and icons and just knowing that it can do so much more than you are doing.
Overall, this is an outstanding product from Microsoft and a worthy addition to the Microsoft Office Suite.
This post is part of the series: Microsoft Office OneNote 2007 Review
Take a look at Microsoft's powerful note taking application and see how it measures up to the best note taking and organization software available. Does OneNote have what it takes to be a top note tool?