OneNote Nudge How To Use It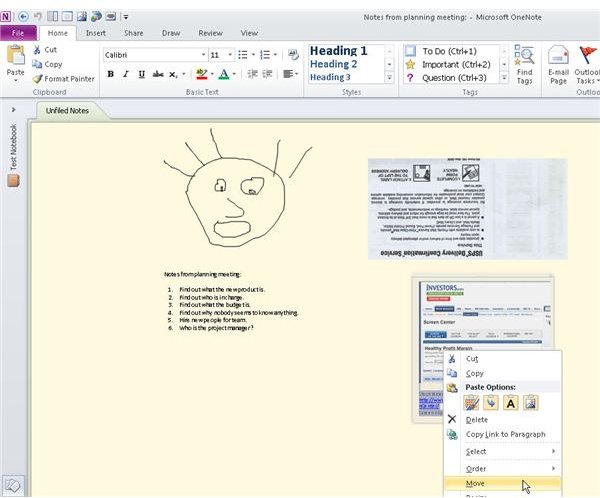 Moving Objects in OneNote
Pages in Microsoft Office OneNote are flexible in that pictures, drawings, notes, and other objects can be placed anywhere on the page, so they can be stored in ways that appeal to any specific user's desire. As can be expected, objects can be selected on a page and then easily moved with the mouse. By selecting it or its container, right-clicking on it and then choosing "Move" from the context menu.
Sometimes, however, alignment with the mouse is not sufficient for a user's purpose. In such a case, objects can be nudged with the keyboard when necessary. The capability to nudge things around on OneNote pages can help with alignment and placement with precision.
Image Credits: Screen shot taken by Bruce Tyson
Nudging with the Keyboard
With any kind of object selected on the OneNote page, a user can evoke the object context menu by press + or using the mouse or other method and then choose the "Move" option. When dealing with objects that are within a container, the object can be moved by selecting it and then nudging it with the keyboard by simultaneously pressing and the up, down, left, and right arrow keys.
Using the OneNote nudge can be a faster way to move containers and objects within the containers around the page. This way things can be located on the page in distinct increments that allow for more rigid alignment, giving the user complete and precise control over the OneNote page.
Each tap of the directional keys while holding the shift key results in a predefined measure of movment, but that distance may not be adequate for everyone's use.
Using the Microsoft Office OneNote nudge is made more precise by pressing the key while pressing the directional arrow keys.
Other Ways to Use the Keyboard in OneNote
Besides using the Microsoft Office OneNote nudge options for moving and aligning objects, dozens of additional keyboard shortcuts work inside OneNote that are universal to all Microsoft Office applications. Other keyboard combinations are effective exclusively in Microsoft Office OneNote that can save time and provide more speed, efficiency and control within the OneNote environment.
Keyboard shortcuts can work to change between documents, select fonts, navigate within documents and pages,resize windows, and do almost every important part of the task that a user would otherwise perform with a mouse.
From the keyboard, users can navigate dialog boxes, access tool bars and menus, and conduct file operations.
OneNote Windows can be open by pressing +M. While taking notes, they can be highlighted by pressing ++H.
Users can insert audio, video, and other documents using keyboard shortcuts from inside OneNote. A complete list of all the OneNote keyboard shortcuts for the 2010 version of OneNote is available that can help users quickly learn better ways to work within the program. A summary of keyboard shortcuts for OneNote 2007 is also available.