Ten IE9 Toolbar Tips You Should Try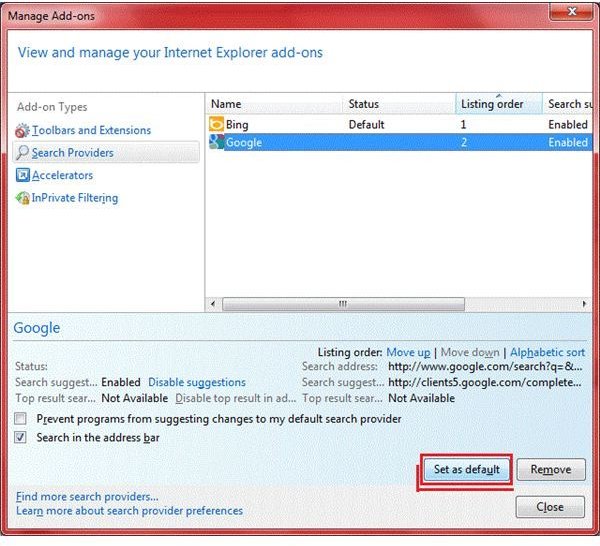 This section on IE9 toolbar tips deals with the Address and Search Bar. If you are using Internet Explorer 9 beta, you know that the IE team has combined Address bar and Search bar. You can now search directly from the Address bar in IE9. Following are some IE9 toolbar tips that may help you with your day to day browsing.
1 When you install Internet Explorer 9 (IE9), it also installs several search providers such as Google, Yahoo, Bing and more. By default whatever you type to search from Address bar - is sent to the Bing Search as it is installed as the default search provider. To change the default search bar, open Manage Add-ons window from Tools icon on the top-right corner of IE9. Click on Search Providers to view the list of search providers installed. Click on the search provider that you wish to use from the Address bar and click on Set as Default. Once done, all your future searches will be directed to the search provider you made default. For example, if you select Google and click on Set as Default, all your searches from the Address bar will return results from Google.
2. You can add several search providers for searching from IE9 Address bar. These include adding search providers such as eBay, New York Times etc that offer you visual searches when you type keywords in the IE9 toolbar. To add a new search provider to your copy of IE9, open Manage Add-ons window and click Search Providers. Click on Find More Search Providers at the bottom of the window. For details read our article, Adding Search Providers to IE9.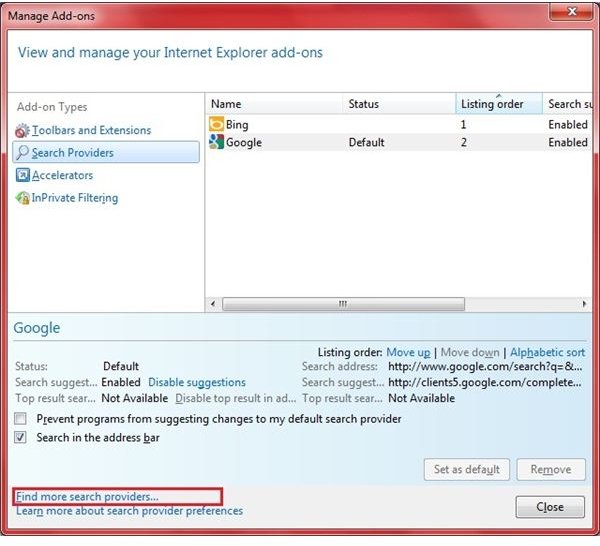 3. Sick of Search Suggestions when typing an URL into the IE9 Address bar? You can always turn off the Search Suggestions so they do not distract you from typing a long URL into the Address bar. To turn off the Search Suggestions, open Manage Add-ons window and click on Search Providers. Select the default Search Provider and click on Disable Search Suggestions. You can use the same method to Enable Search Suggestions for any Search Provider.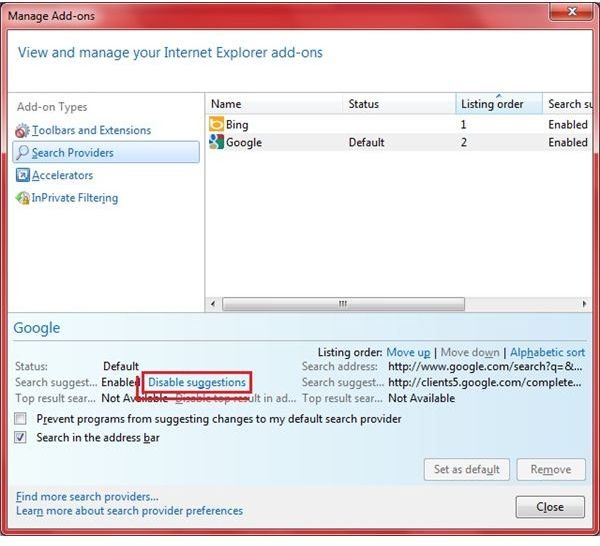 4. Though the integration of Search bar into Address bar in IE9 saves time while searching, when you type a less known URL, IE9 takes it up as a search term and presents you with search results instead of taking you to the website. If this is happening frequently, you may want to remove the search feature from Address bar. To do this, open the Manage Add-ons window and click on Search Providers. Uncheck Search in Address Bar.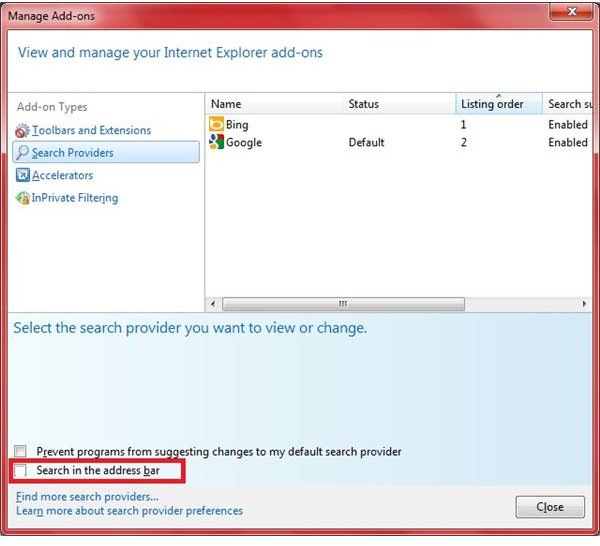 5. If you wish to use a different search provider in the Address bar without changing any settings, type in keywords in the Address bar. When the drop down list appears, look for the logo of the desired search provider at the bottom and click on it to force IE9 use that search provider instead of the default.

More IE9 Toolbar Tips
6. If IE9 is mistaking URLs for keywords, add a backlash to the URL. Example, to visit abc website, type abc.com/. You can use this instead of tip #4.
7. Pressing ALT in IE9 presents you with traditional menu bar temporarily. It hides again when you click anywhere in the browser.
8. You may install as many toolbars to IE9 as you want. If they don't appear, right click on an empty portion of Address bar and select the ones you want IE9 to display.
9. Using too many toolbars slows down IE9. To retain speed, disable the toolbars you don't need often. To disable, follow steps in the above tip. You can always enable them when you want.
10. Finally, as part of IE9 Toolbar tips, here is my favorite IE9 add-on: VideoDownloaderToolbar, a free toolbar that allows you to download videos from websites including YouTube and Facebook.
This post is part of the series: Internet Explorer 9 - Tips and Tricks
This series on Internet Explorer 9 offers you several tips and tricks to enhance your browsing experience. It tells you how to make Google the default search provider, how to use the Address bar for convenient browsing, and covers IE9 shortcuts key among other information.