Top Defragmentation Software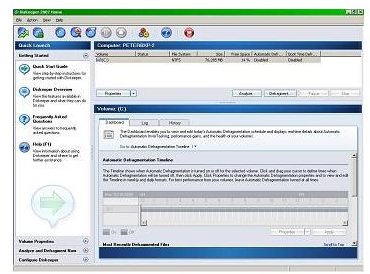 Windows has a built in defragmentation utility that will keep your computer running nicely, but there are other programs that will help you do more. Take a look at these three defragmentation software options for even better system performance. Fragmentation slows more than just the speed at which you can open and save files, affecting the time it takes to start and shut down your system as well. Fragmentation happens over time, as files are opened, closed, and edited–pieces of these files get spread throughout your hard drive.
Diskeeper 2008 Home (5 out of 5)
Diskeeper Home 2008 is available for $29.95 for the home version, with more advanced versions ranging all the way up to $99.95.
The best feature is that the program will run in the background and degfragment the hard drive as it goes, which keeps you up and running and optimum speed, all the time.
The program is easy to install, scans your system up, and does so without any issues. This is a great investment for people who do not have time to run the defragment utility or forget to defragment the computer on a regular basis.
Rest assured that installing and using the program is much easier than actually getting it, because you must register on the Diskeeper website before you can download the 30 day trial.
For more information, check out this Diskeeper 2008 Home Server review. To purchase this program, check out the Diskeeper website.
Auslogics Disk Defrag 1.4.16.308 (5 out of 5)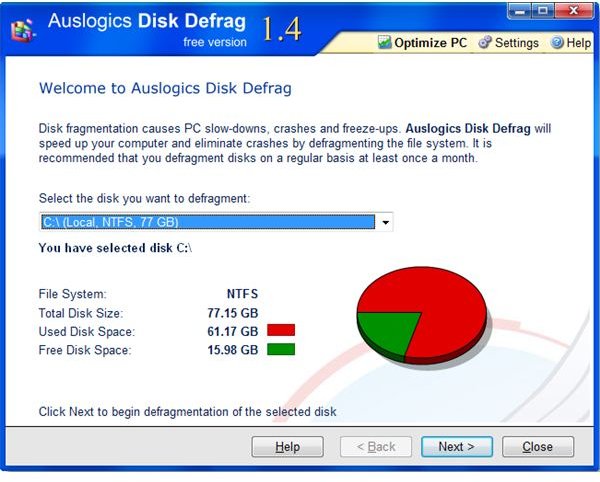 This software is available for free, and you can download it here. It works to degfragment your hard drive without taking the time for an analysis process, which makes it more efficient than other utilities which insist on preforming an up front analysis. With a file size of 1.4MB, you know you've got great program–because it's small, it won't bother hog resources from other programs and processes.
This program is proof that you don't have to pay for something to get quality. The company also offers a free Registry Drefragmenter to help your computer run at its best.
It's easy to install, and even easier to use. All you need to do is follow the on screen instructions, and you are set. Save yourself some time, heartache, and money with this one!
PerfectDisk 2008 (5 out of 5)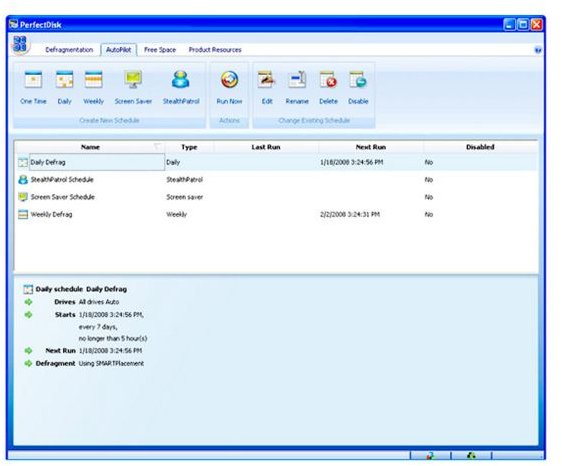 This program is provided by Raxco Software, and is perhaps one of the biggest competitors for Diskeeper 2008. With this program you have the automatic disk defragmentation, and several other options like:
Free Space Recycler: Takes care of your temporary internet files, your recycle bin, and more.
Patented SmartPlacement Optimization means that the program will place files according to a pattern, rather than moving them around a lot like other programs, saving you time.
Completely automates the process of defragmentation so you don't have to worry about it. You can spend time using your computer, instead of caring for it.
Take control of the program. You can install without the graphical user interface, but it is not recommended for people who are not sure of what they are doing.
A 30 day trial version of this software is available. You will have to register before you get access to the trial files, and if you are using any other version of PerfectDisk, you'll need to back those up first because a new install will remove them.