Free and Paid Windows 7 Migration Software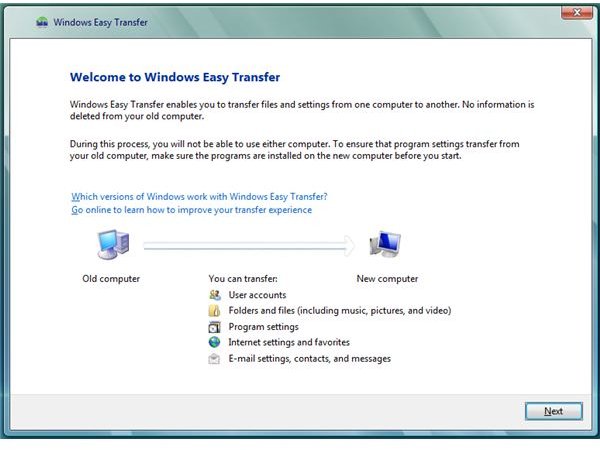 Keeping User Files Before Installing Windows 7
Upgrading an operating system to Windows 7 means you are going to replace the old operating system of Windows XP or Vista. When you upgrade to Windows by inserting the installation DVD of Windows 7, your files and applications are maintained and require no re-installation.
Migrating to a new operating system is not the same as upgrading. Migrating to Windows 7 means you'll be saving the files and settings in the current operating system before installing Windows 7, or transferring the saved files and settings to a new computer running Windows 7. Migrating is done easily when you have the proper tools to use, and below is Windows 7 migration software to consider using.
Windows 7 Migration Software
It's easy as 1, 2, 3 to migrate files and settings to a new computer by using any software migration:
Windows Easy Transfer - the free Windows Easy Transfer lets you migrate files and settings to a new computer. It means the files and settings in Windows XP, Windows Vista, or Windows 7 are saved in a safe location and then transferred to a new computer running Windows 7. The Windows Easy Transfer is already installed in Vista and Windows 7. XP users may download Windows Easy Transfer, for free from Microsoft's website. Note that the Files and Settings Transfer Wizard included in XP is an old program. It is recommended you use the new Windows Easy Transfer software to migrate files and settings in a safe location.
Easy Computer Sync - this program is not freeware but it provides a fast tool to transfer files and settings from an old computer to a new computer using a cable.
Easy PC Transfer - commercial software to migrate files and settings to another computer which can password-protect files to be transferred, for security and privacy purposes.
Other Migration Software
If you want more options in migrating software, consider the following migration tools:
Acronis Migrate Easy - Migrate from an old hard disk to a new one. Resize or partition the hard-disk before saving files and settings to a new hard-disk or new computer running Windows 7. It costs $40 to migrate files and resize the hard-disk.
LapLink PCMover - the undo feature in PCMover when you prefer to cancel migration is a plus. PCMover lets you transfer files and user settings in no time. The program is not free and it costs $60 to enjoy the complete migration features by PCMover.
O&O Migration Kit - If you want better migration software, O&O Migration Kit provides what others couldn't. You can transfer settings, files and programs whether you're using Windows 2000 or a newer operating system. Price is $30 for 1 migration which is considered cheap.
Final Words
A clean install of Windows 7 is the recommended method for using a new computer. Setting up programs in Windows 7 instead of keeping the program settings from an old operating system will prevent corrupted or misconfigured program settings. If you really need migration software, consider transferring only the important files that require no installation, such as photos, documents and other user files. You should also consider buying an external drive where you can store important documents so the next time you buy a new hard-disk or computer, you don't have to use a migration tool.
Image credit: Screenshot taken by the author.