Cannot Install Network Printer on Windows 7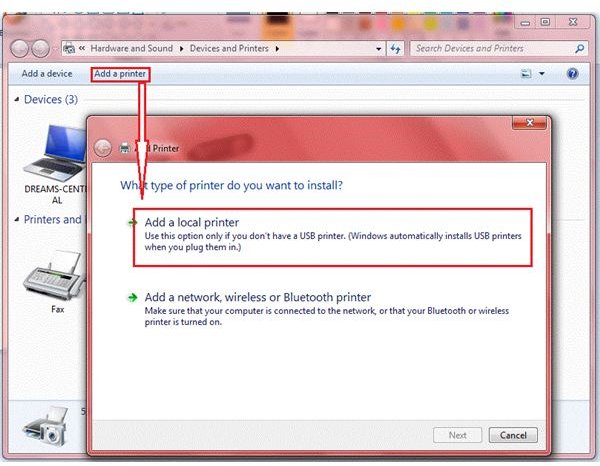 Cannot Install Network Printer on Windows 7 - Common Reason
The problem where you cannot install a network printer on Windows 7 is mostly caused by incompatible drivers. Most printer vendors have yet to come up with compatible printer drivers for older printers and Windows 7. The problem - you cannot install network printer on Windows 7 - is even more when you are using a 64 bit operating system. While most companies are trying to offer updated drivers, Microsoft has issued some workarounds as well. This article covers some such workarounds to help you install and use the network printer in Windows 7.
Note: Before moving ahead, you may want to contact your printer vendor to see if they have compatible drivers. If they have, you can go ahead and see if you can install network printer on Windows 7.
Using the TCP/IP Port to Set Up Network Printer
Before using this tip, you need to download different versions of the printer drivers to different folders in your computer. Once you download the different drivers for the same printer, follow these steps:
Open Devices and Printers in Control Panel.
Click on Add Printer.
Select Install a Local Printer (This may sound weird as we are talking about network printer - but the workaround may work).
In the window that appears, choose standard TCP/IP Port (the LPT port to which the printer is connected).
Clicking on Next will take you to a window that presents you with models of printers. Instead, click on Have Disk and browse for the downloaded version of driver.
Select one of the drivers and close the Add Printer wizard.
See if the Printer is visible on the network after you set up sharing. To know about sharing a printer on Windows 7 network, please read step 5 in our article - "Add a Printer on Windows 7".
If the printer is visible, you are done. If not, repeat steps 1 to 7 in this article to choose a different printer driver that you downloaded. Repeat the steps until you find a driver that works.
In most cases, this tip helps. Unfortunately, if this workaround does not help, please try the next tip that involves registry editing.
Using Registry When You Cannot Install Network Printer on Windows 7
Note: The following involves making changes to the Windows registry. Please create a System Restore point or use one of the best registry backup methods so that you can rollback in case anything goes wrong. Though the linked article is written with XP in mind, it also applies to Windows 7.
Microsoft says that sometimes you cannot install a network printer on Windows 7 because the corresponding registry value may be corrupt. Please note that the following
This issue occurs because the following registry subkey on the print server contains invalid data: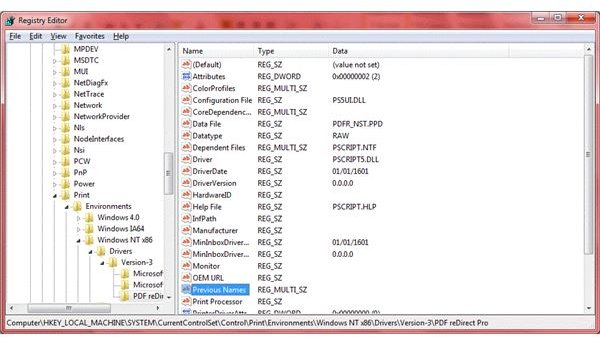 HKEY_LOCAL_MACHINE\SYSTEM\CurrentControlSet\Control\Print\Environments\Windows NT x86\Drivers\Version-3\ \Previous Names
To troubleshoot, follow these steps:
Press Windows Key + R to open the Run Dialog box.
Type in Regedit in the Run dialog box to open the Registry Editor.
Locate the above key by expanding each key until you reach Driver Name. Note that the Driver Name in the Registry subkey is the name of the printer that you wish to share on the network.
Search for Previous Names in the right pane and see if the value is NULL, begins with NULL, or ends with NULL. If the value contains NULL, the key is corrupt.
Double click on the Previous Names and change the data to (7):00,00.
Close the Registry Editor.
Reboot the computer and see if you can now use the printer. If you still cannot install network printer on Windows 7, you need to contact Microsoft Customer Care.
This post is part of the series: Windows 7 - Problems, Tips, and Tricks
Windows 7 is one of the best and wonderful operating systems released by Microsoft. This series on Windows 7 offers you some insights into the OS and helps you with tips and tricks to overcome Windows 7 problems, including network printing and changing background in the Starter Edition.