Online Resources For Family Genealogy Charts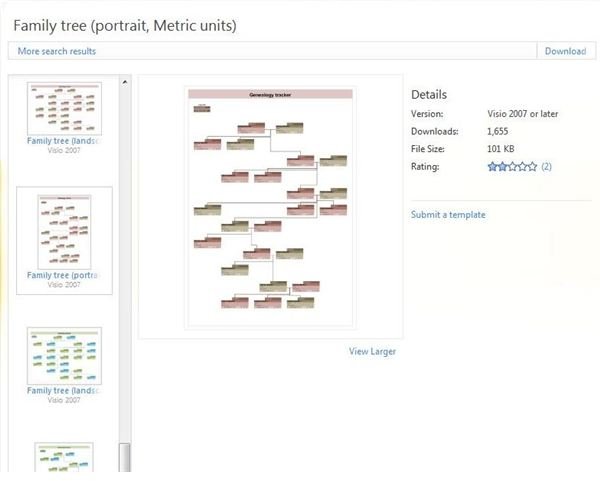 Genealogy Templates in Popular Formats
Looking for a family genealogy chart? There are so many online sources for charts and forms for creating reports and charts of family trees and illustrating lineage, available in a variety of popular file formats.
Anyone using one of the popular genealogy programs will probably be aware that they can simply print out a report or chart from the vast selection of print options these applications include – but not everyone uses software of this sort. For instance, you might be using a custom database, or even keeping everything on paper.
If you've already checked and discounted the templates for family trees in Microsoft Word there are plenty of alternatives available in other formats.
Genealogy Charts for Microsoft Office
Family tree charts are available for popular Microsoft Office apps PowerPoint and Excel, as well as Visio. These are available via Office Online in your browser, and can also be downloaded through the individual applications by searching for "family tree" in the Templates section when you open a New document (File > New).
The advantage of using these documents is that you can use the options available in each application to complete the charts by adding details.
PowerPoint – Four family genealogy charts are available from Office Online for use in PowerPoint. These can be downloaded and edited as pages of a presentation that might then be emailed to family members or viewed on a projector. Family tree, Family tree with photos, Family reunion family tree and Family Tree Template are the names of the charts which can be found at office.microsoft.com.
Excel – Two files called Family Tree are available for Excel users from office.microsoft.com, one designed for use in Excel 2003, the other for 2007, although both can be used in later versions.
Visio – Four genealogy charts are available for use in Visio, a diagramming application that ships with certain versions of Microsoft Office. The files are called Family tree (landscape, Metric units) , Family tree (portrait, Metric units), Family tree (landscape, US units), Family tree (portrait, US units) and like the others they are available free from office.microsoft.com.
Other Types of Genealogy Charts
If you don't use or have access to any Microsoft Office applications, then the above links will have absolutely no relevance to you.
However don't be disheartened – charts are available in PDF format (for use in Adobe Reader) or graphical format (as a JPEG, for instance) and can be downloaded and printed out for you to complete by hand.
You should be prepared to make mistakes if you are using paper charts, of course – if you aren't taking advantage of dedicated database applications for collating genealogical information and their report printing options, then complete the PDF and JPEG charts just in case you need to change anything.
Online Resources for Genealogy Charts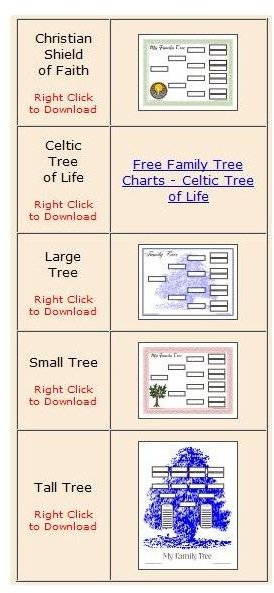 The following websites provide family tree charts in PDF and JPEG formats:
www.freefamilytreecharts.com – provides charts in PDF and JPEG format.
www.misbach.org/pdfcharts – a selection of superb PDF charts as the URL suggests, with pedigree and fan charts included within a selection of original layout options.
genealogy.about.com – About.com has a selection of original PDF family genealogy charts.
Finally, you will find the biggest selection of charts and forms for genealogy purposes via the dedicated section at www.cyndislist.com.