Learn To Pin Tabs In IE9 Beta For Customized Browser Windows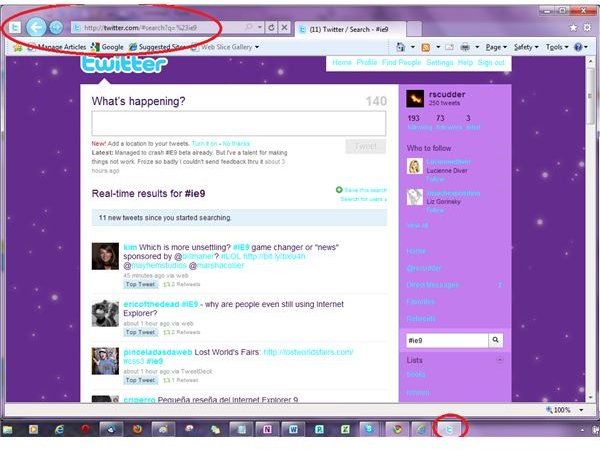 Pin tabs in IE9 taskbar
Pin the tab on the taskbar!
This is, so far, the feature of IE9 I like the most, and I find it very innovative. It is useful, and a time saver.
While in the IE9 browser, you can pull the favicon (the little icon at the beginning of the address window) onto your taskbar. Once it is there (not quite as easy as it sounded), the icon will act like an application when you open it- an application that gives you a customized IE9 browser for that site.
I have recently been told you do not need to pull the favicon onto the taskbar to get a pinned webpage. You can separate a tab to make a window, and then pull the tab in that window to the taskbar to create the pinned page. When you put the pinned tab on that way, clicking on it takes you to that page in the site, not the home page. Again, very convenient.
image: IE9 put Twitter icon on task bar- when clicked, a window opens at Twitter- in Twitter style and without added toolbars
This is a lot easier and more convenient than a bookmarks bar or favorites. Want to check CNN? put the CNN favcvon on your taskbar, and click it anytime you want- even without a browser open.
The customized browser also picks up the site's color scheme, and at a minimum, will change the color of the back and forward buttons to match.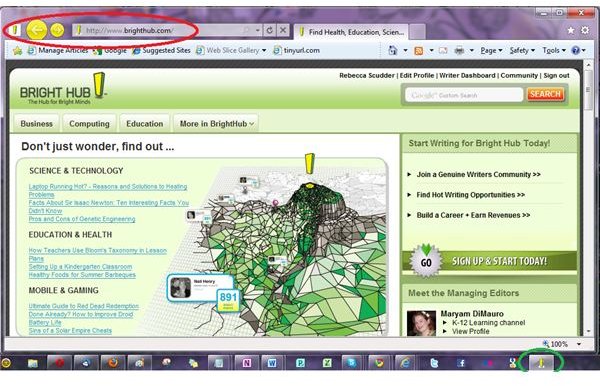 You can pull Google, facebook, YouTube, Twitter, or Bright Hub onto the task bar and go directly to the site as soon as you start your computer- or if you want to check something while working.
Some sites have even more customization in the way the window looks, for color and for style.
image: I pin www.brighthub.com to the task bar- IE9 picks up yellow from the site's favicon for the browser arrow buttons
Technique to pin the favicon to the taskbar
After trying this unsuccessfully a couple times, I felt I was in a peculiar game of pin the tab to the donkey taskbar, with my eyes open.
You cannot pull a favicon just anywhere on the taskbar- it needs an empty space. I tried to pull it between two icons, and it would not insert. In an empty space, all went well.
I also found out that you need to pull the favicon onto the taskbar in one swell foop, or it will not stay.
Click onto the favicon, and pull it quickly to an open space on your taskbar. If you don't make it all the way, you will need to repeat this.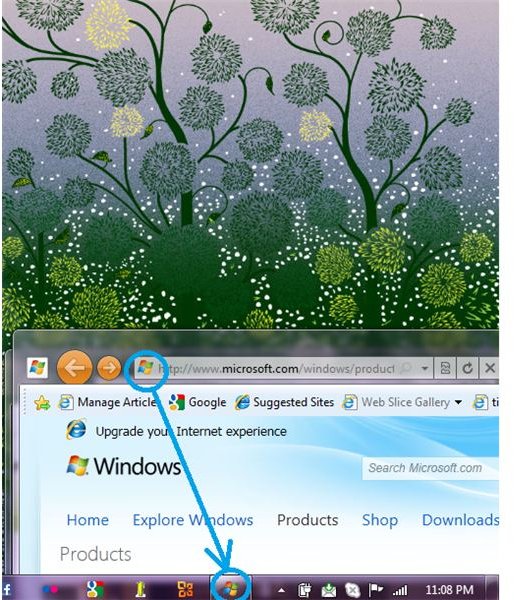 I developed a technique where I scrunched the window up and then pulled it a couple inches from the task bar to install the favicon, and then restored my browser window to its normal self.
i_mage: Using the IE9 feature to pin a site to the task bar is best done by bringing the app favicon close to the task bar_
Using jump menus
With the website pinned to your taskbar, sites have the option of setting up jump menus. A jump menu shows several locations or pages at the site when you right click on it, and takes you to that page at the site. However, not that many sites have been optimized for this yet. Twitter is, facebook is, and so is CNN.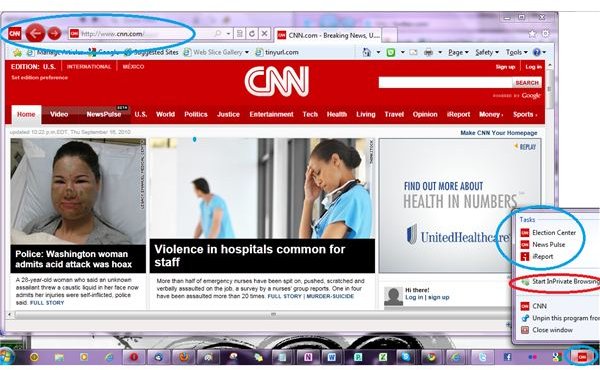 I pulled down the favicons for some other very popular sites, and did not see a jump menu set up. Google does not have one, Flickr does not have a jump menu, and, surprisingly, Microsoft does not have one on the main site, Windows or Office. Since it is easy to see where Microsoft could set up some logical jump locations, this may be a case where the cobbler's children go barefoot.
According to ZDnet, there are about 70 sites currently providing jump menus. As well, Wordpress is providing the ability to set up up jump windows for blogs on their platform.
image: IE9 pinned CNN to my taskbar- CNN has right click menu (jump menu) in pinned icon to go to specific pages on the CNN site
Potential for pinning tabs and creating jump windows.
I see a lot of potential for this feature. Websites get a customized browser, one branded with their colors or style, and can set up a jump menu to popular destinations inside the site. Once the browser is opened, the user can add new tabs next to it.
By taking advantage of the jump window feature for pinned tabs, websites have an advantage in making their website so convenient that the user will stick with them over another site which is harder to navigate.
Microsoft has given websites a powerful incentive to take advantage of what their website can do in Internet Explorer 9, and since the feature is available in no other browser, users have an incentive to return to Internet Explorer as their browser of choice. Pinning tabs may be the factor that raises Microsoft's share of the browser market. Of course, the new speed doesn't hurt.
What you cannot do
Although the main IE9 browser window allows you to add tabs back in after you have pulled them in to a separate window, you cannot pull a pinned browser window into the main IE9 browser window.
This is probably because in the pinned browser, all addons are disabled. This does pose a problem for people like me, who desperately need spell checkers, as add-ons include iespell and the Google toolbar spell checker.
They also cut down the number of tool icons on the browser. The new and customized browser window still shows the home icon - one of the only icons there, so I had hopes that you could set up a customized set of tabs for the pinned browser windows, but the capability for that is not there.
Custom home tabs
If you are interested in setting up tabs to open with the browser, these directions show how you can have multiple home tabs open up when you start the regular IE9 browser, and it is simple to set up.
This post is part of the series: Exploring IE9: Reviews and Features
IE9 beta is Microsoft's new, fast and innovative version of Internet Explorer. In this series we review the IE9 beta browser, and some of the special features capable through the browser. We teach you to pin tabs on the taskbar in IE9 to act like applications, uninstall it, and more.